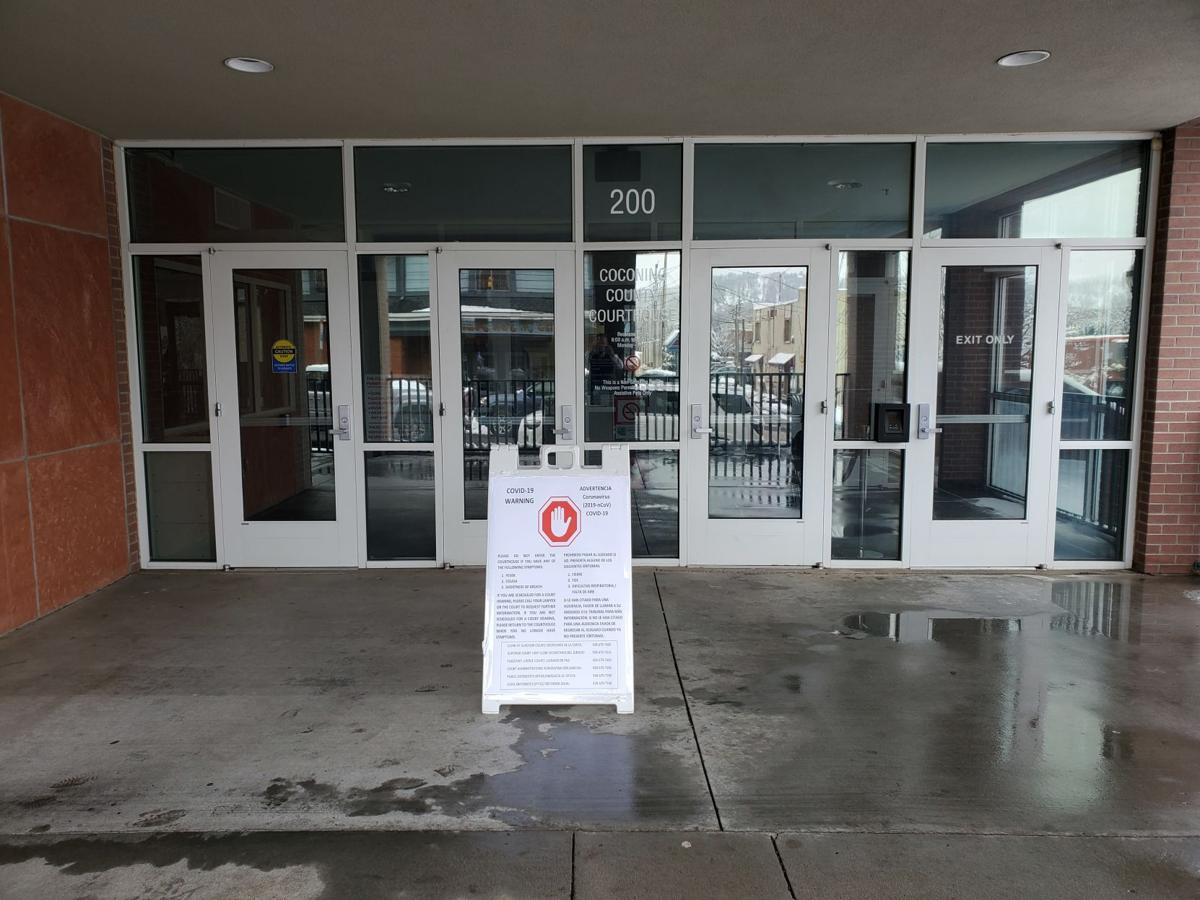 The pandemic has complicated the courts' normal procedures as judges, attorneys and court staff learn to adapt with how to deliver defendants and victims' rights to speedy trials.
Recently, a major witness in the Coconino County Superior Court's first trial since March contracted COVID-19, according to attorneys and the judge involved in the case. After the witness told the court he was positive for the coronavirus, the court stalled the trial, delaying it for a few months.
The exposure was believed to be limited to workers with the Coconino County Attorney's Office, as the witness tested positive for COVID-19 the day jury selection was set to begin. No one at the office had tested positive for the virus, according to Coconino County Attorney Bill Ring. Many people were already working from home at the time, and anyone who might have been exposed was asked to isolate.
"I am pleased to report that no member of the Coconino County Attorney's Office has tested positive as a result of the reported exposure," Ring said via email.
Despite many people in Flagstaff learning to live with, ignore or avoid the virus, the criminal justice system is still working hard to conduct its business during the pandemic. Many change of plea, sentencing and status conferences continue to work as usual, but balancing public health with victims' and defendants' right to a speedy trial by jury by law has been tricky.
The ramifications of this problem have led to multiple trials scheduled for the months of March through August being held back due to the inability to hold trials.
Collin Tarr, a man who was first indicted for second-degree murder in Feb. 2018, had his May 2020 trial moved back to January 2021. Timothy Duran, a man who had been charged of killing his wife Crystal Morgan in March 2019, had his trial moved back to Aug. 2021. Both remain in custody in Coconino County jail.
The Arizona Supreme Court's Presiding Judge, Robert Brutinel, initially stopped all trials and hearings when COVID-19 cases began to rise in the country. Since then, the decision was made to allow courts to reopen in phases based on how COVID-19 is spreading throughout the county.
Judge Dan Slayton said when the county lightened restrictions on trials, it was in the middle of a spike in cases. Brutinel instructed the county to make the transition cautiously, Slayton said.
In anticipation, Coconino County selected a barn to allow socially distanced juror selection and began setting new plans and rules for social distancing throughout trials. Slayton told all judges to follow Centers for Disease Control and Prevention guidelines, adding the majority of people should still not be allowed to appear in person for trials.
The recently delayed Coconino County Superior Court trial was for Dana Hobbs, who pleaded not guilty to three charges of sexual assault. Louis Fidel, Hobbs' lawyer, said his client wants his innocence proven at a trial.
"The main thing is that the defendant has denied the charges and has adamantly pleaded not guilty," Fidel said. "He's repeatedly requested a speedy trial. He looks forward to the day he can have a trial."
Slayton said he wants to get trials — some of which include two-, three- or four-week time commitments for attorneys and jurors — back on track, but not at the expense of human and juror safety. After the witness informed the court he had tested positive, all jurors who were called for Hobbs' trial were allowed to return home.
Slayton said the court was instructed to hold trials, and many of the questions on how to proceed at this point will not have easy solutions.
"These are questions the virus thumbs its nose at," Slayton said. "It doesn't really care that there's a constitution. It's going to do what it's going to do."
Other courts in the state have reopened without having to stop trials due to COVID-19 exposures. It just so happened that Coconino County Superior Court's first trial ran into trouble.
Slayton said Mohave County Superior Court has called 20 juries this year, one was for a grand jury and the other 19 were for trials. Mohave County has been organizing jurors virtually, but Slayton explained that due to the rural nature of Coconino County, he doesn't believe that could be an equitable solution.
Mohave County has had 4,138 cases with 228 deaths. Coconino County has had 4,629 cases with 145 deaths, according to the Arizona Department of Health Services. Coconino County, however, has had a rate of 3,143 cases per 100,000 population, whereas Mohave County's rate is 1,907.
Other counties have not been able to hold trials yet.
Hobbs' defense lawyer is based out of Tucson, and said he did not feel he knew Coconino County well enough to speak to its decisions. But in regard to his client, the decision of whether to go to trial is up to Hobbs.
"You give the best advice you can, and if the accused says they want to have a trial, then you make sure that happens in a way that is safe and comports with their constitutional right," Fidel said.
Ring said the two values, public health and a speedy trial, are not necessarily conflicting values, but ones that can and should be held in high esteem together. He felt the path forward must be guided by science.
"I have seen innovations in courtroom practices from Virginia to Missouri to California. The Sacramento DA's office has conducted upwards of 60 criminal jury trials this summer," Ring said. "We tried to get one started. It is only delayed, and for good cause. We will just get back up and begin again."