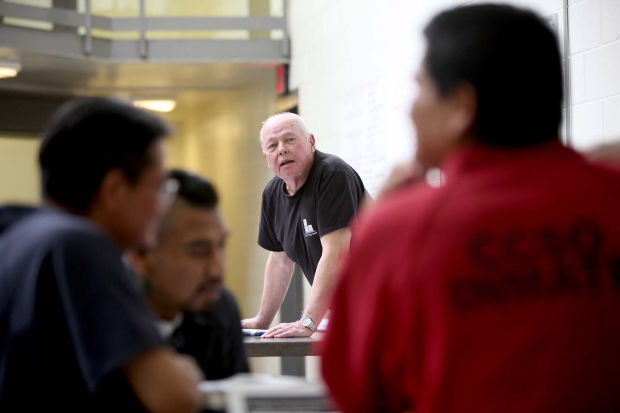 Coconino County's top cop says most jails see themselves as a warehouse for inmates. They turn on TVs and let the prisoners whittle away their hours with little self-improvement while they wait for adjudication. He sees it differently. 
"My goal is to get every one of our inmates in some sort of programming all day long," Pribil said. "That would be ideal."
He went to the Coconino County Supervisors on Tuesday to get their approval for a new position that will coordinate and improve educational programs, then incorporate them into the jail's already successful drug rehab program. 
The jail's drug treatment program, Exodus, has been shown to reduce recidivism since its inception. 
Pribil opened his presentation to the Board of Supervisors by quoting Victor Hugo, saying that "He who opens a school door, closes a prison."
"Today, we imprison more people than any other country in the world," he said, adding that the United States is home to one-quarter of the world's prison population, but just 5 percent of its people. The sheriff said he had recently visited the San Francisco County Jail in San Bruno, Calif. That facility has opened a high school inside the jail. 
"While the Exodus program has been well-coordinated, our education program has been fragmented," he told the supervisors. 
He asked for approval to hire a jail education program manager at a cost of $68,556, including employee-related expenses. 
Many inmates can't read and have few life or job skills. Pribil envisions the education program including everything from GEDs and food handlers' cards to bicycle repair training and buying a pizza oven, then teaching inmates to use it.
Every town, he pointed out, has a pizza restaurant. 
He's also working with Coconino Community College on programs, but said the reality is that many inmates wouldn't qualify for college. And he said that the revised standards for the GED are tough, requiring much preparation for inmates.
The new push on education comes on the heels of the retirement of longtime jail commander Kurt Braatz, as well as Exodus program coordinator Margot Julian. An interim commander, Cathy Allen, has been appointed to take charge of the jail, and CCSO is examining how to replace Julian. 
"You hate to fix something that isn't broken. Our sense is that the Exodus program is working very well," Pribil said. 
Instead of substance abuse, the new education manager will focus on educating each individual inmate. He hopes to find someone who is already knowledgeable and connected to Flagstaff schools. 
The Board of Supervisors was receptive to the idea and congratulated CCSO on their success with the Exodus program. 
Supervisor Lena Fowler asked about the average length of stay for an inmate and how that might affect their ability to provide training and life skills. 
Pribil said the average stay before sentencing was just one week, but that consists of inmates staying less than 24 hours and others who remain in custody for months. 
"Any glimmer of hope is better than having them sit and watch TV all day long," he said. 
The supervisors voted unanimously to approve the funds for the new jail education program manager.