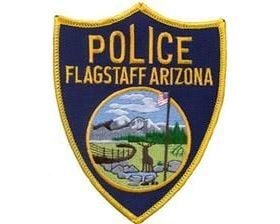 The City of Flagstaff hosted a virtual meet and greet Wednesday night for community members to pose questions to the final applicants in the city's search for a new police chief.
The replacement is being chosen to follow former Flagstaff Police Department Chief Kevin Treadway, who retired this year. The City of Flagstaff is considering three men: Geoff Leggett, assistant chief of police for the City of Surprise; Kenneth Miller, of Greenville, South Carolina; and Dan Musselman, acting police chief for Flagstaff Police Department. The final decision will be made by City Manager Greg Clifton.
Normally these events are a customary part of selecting higher-ranking positions in city government. The events allow citizens a chance to see the candidates, but this year the event was held virtually, limiting the potential interactions.
The three candidates were given time to tell the nearly 70 virtual participants about themselves and how they would like to lead the department.
Afterward, a city official selected questions to ask the candidates from the virtual participants. General questions were asked of the candidates before the event's hour deadline elapsed.
The discussion ranged from retaining recruits to challenges to the law enforcement profession and how those challenges translate to the mental health of officers.
All candidates are graduates from the FBI's National Academy for future leaders in law enforcement and have more than 20 years of experience in law enforcement.
Geoff Leggett
Leggett studied at Northern Arizona University for his undergraduate degree and worked at W.L. Gore in Flagstaff after college. He moved to central Arizona and began his law enforcement career at the Maricopa County Sheriff's Office.
He worked as a deputy there for 24 years in patrol, Special Weapons And Tactics, officer training and investigations, making his way up to a lieutenant before leaving in 2008.
He transitioned to the Surprise Police Department, where he has been for nine years and currently serves as assistant police chief. Leggett, like the other candidates, felt the biggest challenge to law enforcement was building trust with the community.
He felt it required work to establish a clear understanding of the department's needs in the community.
"If something were to happen that people are questioning the community we cover, the community would be comfortable and know that that's not my police department. That's not how they do things," Leggett said. "Helping people understand that is one of the most immediate challenges we have, and that's in relation to the protests that have been occurring or the political unrest."
Leggett said he was an approved trainer for the International Critical Incident Stress Foundation, saying he had trained hundreds of officers on how to manage workplace stress. He created several programs for his current department in Surprise, including yearly wellness checks that are voluntary for some and mandatory for others.
"Ultimately what it comes down to is to break down that wall of the concept that law enforcement should not reach out for any kind of mental health support. We've got to knock that wall down," Leggett said. "Some strides have been made up there, absolutely, but we need to continue to build on that to support the people."
Leggett said he hoped to evaluate where the department can do better, and added that he liked the recent work to alleviate police interaction with law enforcement. He hoped to continue to address public intoxicant population struggles.
"The city is moving in a great direction. I'd love to be there to help support and foster that," Leggett said. "But also meeting with different stakeholders and different groups to ensure I clearly understand what the issues are, they know that I'm going to listen and that I care, and are going to do what we can to address those issues."
Ken Miller
Miller has predominantly worked in law enforcement across the east coast for the past 31 years.
He has worked in Greensboro as a police chief, and in Charlotte, North Carolina, and Greenville, South Carolina. During his time he has worked internal affairs and patrolling the inner city. He also helped create a family justice center to target domestic violence, in addition to creating programs focusing on human trafficking, gun and drug crime, and gang problems.
Miller received his graduate degree in public administration from the University of Northern Carolina.
He said public trust was "everything," and felt it was achieved by opening up departments and being transparent during times of conflict.
"We can't accomplish the kind of safety that residents of Flagstaff and visitors of Flagstaff would like to see in Flagstaff without community confidence and trust," Miller said.
As for officer mental health, Miller identified peer support groups and chaplains as being important. He also suggested conducting a survey of employees if he was chosen for the position.
"It's really to understand what the push-button issues are for the employees -- what they like about their work environment, what they don't, how they feel they belong," Miller said.
When asked, Miller said he was concerned about the reported relationship with Native American and Latino communities.
"Those are things we would need to pay attention to as an organization, and I would need to pay attention to as a police chief," Miller said, adding that he would need to assess where the problems exist in order to best address them.
Dan Musselman
Musselman graduated from Northern Arizona University after being raised in Phoenix. He has worked in the Flagstaff Police Department since 1995.
Musselman has worked patrol, detective, professional standards, hiring, backgrounds citizen complaints and internal affairs for the department. He has been selected for acting police chief on two separate occasions -- after the former chief helped as assistant city manager and now after Treadway retired.
He has won three city manager's excellence awards for efforts in community policing and being accountable in the community.
Musselman linked public trust to transparency and agency outreach, and cited the Flagstaff's Citizen Liaison Committee, Citizen's Academy and citizen complaint process as large efforts to remain open for the public.
"If people are not happy with the outcome of [a] complaint, they can sit down with myself or a supervisor. We can show them the video, go through the police report, explain what happened, explain why it was or was not in or out of policy," Musselman said. "Public trust is huge. That's how you get your support. That's how you get your funding. Once you lose that, it's a bad place for a police department to be."
The department currently has red flag systems to help struggling officers, contracted psychologist support, and also hopes to work on new projects to support the health of their officers.
"We are going to council next week with an officer wellness grant that will allow us to bring in additional resources for officer wellness, financial wellness, and yoga for first responders," Musselman said. "We're actually able to set up so the officer's life partner can attend and take advantage of the training as well."
Musselman said he is working with the city and criminal justice system in Coconino County to focus on crime committed by homeless populations through a detox and day center. The plan hopes to address the root cause of some of Flagstaff's crime. He felt it would be costly, but it could drop violent crime and property crime rates.
"Our community would long benefit from a detox center and a day center that would be able to provide additional services for this population to help keep [homeless populations] off the streets where we're seeing them get struck by trains, seeing them get hit by cars, and we're seeing them succumb to the elements, which is just unacceptable," Musselman said.