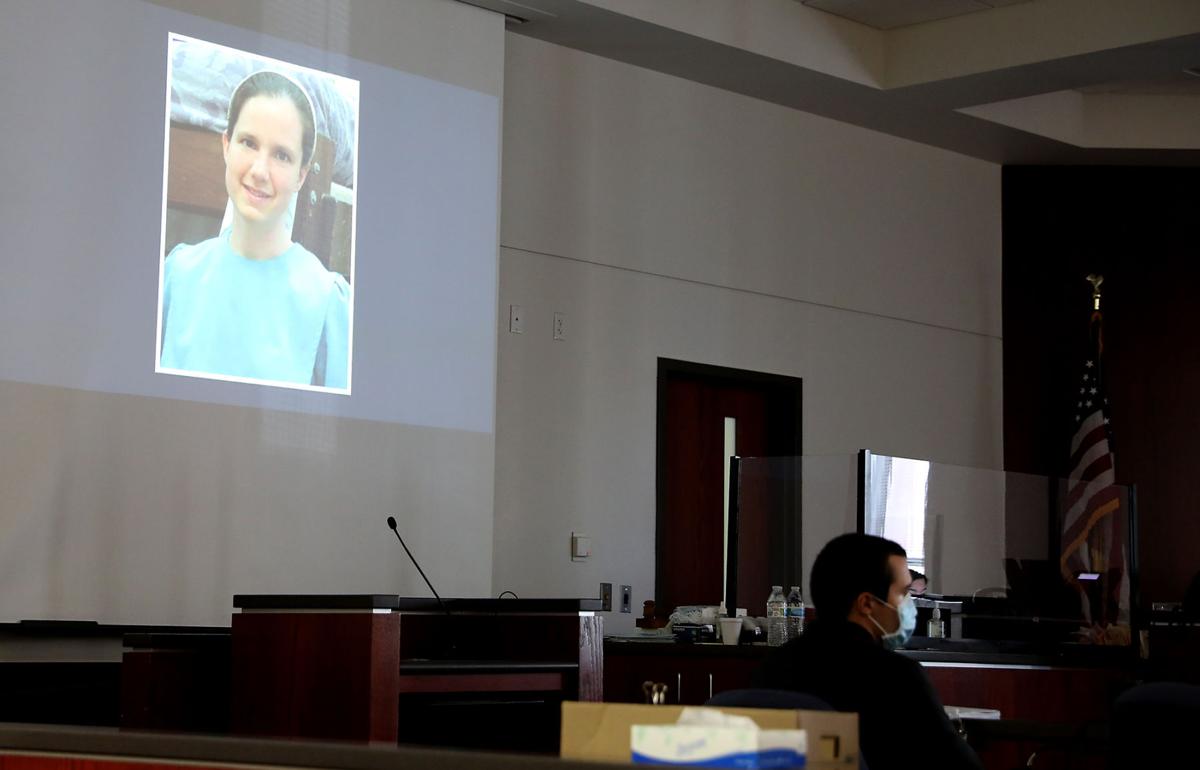 The older brother of accused murderer Mark Gooch testified in the Coconino County Superior Court on Wednesday that he knew the defendant was surveilling Mennonites before Sasha Krause, 27, disappeared from the religious community where she lived.
Samuel Gooch was ordered by Judge Cathleen Brown Nichols to testify after he said he would not answer questions in the trial under his right against self-incrimination.
He is not actively being prosecuted related to charges in the case, but was granted prosecutorial immunity. The testimony came during the third day of the trial and the scheduled halfway point.
U.S. Air Force airman Mark Gooch, 22, faces up to life in prison if he is found guilty of kidnapping and killing Krause. Her body was found in a forest clearing near the Sunset Crater National Monument in mid-February 2020.
The brother was questioned by prosecutor Ammon Barker on a series of phone calls he had with Mark Gooch on Jan. 18, 2020, the same day Krause went missing from her community in Farmington, New Mexico.
The calls totaled more than 90 minutes, although Samuel Gooch said he does not recall "anything of substance" from the conversations.
Samuel Gooch is the same brother who pleaded guilty and was later sentenced to three years of probation in 2020 on a reduced charge of facilitation to commit hindering prosecution.
Authorities allege Samuel Gooch flew from Wisconsin to Arizona to retrieve the .22 caliber rifle that investigators claim was owned by Mark Gooch and used to shoot Krause.
The jury did not hear details of the brother's separate charge, though Samuel Gooch was questioned about the rifle and said he was aware their father had given Mark Gooch a firearm.
During his testimony, Samuel Gooch said Mark Gooch asked him to remotely clear his personal data on his cellphone and SD cards shortly after his arrest. Samuel Gooch also testified he did not remember deleting data from his brother's Google account.
Evidence collected by investigators shows location history from the account was deleted by Mark Gooch.
Authorities said they matched Mark Gooch to the crime after his cellphone was the only other device communicating with the same cellular towers as Krause's phone on the night she disappeared.
The investigation also includes surveillance footage and financial records that the prosecution has argued ties Mark Gooch to the crime.
The defendant's attorney, Bruce Griffen, has questioned the accuracy of parts of the evidence and previously called it "weak science."
Barker suggested during his opening statement that Mark Gooch attempted to cover his tracks and that the jury will be shown evidence that the defendant paid to have his car professionally detailed.
Samuel Gooch said during testimony he remembers a conversation about Mark Gooch getting his car detailed.
Griffen previously noted that Mark Gooch's experience growing up in a Mennonite community in Wisconsin is not evidence of motivation to commit murder. Griffin has also characterized Mark Gooch as "peaceful and nonviolent."
Barker has argued the defendant was motivated to kill Krause after fostering a contempt for Mennonites, potentially linked to his childhood involvement in a Mennonite community.
The airman's brother testified that he had discussed unfavorable feelings with Mark Gooch at times about their experiences with the Mennonite community, adding it was "easy to feel less accepted" because his family had not been a part of the culture for generations.
Samuel Gooch said he had never been an official member of the church, but could not speak for other members of his family. Likewise, Mark Gooch had previously told investigators he never officially joined the church.
When asked about his brother's feelings toward Mennonites, Samuel Gooch said "he can't necessarily speak to what Mark's feelings might have been." The statement comes after Samuel Gooch previously told investigators in 2020 his brother held a grudge toward the church.
In a separate interview, Mark Gooch had told investigators he traveled seven hours to Farmington from Luke Air Force Base, where he was stationed in west Phoenix, in search of fellowship at a Mennonite church.
Griffin has argued that Mark Gooch has traveled to at least three Mennonite communities in search of fellowship, and that the trip to Farmington does not prove his involvement in the death.
But Barker said the evidence contradicts Mark Gooch's alibi.
Evidence presented by the prosecution includes text messages between the brothers, including a message about surveilling Mennonites that was sent by Mark Gooch to Samuel Gooch.
During testimony, Samuel Gooch answered "yes" when asked if he was aware his brother was surveilling Mennonites.
Samuel Gooch was questioned on the witness stand regarding a separate group text conversation that included him, the defendant and a third brother who was a Virginia state trooper. In the conversation, Mark Gooch appears to praise the trooper for issuing a Mennonite man a ticket.
As the trial entered day four on Thursday, jurors heard testimony from forensic scientist Richard Maclean, U.S. Air Force investigator Adrian Morales and Trevor Caldwell, a dorm leader at the Luke Air Force Base.
Updated for correction at 12:13 p.m. on Oct. 10.