The federal district court in Arizona lacks the resources to keep up with an accumulating civil and criminal caseload, and some court official…
A bicyclist was killed following a hit-and-run collision early Monday morning at the 3500 block of East Soliere Avenue near Christ's Church of…
Her body found partially clothed under a Juniper tree on a lonely stretch of Interstate 40 west of Williams near the county line, she was give…
Three family members who allegedly killed a 6-year-old boy last year will undergo trial in August 2022, Coconino Superior Court Judge Ted Reed…
The Flagstaff Police Department will begin posting monthly crime statistics on the City of Flagstaff website.
The Flagstaff Police Department released body camera footage, audio from 911 calls and police reports related to a use-of-force incident that …
A man died following a double shooting that occurred early Friday morning in the parking lot near the hospital hill Bashas'.
Updated Feb. 8 at 1:30 p.m. with additional information.
"It was not a matter of if, but when," said Flagstaff police officer Bethany Hyde, recounting on-duty exposures to the COVID-19 virus. She tes…
A Williams man who shot and killed his partner and her sister was sentenced to 25 years in prison on Thursday. 
Former Flagstaff Representative Rick Renzi was among a flurry of 73 pardons issued by President Donald Trump on his last day in office.
Local law enforcement personnel can now be vaccinated as members of the phase 1B group. Plus, a look into FPD policing practices designed to m…
Dan Musselman, newly named police chief for the Flagstaff Police Department, has high hopes for the department during his tenure.
The Coconino County Sheriff's Office reported that six DUI arrests were made across the county on New Year's Eve and early New Year's Day.
The City of Flagstaff named Dan Musselman as the new police chief Monday, according to a city media release.
Multiple agencies arrested a Scottsdale man accused of kidnapping a woman who was reportedly forced into a vehicle south of Flagstaff along In…
Flagstaff saw massive police protests, the coronavirus pandemic's impact on the courts, and high-profile cases reach a conclusion in 2020. Her…
Reports of stalking increased last year across Northern Arizona University, according to the most recent statistics found in this year's Clery…
As the City of Flagstaff continues its search for a new police chief, it will be hosting a virtual meet and greet at 5 p.m. on Wednesday so co…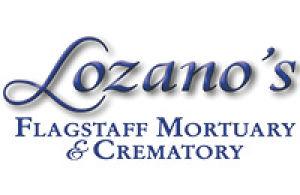 Lozano's Flagstaff Mortuary & Crematory
Domestic violence cases are expected to be higher in Flagstaff from last year, whereas rates across Coconino County are expected to drop.
Law enforcement agencies used Coconino County's Emergency Notification system for a police incident that closed down the westbound Interstate …
Local law enforcement agencies are now relying on mental health professionals to manage mental health calls as opposed to officers. As of this…
The Flagstaff Police Department is searching for the person who allegedly killed a Tuba City man in mid-October near the intersection of Butle…
The City of Flagstaff's new municipal court building is now open in the downtown area with a much-needed update.
The Flagstaff City Council felt the time was right to begin a plan on setting up a detox center and different methods for first responders to …
A Coconino County Superior Court judge has set the murder case of Sasha Krause, a 27-year-old Sunday school teacher, for a trial in August of 2021.