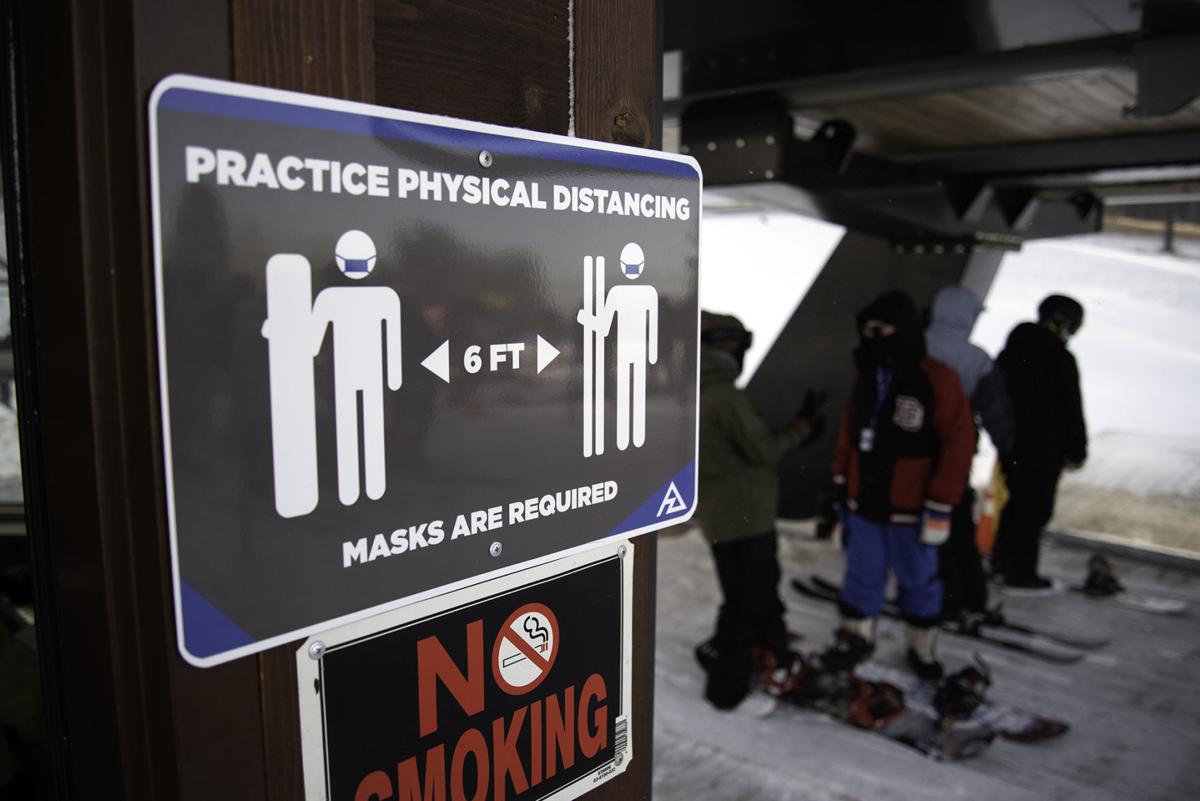 The Centers for Disease Control (CDC) released new guidance Tuesday, making changes to their recommendations for fully vaccinated people; meanwhile, Coconino County's Department of Health and Human Services (CCDHHS) is in the process of reviewing the guidance and updating their recommendations accordingly.
The CDC now recommends fully vaccinated individuals wear masks in "public indoor settings in areas of substantial or high transmission," according to a July 27 update to its Guidance for Fully Vaccinated People page. Fully vaccinated people can still choose to wear a mask regardless of transmission level, especially if they or others in their household are immunocompromised or otherwise at increased risk from COVID-19.
Universal indoor masking is now recommended at schools, "regardless of vaccination status."
The update also added a recommendation that "fully vaccinated people who have a known exposure to someone with suspected or confirmed COVID-19 be tested three to five days after their exposure and wear a mask in public indoor settings for 14 days or until they receive a negative test result."
That, CCHHS Director Kim Musselman said, is "a pretty significant change."
The CDC map as of Wednesday puts Coconino County's transmission rate as "substantial," the second-highest on their scale. The majority of counties in Arizona are at the highest rate.
Musselman said this update is in part due to new evidence on the COVID-19 variants circulating throughout the country, specifically the Delta variant. Between June 21 and July 21, 75% of genomes sequenced for TGen's Arizona COVID-19 Sequencing dashboard were of the Delta lineage.
The CCDHHS team had plans to meet to discuss how these new guidelines might change their recommendations for the county, Musselman said on Tuesday.
She said the CDC recommended using five critical factors to inform local COVID decisions. They are community transmission levels, health system and early detection capacities, COVID-19 vaccination coverage and populations at increased risk for severe outcomes from the disease.
"We're going to be looking at those factors," Musselman said, "and those factors will guide us in making some local decisions."
Gov. Doug Ducey released a statement the day of the announcement stating that mask and vaccine mandates would continue not to be allowed in schools, despite the new guidance. Vaccine passports and discrimination in schools based on vaccination status is also not allowed, he said.
"We've passed all of this into law, and it will not change," he said of these policies.
Ducey still recommended Arizonans get vaccinated, however, saying that vaccines rather than masking would be key to ending the pandemic.
"Today's announcement by the CDC will unfortunately only diminish confidence in the vaccine and create more challenges for public health officials 一 people who have worked tirelessly to increase vaccination rates," Ducey said of the updated guidance. "...We're going to continue to work to distribute this vaccine to Arizonans and build public confidence in its effectiveness, despite this unnecessary and unhelpful 'guidance' from Washington, D.C."
This all comes after Coconino County's percent positivity for COVID-19 testing moved to a substantial rate of 11.6% in their Friday, July 23, dashboard data report. Cases and the incidence of COVID-like illness in hospitals (CLI) both increased in that report, though both stayed in the same category (moderate and minimal, respectively).
This increase is slower than in the previous report, where percent positivity moved from minimal to moderate and cases more than doubled.
CCHHS Epidemiologist Matt Maurer said the total of 140 cases was a slight increase from 123 the week before. He said many more people were testing positive for the virus.
"It's about a 300% increase over the past three weeks or so," he said. "When we look at that growth, I would say any increase in cases is not a good sign; we're trending in the wrong direction."
Another area of concern he mentioned was that hospitalizations were also increasing. The county's percent of hospital visits with CLI was 2.4% (11 cases in the week ending July 17). The week before, it had been .9%.
Deaths were not increasing, however, which Maurer called a "silver lining."
"Even through the increase, we have yet to see an increase in deaths, so that's very good, but still another metric to pay lots of attention to," he said.
The increase has been concentrated in Flagstaff and tribal populations so far, with people ages 25 to 44 years old and younger than 18 seeing the highest number of cases (49 and 24 cases, respectively, according to Maurer). Of those under 18, Maurer said, about two-thirds of cases were in children younger than 12 years old -- with 12 being the youngest age for which the COVID-19 vaccine is approved.
Maurer said the majority of both cases and hospitalizations in Coconino County over the past week were mainly among unvaccinated individuals.
The delta variant is "proven to be highly contagious," he said, "and people need to be very concerned that if they are at risk for this illness, then [they are] going to be very susceptible to becoming infected with the variant."
Of Coconino County's population, 53.8% had been vaccinated as of Wednesday, according to their vaccine data dashboard. Maurer said vaccination rates had been fairly steady, though low, over the past month, with "around a thousand doses given over the last four weeks."
Both Maurer and Musselman stressed the importance of vaccinations in preventing COVID.
"The vaccine against COVID-19 is very safe and very, very effective, and it is an extremely important piece of being able to mitigate the spread of this illness," Maurer said.
Ideally, Maurer said, he hoped to see a significant decrease in variant transmission in the next weeks.
"That includes a decrease in cases, that includes a decrease in positivity yield, that includes an increase of community responsibility to follow the mitigation guidance and strategies," he said. "....[I'm] just really hoping that our community can come together and understand that we have our trends going in the wrong direction, and there's really an issue with increased transmission within our community and that we all have a part to play to help decrease transmission of this virus that has proven to be very deadly."