Coconino County is aiming to improve its services with a new department -- and a new $17 million building to house it.
Effective July 1, the Public Health Services District, Community Services and the Career Center will be combined to form the Health and Human Services Department. The services provided by each of these three departments will continue to be offered at 2625 N. King St.
"The three teams have a long history of collaboration. We may not have been one department, but this certainly isn't our first go at working together," Deputy County Manager Marie Peoples said at a press conference Monday.
As a single department, Peoples said these groups can better apply for collaborative grants, be more informative to visitors and provide multiple services in one visit.
The County Board of Supervisors has been planning this integration throughout the last year as part of its long-term capital plan.
District 2 Supervisor Liz Archuleta referred to the new department as a "super department" where cross-trained employees will be able to provide equal services, no matter their original department.
"It's easier to make change when we know that the outcome is going to be better for our clients and for our residents," Archuleta said Monday.
Though the name, logo and branding will change next month, a new department director is not scheduled for hire until this fall. Peoples said the director search was conducted nationally.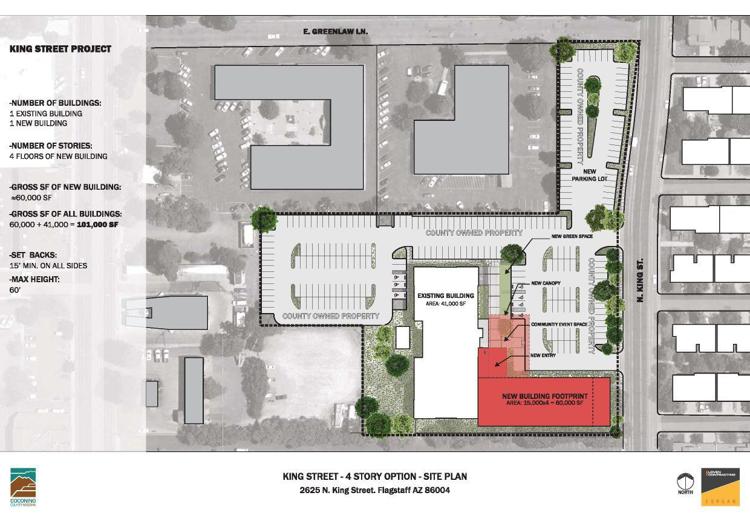 An expanded space
The new department is not just in name: the King Street building will be remodeled to support the new super department as well as three additional departments, nearly doubling the number of employees working there.
With twice the people comes the need for more space, which will be achieved with a new building to connect to the existing one.
Facilities Director Sue Brown said the project is currently estimated to cost $17 million for construction of the new building and an additional $7.5 million in renovations to the original building.
You have free articles remaining.
Following completion of construction, the offices of the Treasurer, Recorder and Assessor and the Community Development Department will be transferred from their facilities at 110 E. Cherry Ave. and 2500 N. Fort Valley Road.
Two designs have been proposed: a three-story and a four-story option, with an estimated 15,000 square feet per story. The existing facility totals 41,000 square feet; the proposed layout places the new building in the southeast corner of the property.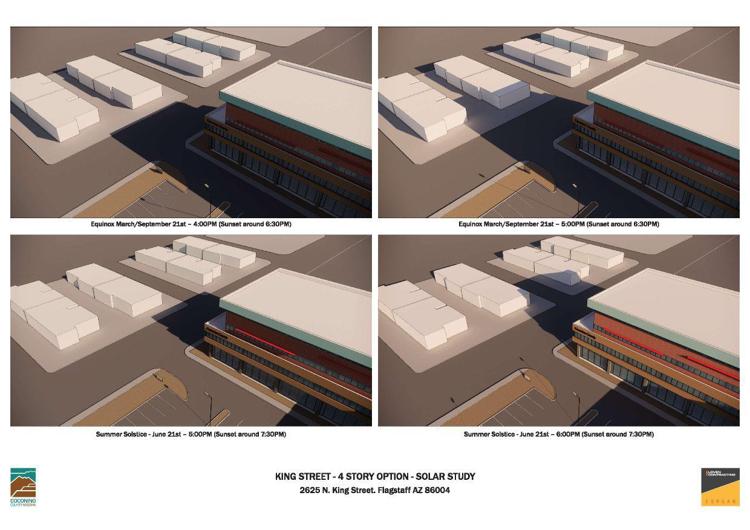 Though Archuleta said three stories are needed, a fourth would allow space for future county projects.
"Building now, in today's dollars, is going to be a lot less than building in the future," she said.
Proposed features of the completed facility include service windows, drive-thru drop-off boxes, outdoor gathering areas for community events, conference spaces and 57 new parking spaces as well as charging stations for electric vehicles.
Chief Deputy Assessor Michael Combrink said parking is a necessity for the departments relocating from downtown, which often serve elderly and disabled clients.
"Parking downtown has been a nonstop issue for years. Even before the pay meters came in, people couldn't find parking. For someone younger, walking three or four blocks to our office is not a problem, but for people with disabilities or seniors, it can be a barrier for them," Combrink said.
Jess McNeely, assistant director of the Planning and Zoning Division, said the new facility will also bring needed lobby workspace for citizens to do research.
The Cherry Avenue building, following the transfer, will become more of a justice-focused building, with Adult Probation possibly joining the Public Defender and County Attorney.
A construction timeline for the Health and Human Services facility will depend on the final design, for which the county is seeking input from community members.
The goal is to have an architect and contractor for the project by the end of the year and "significant progress" in construction by the end of 2020.
"I see this as an anchor for the east side," Archuleta said.