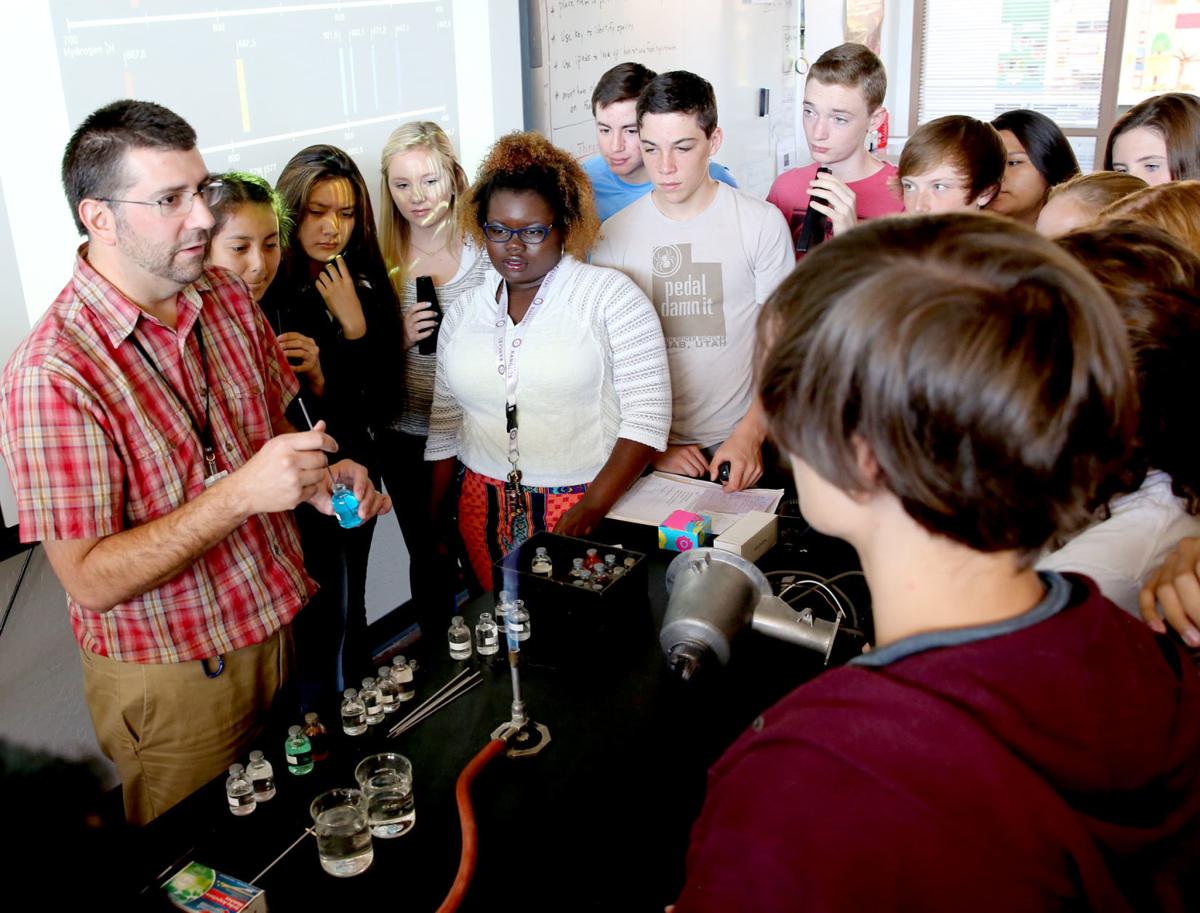 One of Coconino County's best teachers is leaving the state because he's fed up with Arizona's low funding for schools.
2014 Coconino Teacher of the Year Jeff Taylor announced in a March 24 letter to the editor that he and his family were leaving Flagstaff High School and the state at the end of the school year.
Taylor is the chair of the AP Academy at FHS and teaches AP chemistry and environmental science. He is also a member of the Flagstaff Education Association and has served on the salary and benefits negotiation committee for FUSD for five years.
"It wasn't just one thing that drove us away," he said.
In his letter, Taylor states that he has reached a tipping point where it is no longer worth it to him to live and work as a teacher in Arizona. The low pay, increased class size and a concern for the quality of his daughter's education led him and his wife to decide to sell their home, take a year off and then move to Oregon or back to his home state of Washington to look for new jobs.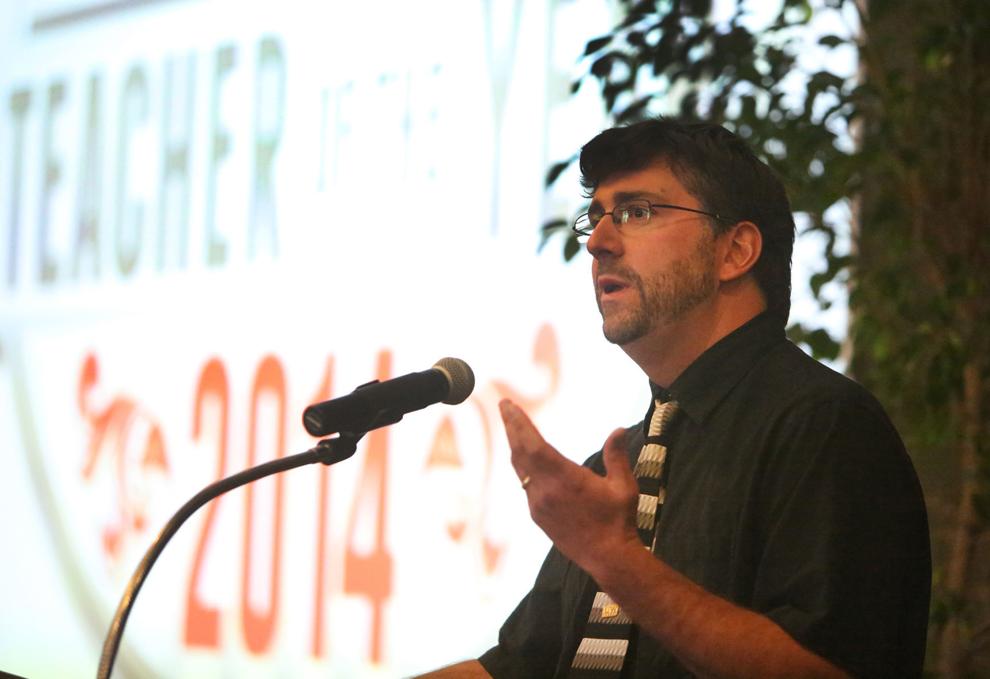 Taylor said he first moved to Arizona to teach because he wanted to escape the rainy Pacific Northwest. He said he took a significant pay cut to move to Flagstaff about seven years ago and teach because he wanted to be able to enjoy the year-round recreational activities that Arizona and Flagstaff offer. And he has enjoyed it, he said in a phone call.
But since then he's watched his class size grow from 26 to 33 students, noticed changes in the learning process for students because of standardized tests, seen his after-school workload of meetings and paperwork grow and his wages stagnate.
Taylor said that moving and taking a teaching job in Oregon would mean an increase in salary of about 40 to 50 percent for him. He said his current base salary is about $45,000 with a master's degree and about 12 years of experience. In Oregon, teachers with his experience are receiving $65,000 in pay.
According to a 2016/2017 survey by the Oregon School Board Association, the salary for a teacher with a master's degree can range between $40,136 and $63,492. According to the 2017 fiscal year School District Spending report from the Arizona Auditor General, the average teacher salary in Arizona is $48,372; in FUSD, $43,134.
However, the kicker for Taylor and wife was watching their dyslexic daughter struggle in school because her teacher was unable to provide her with the time and direction she needed. This was because the teacher was spending the majority of her time trying to manage the disruptive and high needs students in her oversized classroom, he said.
"I've seen the frustration at the elementary school level. Maybe if the classes were smaller my daughter would get the attention she needs," Taylor said.
According to the 2017 Arizona Auditor General's report, the average class size in Arizona is 18.6 and the average class size nationally is 16. FUSD had an average class size of 16.2 students per teacher.
"This is the consequence of what has been happening in Phoenix," he said, referring to cuts in education made by the Arizona Legislature since the start of the Great Recession.
People need to understand the struggle that teachers are experiencing in states like Arizona, he said. The low pay and lack of respect for teachers is driving current teachers out of the state for other jobs or out of the profession entirely. College students aren't interested in becoming teachers because they don't see it as a profession that they can make a living in.
According to figures from each of Arizona's three public universities, the number of graduates with a bachelor's degree awarded in an education field fell between the 2009 and 2017 school years by nearly 46 percent for Arizona State University, 10 percent at the University of Arizona and nearly 27 percent at Northern Arizona University.
Bachelor of education degrees awarded
| Year | ASU | U of A | NAU |
| --- | --- | --- | --- |
| 2009 | 1040 | 300 | 545 |
| 2010 | 948 | 276 | 522 |
| 2011 | 957 | 297 | 403 |
| 2012 | 990 | 221 | 552 |
| 2013 | 761 | 227 | 549 |
| 2014 | 676 | 261 | 539 |
| 2015 | 714 | 273 | 526 |
| 2016 | 681 | 270 | 469 |
| 2017 | 565 | 270 | 399 |
"I'm just frustrated because I don't think things will change in this state and if they do, they won't change in time to make me stay," he said. "I've worked in other places and I've seen that it's better in other places."
Taylor also said he's also fed up with FUSD's unwillingness to take chances or be creative when it came to finances and possible raises for teachers.  The district has been sitting on a reserve fund of several million dollars for the last several years because it's fearful of what the Legislature might do or that local voters might not renew a bond or override for the district.
According to FUSD District Relations Coordinator Karin Eberhard, the district has given teachers at least a 1 percent increase in pay for at least the last four years. FUSD teachers got a 2 percent raise last year because the state chipped in some money for teacher salaries.
According to FUSD's 2018 adopted budget, the district carried forward about $3.101 million from last year's budget, which is less than the $3.127 from the 2017 budget year.
Taylor said he's worked with two different business managers for the district and three superintendents at FUSD and he doesn't think the district's fiscally conservative stance will change with the new superintendent Mike Penca. He sees Penca as being still too new to make any drastic changes. Maybe in a few years, he said.
"I understand why the fear exists," Taylor said. "And they have every right to be fearful of what the legislature might do next. But the emergency is now. Teachers are leaving the state now. It's getting harder to recruit and keep teachers because of the cost of living in Flagstaff."
Taylor said he and his wife are struggling to keep up with the cost of living in town and save for their daughter's college education. Other districts in the state have found ways and juggled their budgets to give their teachers raises over the years.
"I've really enjoyed the classes I've taught here. I've really grown professionally and I had a supportive administration and district. I don't have any regrets," he said. "I love Flagstaff as a community. It's why I moved here, but it's time to move on."