As Geri Gordy walked up to an apartment with a skip in her step, clipboard in hand, one could easily think she was visiting a friend.
A moment after knocking lightly, the door swung open and Gordy was greeted with a bright smile and familiar welcome by Laura, one of her clients, who ushered her into her home, a family-centered domain where soft music joined an abundance of toys, high chairs, books and a crib.
Once a week for the past two years, Gordy, a family support specialist with Coconino County's Healthy Families program, has visited Laura to help her prepare for and later care for her now 18-month-old daughter, Shifrah, whose eyes widened with recognition when she saw Gordy.
Laura, a former preschool and kindergarten teacher, thought her classroom skills would translate into motherhood, even on her fourth child, but they did not cover everything. So when she heard about Healthy Families, a free, voluntary service for new parents, she decided to give it a try.
"I thought I had this figured out, but I realized, maybe I just needed another resource to give me a baseline," Laura, a single mother, said. "You can have a supportive mother, you can have a supportive circle of friends, you can have parenting friends. You can still use more support. Always. [Gordy has] respected my faith, she's respected everything about my home. Everything she has given me has not come from a basis of criticism. It's come from a basis of support."
Healthy Families Arizona was created in 1991 by the Arizona Department of Child Safety to teach parents how to give their newborns a healthy start. Its goal was to reduce child abuse and neglect through a healthier beginning. The program began operating in Coconino County a few years later.
Last year, Healthy Families served 4,330 families statewide. Since its creation, the program has improved the safety of homes, increased parent satisfaction and childhood immunization rates and decreased reports of child abuse and neglect, among other benefits.
Coconino County's Healthy Families includes families living within a 50-mile radius of the Flagstaff or Page County Health and Human Services buildings. Families can register anytime from the first day of pregnancy to three months after the birth of a child. The program will also accept families who have adopted or are fostering an infant younger than three months old.
"Although our program benefits children, ultimately, our work is with the parents, with the families," said Sunshine Coffman, program manager for the county. "It's really individualized based on what each family needs."
Though Healthy Families often serves low-income or unemployed individuals, Coffman said eligibility is not based on income. Locally, the program has also assisted people who have a history of mental disease or who live far from their family, for instance.
Five family support specialists -- four in Flagstaff and one in Page -- together visit about 100 families per week, providing them with tips, tricks and techniques to promote healthy, self-sufficient lifestyles. These specialists will spend up to five years with each family, though participants can opt out at any time.
In the 15 years Gordy has been with Healthy Families, none of her clients have stopped participating once they started, except those who moved away. Right now, she is working with 13 different families including teen moms, single parents, blended families, first-time parents and those who can only afford to live in motels.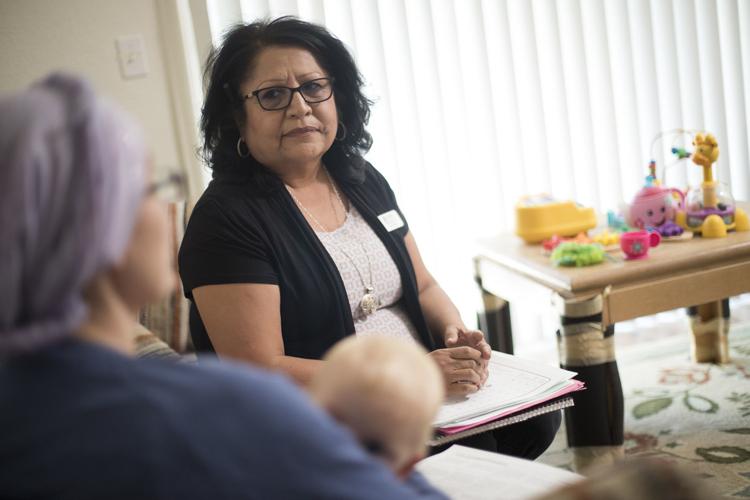 You have free articles remaining.
Register for more free articles
Stay logged in to skip the surveys
"Some [clients] will come back after 10, 15 years. They will stop by the health department and ask for me. Just to see that they thrive, that they're living elsewhere, that they've gone back to school, that they're employed, things like that, is very rewarding," Gordy said.
Though she was initially hesitant about having a stranger in her home, Laura has since found a comfort in this resource.
"Having someone who's going to come whether you like it or not (because you're enrolled in this program) actually turns out to be a great thing because then you get that support you need, that little mental break, that adult interaction and it's supportive, compassionate and scheduled. I don't have to work to make this happen. This is just going to be there for me," she said.
A typical visit lasts an hour and though they start at a rate of once a week, the frequency decreases as the child ages. During most visits, support specialists will simply chat with families about progress since they were last seen and as the child hits certain ages, there are milestone surveys to see if he or she is on track developmentally. Specialists will also survey parents to ensure they are displaying healthy problem solving, appropriate parent-child interactions and even self-care.
The feedback for both surveys is immediate and if there is a deficiency in any area, the specialist can provide tips and handouts of additional context or suggested actions. They also connect families to local resources, like childhood fairs and places to get free materials such as cribs and car seats.
"As a mom, you sometimes lose sight of how much progress you're making and how much of an effect you really are having on your children and I think being a part of healthy families has given me just that second pair of compassionate eyes to say, 'What you're doing is important. What you're doing makes a difference.' And to show the progress that sometimes I miss," Laura said.
Another local client loved the program so much that she later became a family support specialist herself.
LaVelle Begay first heard about Healthy Families through the County's Women, Infants & Children (WIC) program when she was pregnant with her first son, who is now 7 years old.
"I went to school, but I didn't know how to raise a baby. I was clueless. I figured this help was better than no help at all," Begay said. "[Gordy] saw me through from becoming a mom who didn't know how to raise a kid to being self-sufficient."
She participated in Healthy Families for the entire five years, gathering ideas about how to parent without repeating the only thing she knew -- how her parents treated her. When Begay had her second son during the fourth year of the program, Gordy was able to check in on his development, as well.
Years later, Begay joins her now-colleagues in ongoing trainings in subjects like child development, domestic violence, substance abuse, child abuse and mental health.
Begay currently works with 17 different families and said it can be difficult not to view them as friends.
"I know they say we shouldn't get too emotionally involved, but it's really hard not to because you see these families once a week," Begay said. "They confide in you. They trust in you and you have trust in them. You start to connect with them."