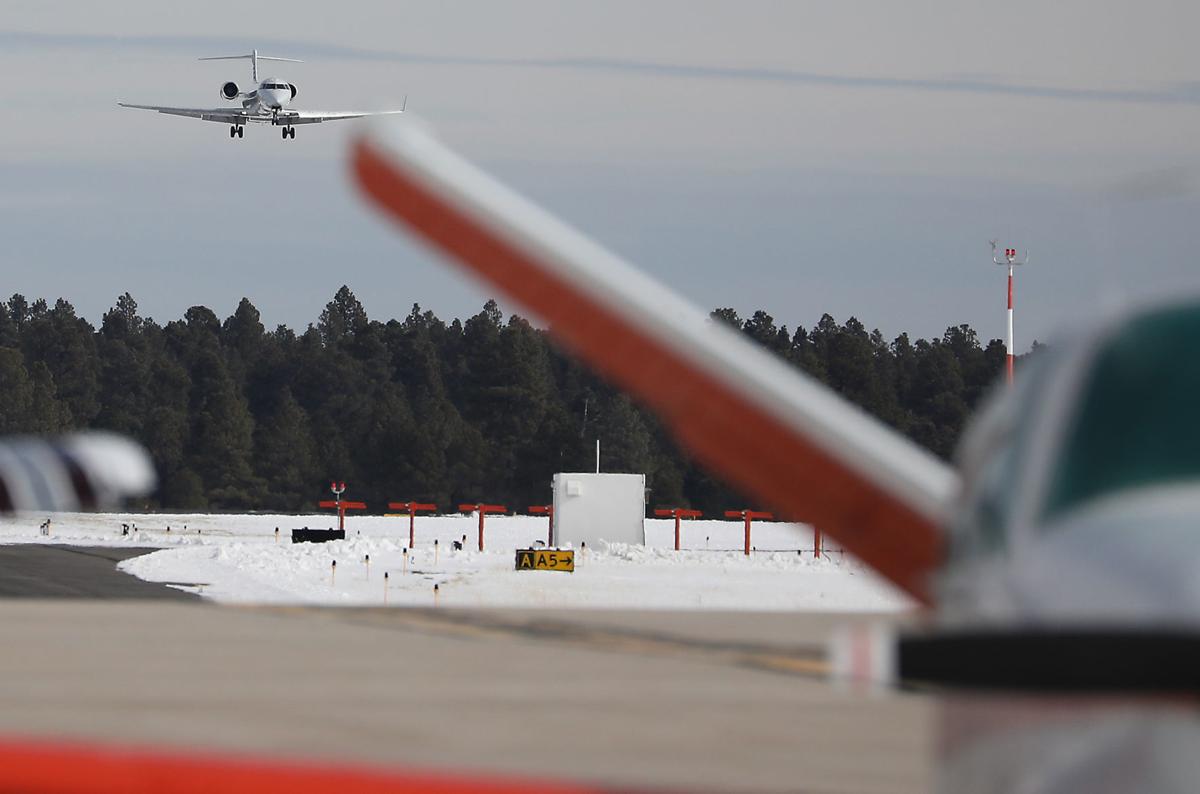 Airlines and rental companies at the Flagstaff Airport will have to wait to find out if requested rent abatements will be approved after the Flagstaff City Council postponed making a decision last week.
Since the number of air travelers has plummeted, several companies with commercial leases at the airport requested the city grant rent abatements from April 1 to September 30 of this year, with the possibility of extending those even further.
American Airlines and United Airlines, which provide flights from Flagstaff to Dallas/Fort Worth and Denver respectively, both asked for rent relief, as did the car rental companies Enterprise, Alamo, National, Hertz and Avis.
"We've seen a tremendous drop in activity. It's starting to pick back up, but for the better part of two months, nothing went on here other than medivac traffic," said Orville Wiseman, who owns Wiseman Aviation. "The longer they delay this, the worse they're making this for the commercial operators."
Wiseman Aviation, which provides fuel and maintenance for aircraft flying in and out of the Flagstaff Airport and across northern Arizona, also requested rent abatement. Wiseman said he hopes the council helps his company and other commercial leaseholders make it through these turbulent times.
Both American and United Airlines have already reduced the number of flights to Flagstaff.
Economic Vitality Director Heidi Hansen told the council Tuesday there are real concerns that, after so much work attracting airlines to the city, Flagstaff could lose those routes. Hansen said as airlines look to cut costs, it may be important to show them that Flagstaff is a good partner and willing to work with them through hard times.
If council were to approve the rent abatement for the requested six months, that would equate to about $356,785 of lost revenue for the city.
But City Airport Director Barney Helmick said that loss would be more than covered by the $18.1 million the airport received from the federal CARES act.
That money can be used both for capital projects and operational expenses at the airport, including covering rent abatement. That said, there is no requirement for airports to take such measures and the Federal Aviation Administration has left the decision purely to local officials.
But many on council seemed skeptical of the requested rent abatement.
Councilmember Jamie Whelan pointed out that companies such as American and United Airlines have both already received federal money to get through the crisis and said she wanted to make sure those companies were not double dipping on taxpayer dollars, getting federal money to pay for rents and then getting local abatements as well.
Whelan also said she wanted more information on how such large companies have treated employees throughout the crisis and added if those companies have laid off employees despite receiving federal aid, she would be much less likely to grant the requested abatements.
Hansen said it's true that many larger airlines have received federal assistance, but added that assistance has been exclusively to keep people employed, not pay for rents.
Vice-mayor Adam Shimoni said he thought the money could be better spent helping address the COVID-19 crisis in other ways, and councilmember Austin Aslan said he would have a very difficult time saying "yes" to the companies' requests.
Councilmember Jim McCarthy said he was potentially open to rent relief but agreed with Whelan that more information was needed before a decision could be made. And McCarthy suggested the council hold off on any decision until its June 2 meeting.
Councilmember Regina Salas said she would accept a delay but asked her colleagues to put themselves in the shoes of business owners and support the relief in the end.
But councilmember Charlie Odegaard said in his view, swift action was imperative and the council should act now to assist their commercial leaseholders.
"Time is really of the essence; we worked so hard for these two airlines to come to [Flagstaff]'" Odegaard said.
That struck a chord with Wiseman, who said he hopes Council acts sooner rather than later.
"Time is of the essence here. Yes, some of us got [Paycheck Protection Program] loans and everything, but basically that was two months of payroll," Wiseman said. "For some of these companies, once it's too late, it's too late. Doing something retroactively does absolutely no good."
Wiseman said the airline industry is truly hurting and there is real concern that at least one of the major airlines won't survive the downturn.
Flagstaff Mayor Coral Evans said she understood the concerns of staff about the potential loss of routes at the airport and said she thought much of the hesitance on the part of the council was because of how federal dollars have been distributed at the national level. She said larger companies have received huge aid packages while smaller mom-and-pop business continue to struggle.
Get local news delivered to your inbox!
Subscribe to our Daily Headlines newsletter.