It took awhile for the Northern Arizona offense to wake up Saturday in the Skydome against Northern Colorado.
The usually high-octane offense was held scoreless until late into the second quarter when quarterback Case Cookus tossed a 47-yard touchdown pass to Hendrix Johnson, and the Lumberjacks earned a 41-23 win over the Bears.
The Lumberjacks improve to 3-3 overall and 1-1 in the Big Sky, and snap a two-game skid. Northern Arizona is 3-0 at home this season.
Case Cookus dominated Northern Colorado as he has for most of his career, going for 406 yards on 19 of 32 passing with five touchdowns and one interceptions. He threw an average of 21.4 yards per completion. Cookus had 274 yards and four touchdowns in the second half alone -- when the offense really began to click.
"This was one of the best team wins I've ever been around," Northern Arizona first-year head coach Chris Ball said. "It was scary in that first half. They came together."
Cookus' career dominance against the Bears is impressive, with combined totals of 67 for 101 passing, 1,040 yards, 15 touchdowns and just one interception thrown in three career games against the Bears. For the Lumberjacks' star quarterback, there's more to it than just protecting home field.
"I guess you can call it a little personal," Cookus said. "Northern Colorado was one of the teams that passed on me when I was first coming out of high school. I got a little chip on my shoulder."
Northern Arizona entered the second half off the excitement of a 57-yard field goal by Luis Aguilar -- a career long and the longest in program history since the 1990s -- cutting the Bears' lead down to 13-10. The Northern Arizona sideline rushed Aguilar right after the ball inched just over the bottom upright.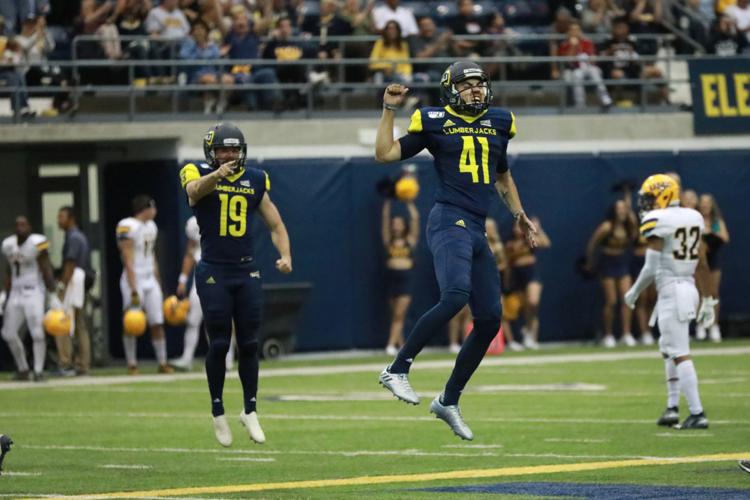 The excitement from the booming kick, Cookus said, was the boost that the team needed entering the locker room at halftime.
"I think when you get the ball with 29 seconds left in the half a lot coaches would call it a half," Cookus said. "We feel confident to move the ball and get the ball down there, and we got such a great kicker -- like what did he hit? A 57-yarder?
"I don't remember the last time we had 57-yarder and I've been here for 20 years now. So, I think it woke us up seeing a guy like that. He's improved from last season and before that, he's a guy that's worked really hard it's awesome to see him show his skill set."
The Bears struck first, and fast, to start the second half on a two-play, 75-yard drive. Northern Colorado quarterback Jacob Knipp threw a 75-yard touchdown pass just 14 seconds into the quarter, putting the Bears up 20-10.
It didn't take long for Northern Arizona to answer the score with a quick-hitter of its own.
Around 30 seconds of game time after the Bears' touchdown, the Lumberjacks needed just two plays as well for Cookus to drop a shovel pass to Brandon Porter. He broke the play wide open for a 61-yard touchdown run to close the gap back to three at 20-17.
A drive later, after Northern Colorado stalled, Cookus orchestrated a three-play scoring drive capped off with a Cookus to Stacy Chukwumezie play action touchdown pass.
The 51-yard score was upheld after an official review, giving Northern Arizona its first lead of the game, 24-20. The Lumberjacks added a 16-yard touchdown from Cookus to Porter and a 31-yard Aguilar field goal in a 24-0 run spanning until about the 12 minute mark of the fourth quarter.
Porter and Chukwumezie each hauled in seven catches, going for 152 and 156 yards respectively. Porter had two receiving touchdowns and Chukwumezie had one.
DEPLETED DEFENSE
While the offense took most of the second half to get going, the defense had its own issues despite the win.
The Lumberjack defense was down two of its best defensive backs in Khalil Dorsey and Anthony Sweeney. Nate Perkins, who was a corner turned wide out turned corner was ejected from the game two plays before the end of the first quarter -- forcing running back turned corner Jacob Mpungi into the game.
The defense played 11 underclassmen, with four of the top five in tackles Saturday being underclassmen.
"It's not an excuse. Next guy up has got to be at the level of our expectations. The guys are just out there battling. You got a guy playing corner against good wide outs that we moved over there last week."
Despite the inexperience the defense held Northern Colorado to just 32 rushing yards all game, compiling eight tackles for loss -- led by freshman Eloi Kwete's 2.5 -- and five sacks -- led by Brooklyn Hardiman and Kwete with 1.5 each.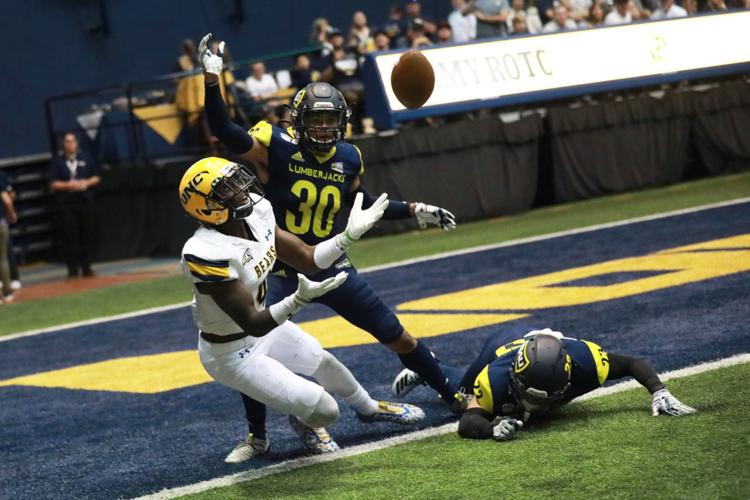 "That's something we always talk about," Ball said. "Anytime you stop the run you got a chance."
Freshman Daego Albert recorded his first career interception late in the game, stopping a potential touchdown from Knipp in the red zone. Mpungi struggled at times in coverage, but for a running back being thrusted into a new role it could have been worse.
RECORD BOOKS
Cookus broke into the 10,000-yard club with a 14-yard completion to Chukwumezie. He sits fourth on the all-time passing yardage list for the program. Early in the first half, Joe Logan entered the 2,000 yard rushing club.
The Lumberjacks enter the bye week next week, getting the team a potential chance to get a bit more healthy with Weber State looming.
---
BIG SKY ROUNDUP
N. DAKOTA 38, UC DAVIS 36
GRAND FORKS, N.D. (AP) — Brady Leach kicked a go-ahead 46-yard field goal with 57 seconds remaining, atoning for an earlier miss, and North Dakota held on to defeat UC Davis 38-36 on Saturday.
MONTANA ST. 34, CAL POLY 28
SAN LUIS OBISPO, Calif. — Travis Jonsen ran in the game-winning touchdown from 9 yards and Montana State blew a 21-point lead but hung on to beat Cal Poly 34-28 in overtime on night.
MONTANA 59, IDAHO ST. 20
MISSOULA, Mont. — Quarterback Dalton Sneed brushed aside a tough first quarter and threw for 397 yards and two touchdowns to push the Montana Grizzlies past Idaho State 59-20.
WEBER ST. 41, IDAHO 35
MOSCOW, Idaho — Kris Jackson's late touchdown gave Weber State the points it needed to hold off Idaho 41-35. Idaho (2-4, 0-2 Big Sky) got within 34-28 on Mason Petrino's 1-yard run with 3:19 to go before Jackson scored the necessary insurance touchdown on an 18-yard run. The Vandals followed Jackson's score with a 97-yard kickoff return by Nick Romano but an ensuing onside bounded out of bounds.
PORTLAND ST. 52, S. UTAH 31
PORTLAND, Ore. — Davis Alexander threw two touchdown passes and ran for a score and Sirgeo Hoffman added two touchdown runs to power Portland State to a 52-31 victory over Southern Utah.
Get local news delivered to your inbox!
Subscribe to our Daily Headlines newsletter.