Beams of natural and artificial light permeate the Museum of Northern Arizona. In the Donald Ware Waddell Gallery, the light dances over large, whimsical paintings of canyons and rivers, refracting through hand-blown glass bowls displayed throughout. Vibrant sunset gradients blend down vases shaped like opening datura flowers and match the color palette used in many of the paintings.
The work of painter Serena Supplee and glassblower George Averbeck intrinsically fit together. Although Supplee lives in Moab, Utah, the two have been friends ever since they met as students at Northern Arizona University in 1978. When they proposed a joint exhibit to MNA curator Alan Petersen three years ago, it didn't take much convincing for him to give the go-ahead.
"I've known their work for so long," says Petersen, who studied in NAU's art program alongside Supplee and Averbeck. "As soon as they proposed it I had a vision and just had to find pieces to fulfill that vision."
The two artists claim to have the biggest collection of each other's work, which perhaps unconsciously influences the creativity of each.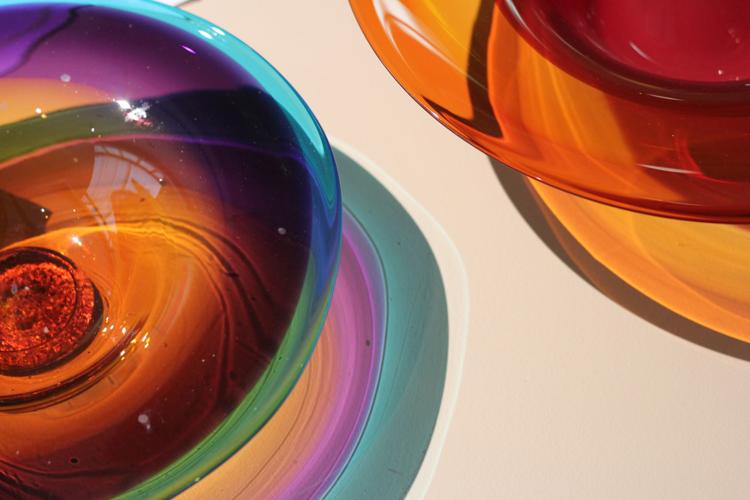 "We've traded pieces for decades," says Supplee. "I have his glasswork all over my house and he has my paintings all over his."
Averbeck has a Supplee painting hanging in his Fire on the Mountain Gallery on North San Francisco Street with one of his vases underneath, so bringing their two distinct styles together for a museum exhibit made perfect sense to the artists.
"You see all the colors?" Averbeck says, gesturing toward the paintings hung on the museum walls. "Serena's a color master, she's very narrative. The way she paints and the way she accentuates stuff makes the painting move."

Viewing her oil paintings up close, the brushstrokes offer subtle stories of the land before a step back reveals the bigger picture. Bright turquoise rivers cheerfully splash down purple canyons as trees look on, sometimes depicted in their lush green states, other times wearing warm fall colors in contrast to the rest of the image. 
"I think there are enough angry and depressing things already, so to make art that brings joy is really important to me," says Supplee.
Her paintings aim to bring a new perspective to scenes deeply familiar to those on the Colorado Plateau. She creates quick pencil sketches during outings to canyons and rivers before returning to her studio where she expand on her impressions. Sometimes those reference sketches are very detailed, but she also enjoys working from more sparse outlines.
"My imagination has freer rein working from my drawings," she explains. And then, adding with a laugh: "It's also about the feeling of it, creating the spirit of the place and I think there's more than one [in the Grand Canyon]. I think it's the most multifaceted place and has the largest range of feelings."
"I think sometimes we take it a little too seriously," Petersen says, and what better way to lighten the mood than with a confluence of color.
Complementing the paintings, Averbeck's glass pieces are displayed on pedestals throughout the gallery. The designs range from abstract colors to desert mountain ranges below clear blue skies and are created from clear molten glass that he gathers from a 2,000-degree Fahrenheit furnace. He has to work quickly, adding bits of different colors to the red hot mass before melting it together in another furnace set to 1,800 degrees, all the while spinning it constantly to ensure it keeps its rounded shape.
Averbeck worked with bigger pieces for this show, branching outside of his typical focus on smaller projects such as wine glasses, paperweights and ornaments, some of which hang from a tree outside his Birch Avenue studio.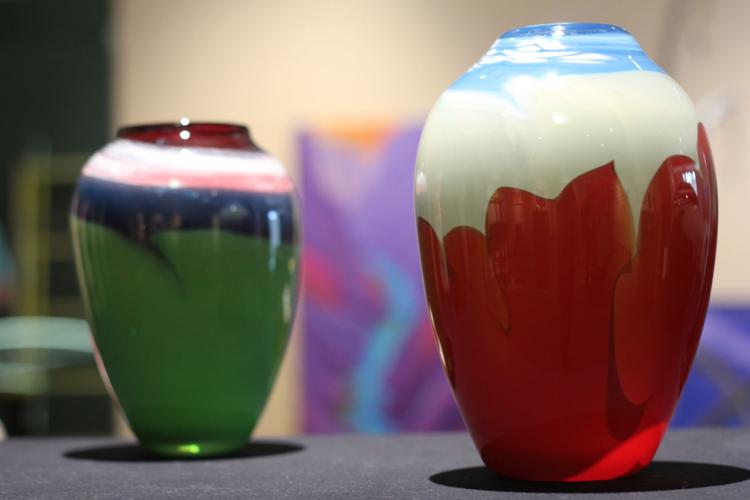 "It's hard," he says of making the large pieces. "When you have a piece on the end of the blow pipe and it's four feet away from you, the leverage is multiplied so it's like walking around with a bowling ball on the end of a broomstick."
With help from assistants, he was able to produce a number of these vases and bowls, and two metal light sculptures also bear his work. An Averbeck chandelier featuring 21 purple and pink light shades was installed during a recent Saturday afternoon to prepare for the show's opening as well as a floor lamp with light diffused through five blue and white flowers.
The organic shapes and scenes expressed across the two mediums reflect the natural beauty of the Colorado Plateau, bringing light to art enthusiasts and casual observers alike.

Confluence of Color opens with a reception and artist talk at the Museum of Northern Arizona, 3101 N. Fort Valley Road, this Saturday, Feb. 17, from 2-3 p.m. The exhibit will be on display through May 28. Entry is included with admission to the museum, $12 adults, $10 seniors and military, $8 students, free for members and children under 10. Visit www.musnaz.org for more information about the museum or www.azhandmade.com and www.serenasupplee.com to learn more about the artists.