There is never a dull moment at Tynkertopia.
From cardboard homes held together by hot glue to a bustling ant colony with an egg-laying queen, dozens of Flagstaff youth flock to the community center every day for a healthy dose of learning and play.
Amongst Wednesday's group of children were siblings Teja, 4, and Zuri, 7, who were hard at work in the afternoon arranging melting beads into various shapes. After a brief press of an iron (with parental supervision, of course) the beads fused together into colorful works of art to take home.
"Look, look! It came out perfect!" Zuri said.
"It really did come out perfect! It looks so beautiful," Alice Christie said.
Tynkertopia set out to foster a safe place for children of all backgrounds to use their imaginations when it was founded by Christie, a veteran educator and technology consultant, nearly three years ago.
And since then, it has done exactly that. From humble beginnings to becoming a certified 501(c)3 nonprofit, the program has steadily grown with Christie's love for education as a driving force. Last month, the program hosted a ribbon cutting ceremony to kick off the grand opening of a brand-new facility in the Siler Homes neighborhood.
The ceremony featured tours accompanied by food and drink as city officials made an appearance to celebrate the opening. Mayor Paul Deasy was in attendance as well and gave a speech thanking Christie for her contributions to the community.
Tynkertopia brands itself as a STEAM community center with the mission of "building a stronger future for Flagstaff youth and families." The acronym stands for science, technology, engineering, the arts and mathematics, but Deasy said the program "is really much more than that."
"Dr. Alice, I have so been looking forward to this event since I first heard about it. You have created something amazing for our community," the mayor said. "One of the most important things for me as a parent is to teach my children, and one of the most important things for all of us really is a love for learning."
"Tynkertopia is really a culmination of all my dreams and all of my educational experience. It keeps me young at heart and it keeps me happy," Christie said.
Christie has been an educator for the last 53 years and brings experience teaching science, technology, reading and writing. The Tynkertopia founder also holds a master's degree in reading education from Boston University, as well as a Ph.D. in language and literacy and educational technology from Arizona State University.
After retiring from education, Christie thought she was ready to settle down. But before long, she was traveling the country to teach the STEAM education model to other educators, writing a book in the process. Eventually, "it was time to bring the STEAM model home to Flagstaff." She began developing the idea for a Flagstaff-based community center in 2016.
Like so many other community programs, Tynkertopia was forced to close prior to the opening of the new facility as the COVID-19 pandemic swept through Flagstaff. Before closing, Christie said Tynkertopia operated at its previous location on Fourth Street for about 20 months. During that period, more than 10,000 residents were welcomed through the door.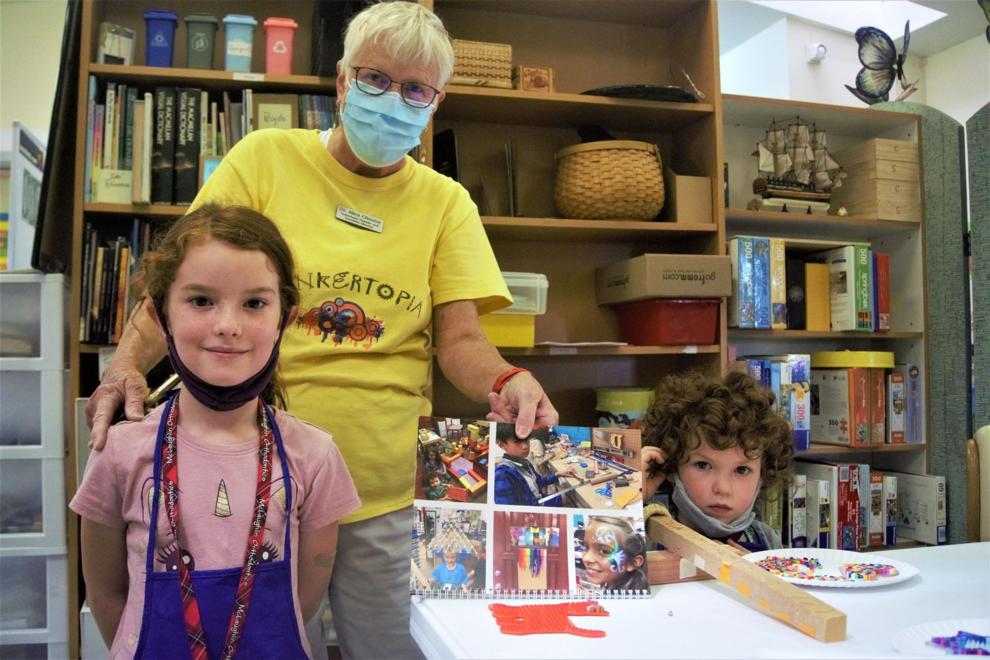 In the early stages of Tynkertopia, Christie said, the program only saw about seven to 10 students a day. But after being featured in the Flagstaff Festival of Science, that number jumped to 20 to 25 students a day. The following year, that number would grow to more than 40.
"That was a really, really fun time. And then of course we closed, but we quickly reinvented ourselves and immediately started doing online STEAM challenges," Christie said.
Eventually, Tynkertopia would begin preparing STEAM kits filled with learning activities and crafts that could be distributed to children throughout the community. To date, Christie said, the program has distributed more than 16,0000. Each kit comes with a unique activity, complete with instructions and all of the necessary materials.
As it came time to shift focus back to in-person learning, Christie said, the program was fortunate to secure a partnership with the City of Flagstaff as the search began to find a more suitable building.
After considering various locations, Tynkertopia would eventually land in the building that previously housed the Siler Homes Activity Center. The city agreed to provide the 1,800-square-foot building to Tynkertopia in exchange for expanded programming.
"We were able to locate this building as a very underutilized building. We have an agreement with the city that they provide the building for free in exchange for Tynkertopia providing STEAM education to the community. So it's a win-win," Christie said.
Deasy commended the STEAM model for its impact on Flagstaff.
"To me, we are a STEAM city as the interconnection of creativity, understanding, wonder and humanity are inherent in the acronym. It is our science, technology, engineering, the arts and mathematics that distinguishes our town. The work of Tynkertopia is a catalyst to perpetuate who we are as a city," Deasy said.
A look inside
Tynkertopia consists of several distinct rooms set aside for different age groups and areas of inquiry. There's a room dedicated to technology that houses virtual reality systems, coding lessons and robotics. Just around the corner is the building room where families can find tools and supplies to create sculptures and contraptions.
Christie said keeping the building room stocked with knick-knacks and other supplies -- such as toilet paper rolls and various nuts and bolts -- is largely dependent on community donations.
"There's tons of cool materials the children can build with," Christie said. "And that's kind of our hidden agenda here: to repurpose, upcycle and recycle."
This week, Melissa Waitere brought her daughter to Tynkertopia and was busy creating a miniature cardboard home in the building room. It was the second time her family had visited the new location, and she said she enjoyed the new layout.
"It's kind of like a dream being here because there are so many cool things," she said. "I met my friend and her children here all the time. It's fun for moms to bring their kids and to be able to create things in a child-friendly environment."
On the other side of the building is the arts room, which has a large table where kids can work on their masterpieces. One of the students' favorite art activities is creating unique marbled paper using techniques involving water and paint -- but the room has all sorts of different supplies to explore.
The ant farm located near the front of the building is another one of the main attractions and features a 24/7 live camera that allows visitors to view the colony of native ants up close. It was donated by a nonprofit committed to science education, Isaac's Ant Foundation.
When wandering through the community center, there is no shortage of scientific displays competing for attention. There's a digital microscope with an assortment of different materials to view, a 3D printer and an aquaponics system that allows plants to feed off waste from tropical fish living in a decorated tank below.
David Hendershott, the science education coordinator at Tynkertopia, said he enjoys watching the student's develop "creative confidence" and critical thinking.
"Some of my favorite memories have been the projects that the kids come up with in the workshop," Hendershott said. "Some of their creative ideas are solutions I never would have thought of myself."