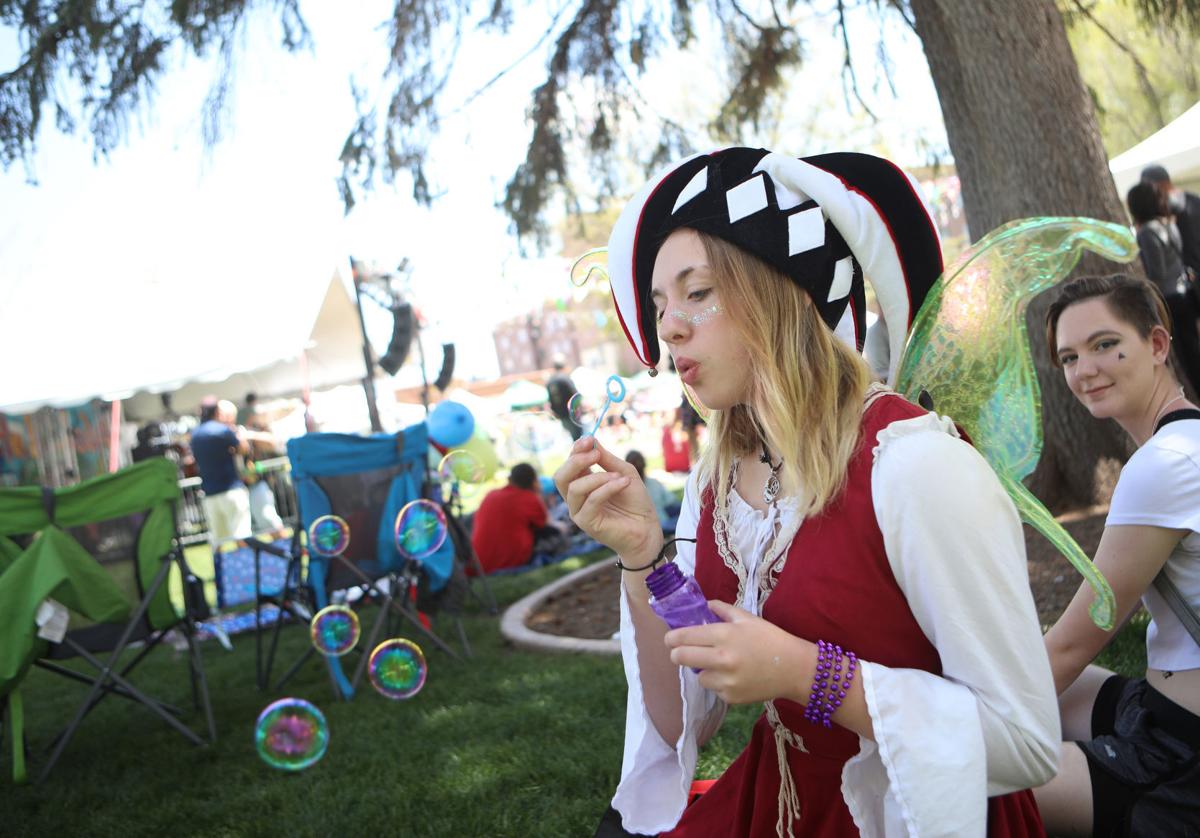 In a typical year there are plenty of events in the Flagstaff area for residents to look forward to. There's the Flagstaff Hullabaloo at Wheeler Park, Fourth of July festivities downtown and the Coconino County Fair at Fort Tuthill Park, to name a few.
But for the second consecutive year, the pandemic raises questions as to how large public events will take place, if at all. The Arizona Daily Sun talked to community event coordinators about what to expect this year, safety protocols and the difficulty of planning public events during a pandemic.
Awaiting city guidance
Many of Flagstaff's annual celebrations take place on public property, meaning details on those events are contingent on how the City of Flagstaff chooses to address pandemic restrictions this summer.
Hullabaloo director Matt Ziegeler said he is uncertain if the festival will take place. Hullabaloo already postponed plans for the first week of June in hopes of being allowed to operate at full capacity later in the summer. Ziegler said the festival is now tentatively planned for Aug. 14-15.
But because the festival takes place at a city park, it is restricted to capacity limits placed by the city on special events.
Ziegler said there is very high interest from both artists and the community to see the festival take place, but that organizing an event under the current restrictions is impossible.
"Hullabaloo is an expensive event to produce with a small profit margin, so the idea of reformatting it at a smaller size just isn't feasible," Ziegler said. "It has been a struggle to have the business I built over 20-plus years to be shuttered and to have my income eliminated. I have spent the last year learning as much as I can about COVID and event safety so I will be ready once conditions improve enough to get back to work."
Flagstaff City Council agreed Tuesday to increase maximum occupancy of events on public property from 50 individuals to a capacity based on the amount of open space.
"The decision this week to move from a limit of 50 people to the use of a capacity calculator is a great step in the right direction, but we would like to see clearer guidance about where things will stand in August when we intend to produce the event," Ziegler said.
Despite the uncertainty, other events in the city have already embarked on the planning process.
The annual Greater Flagstaff Chamber of Commerce Fourth of July Parade is planning to take on the same format of previous years, with a twist, commerce senior advisor Joe Galli said. The traditional format will consist of staging areas and the parade route in the typical spots of the downtown area.
"We will offer various livestream perspectives online through our social media channels Facebook, Instagram and YouTube. For the first time, the Greater Flagstaff Chamber's Fourth Parade will be viewable live worldwide," Galli said, adding that the parade is very spatial in its own right but will still implement social distancing restrictions within the staging areas and throughout the parade.
Galli said the chamber has seen great interest from the public in participating in a parade. He added that he anticipates the event will move forward by July with vast community support and a social consciousness of the current times.
Whether such an event can take place remains contingent on the city's policies, but Galli expressed confidence that a safe parade can still happen.
"The tremendous number of vaccinations, decreased case counts and low positivity test rates in Coconino County have created an environment which will allow us to safely hold the parade in July 2021," Galli said.
Galli added that more information on the parade should be available in the coming weeks. He told the community to "stay tuned."
Fairly more like a fair
Coconino County Parks and Recreation is currently evaluating multiple formats for the county fair, including a virtual, in-person or hybrid event in September.
That announcement came in a notice last week informing the community that vendors are wanted for this year's celebration. But how exactly the county plans to implement vendors along with the usual lineup of game and entertainment options is not entirely decided yet.
As fair planners continue to make preparations for the Labor Day weekend occasion, fair manager Ricky Conway said the team will work closely with Coconino County Health and Human Services to ensure the safe use of the fairgrounds at Fort Tuthill. Unlike last year, the county does not feel it will be necessary to do a completely virtual event.
"However, we did it last year, so if we need to employ that for any reason we could deploy a virtual model," Conway said. "At this point we think it unlikely we will need to do that."
Planners said the other two options are more likely -- either an in-person event implementing COVID-19 protocols, or an in-person livestock show mixed with remote celebrations.
In all potential formats, however, the fair will implement necessary safety protocols in collaboration with CCHHS, Conway said.
The goal is to have a decision made on the direction of this year's fair by June 1 to allow enough time to execute contracts, gather supplies, work with vendors and inform exhibitors how to enter the fair, Conway explained.
If planners choose to host an in-person fair with safety protocols, Conway said to expect more of a "traditional" event with the carnival, rides, entertainment and food -- in addition to the 4-H and the livestock auction.
But unlike past years, fairgoers would be asked to follow mask requirements, physically distance and sanitize their hands frequently.
Conway said the fair had already been using multiple hand sanitizing stations in past years -- which can be augmented with new facilities to keep surfaces disinfected. He added that the fair would operate with frequent cleaning and disinfecting.
The layout of the fair might look slightly different as well.
Conway said the carnival would be modified to a degree and that the entertainment viewing areas would have guests spread out further than usual. That includes creating additional space between chairs and tables and encouraging families to sit in pods.
"So basically we would be following the best practices and recommendations from the CDC, Arizona Department of Health Services and working with  Coconino County Health and Human Services," Conway said. "And we'll need a lot of signage to really promote and encourage these practices to the fairgoers."
If the fair decides to focus its efforts on the 4-H and the livestock auction, the carnival aspect and most of the entertainment would not be included in an in-person event, Conway said. But fair planners might look into having some food vendor options available in-person.
"Kind of like last year, we really committed to being able to offer something for those exhibitors. Those projects are yearlong projects, so having some sort of culmination with 4-H kids is important," Conway said.