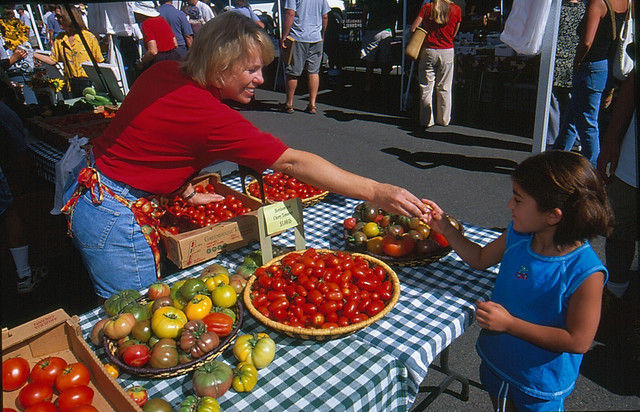 A nutrition-based program, spearheaded by Arizona nonprofit Pinnacle Prevention, is helping people bring home more healthy fruits and vegetables while also supporting local farmers. Double Up Food Bucks Arizona is a federally funded effort that doubles the value of SNAP benefits used at farmers markets across the state.
Through a partnership with Flagstaff Foodlink, Double Up Food Bucks is now be available at both Flagstaff Community Market sites. Market customers can take advantage of the program at the Sunday Downtown Market, which runs from 8 a.m.-noon in the City Hall parking lot, and the Wednesday Sunnyside Market, 4-7 p.m. at Pine Forest School.
The Double Up Food Bucks Arizona program is part of the Fair Food Network's national Double Up program. When someone uses their SNAP Quest Card at participating farmers markets, every dollar they spend is matched with an extra dollar to spend on more Arizona-grown fruits and vegetables, up to $20 per day.
This increased access to healthy food is important for the many thousands of Arizonans who experience food insecurity, and those who live in food deserts across the state.
Food insecurity, or the lack of access to nutritious food, affects 15.8 percent of Arizonans, and 24 percent of Arizona children, according Map the Meal Gap's 2017 food insecurity report. This makes Arizona the state with the fifth-highest national food insecurity rate for children. In Coconino County, 19.9 percent of residents experience food insecurity.
Maintaining a nutritious, vitamin-rich diet is especially difficult for residents who live in food deserts. The USDA defines a food desert as an area in which a significant number of residents have limited access to affordable and nutritious food. These are typically low-income areas that are more than a mile away from a grocery store or supermarket.
Proximity to supermarkets matters because low-income residents are also likely to have limited mobility, making trips to the grocery store more difficult. Many of these families may instead rely on local corner stores or fast-food restaurants that offer fewer nutritious food options.
Double Up Food Bucks tokens are currently available at 12 farmers markets, four farm stands and 34 Fresh Express Mobile Market sites across the state. Between July and December 2016, Arizona families brought home over $5,000 worth of fresh produce purchased with Double Up Food Bucks.