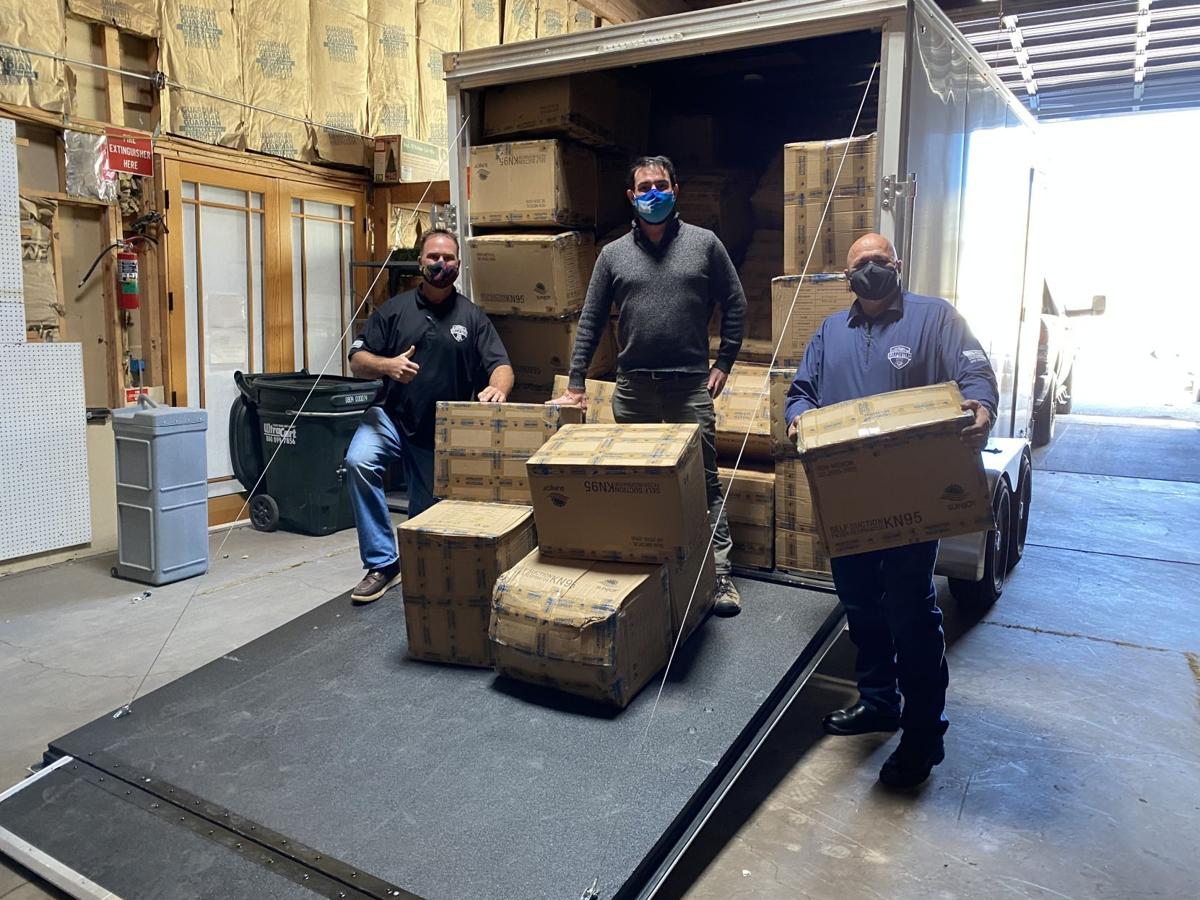 Flagstaff received a donation of 230,000 KN95 masks Thursday that are set to be distributed throughout the city and to surrounding areas.
Flagstaff Mayor Paul Deasy said the donation comes at a crucial time for the community, which is still grappling with challenges related to the COVID-19 pandemic.
"We need to be steadfast here just for a short while longer, and these masks, I think, will be very helpful for protecting people through this transitional period," he said.
The donation was made by Brenton Mauriello, CEO of Thermba, a Nevada-based company formed to distribute personal protective equipment. Mauriello said he founded the company during the pandemic to make an impact, not just on his community, but throughout the country.
"When COVID began spiking in our area, I was pretty scared for my grandfather and my parents. If this donation can help prevent death or serious injury for even one person around Flagstaff and the various communities, it will be worth it," Mauriello said.
After receiving the donation, Deasy coordinated the distribution of the masks with the help of his wife, Amethyst, who is a registered nurse, and learned of the opportunity through a connection at work.
"It was a happy accident that I met one of the people with the masks," Amethyst said. "[Deasy] helped connect those who made it all happen. I'm happy to be a part of helping our community get this resource."
In order to claim the donation, Deasy needed to coordinate the masks' transport from Bullhead City. He eventually connected with members of the Southwest Regional Council of Carpenters, which offered to transport and help distribute the masks free of charge.
Fabian Sandez, region manager of the Southwest Carpenters Union, said the operation was a team effort pulling Carpenters Union members from Phoenix and Las Vegas to help get the materials to Flagstaff.
"It's an honor to help Mayor Deasy in providing PPE to our essential and frontline workers here in Flagstaff. We are indebted to them all. Their safety is still paramount because we are not out of the woods yet, as far as the pandemic is concerned," Sandez said.
So far, 3,000 masks have been given to the Flagstaff Education Association, along with 2,000 to food and commercial workers and 21,000 to tribal communities, Deasy said, with more planned donations in the coming days.
Other organizations set to receive masks include the Flagstaff Family Food Center, Kinlani Mutual Aid, United Food and Commercial Workers 99, the Boys and Girls Club and the Flagstaff Shelter Services. 
Flagstaff might hold on to a portion of the masks to promote public safety at festivities planned this summer, such as the annual Fourth of July parade, Deasy said.
"And beyond that, they're really just available to anybody that can utilize them," Deasy added.
Community leaders continue to advocate for mask-wearing
Thursday's donation comes on the heels of Deasy's announcement that the City of Flagstaff does not plan to rescind its face-covering proclamation despite Arizona Gov. Doug Ducey's March 25 executive order lifting coronavirus restrictions across the state.
Ducey's executive order prevents local governments from requiring businesses to follow occupancy and face-covering mandates. Instead, businesses are encouraged to enforce such policies on their own.
Officials with Coconino County also advocated for the continued wearing of masks and coverings in a March 29 media release.
The county said it will continue to follow the CDC and Arizona Department of Health Services guidance on COVID-19 mitigation efforts -- including the strong recommendation for all persons to continue wearing a face covering, maintaining physical distance and avoiding large crowds.
"That general public health guidance has not changed even if the governor's executive order has altered the local enforcement powers … We encourage our residents, tourists, businesses and organizations in Coconino County to comply and help us conquer COVID-19,"  said Kim Musselman, director of Coconino County Health and Human Services.
Access to CDC and ADHS mitigation guidance can be found at: coconino.az.gov/covid19. The county encouraged public and business entities to adhere to this guidance.
"Since the pandemic began, Coconino County has been a leader in the State in testing for COVID-19, protecting our vulnerable populations, and in standing up vaccination sites to protect the public health of our residents and visitors. Our Board of Supervisors continues to support a science-based approach and asks everyone to continue safe practices as recommended by our health department," said Chairman of the Coconino County Board of Supervisors Matt Ryan.