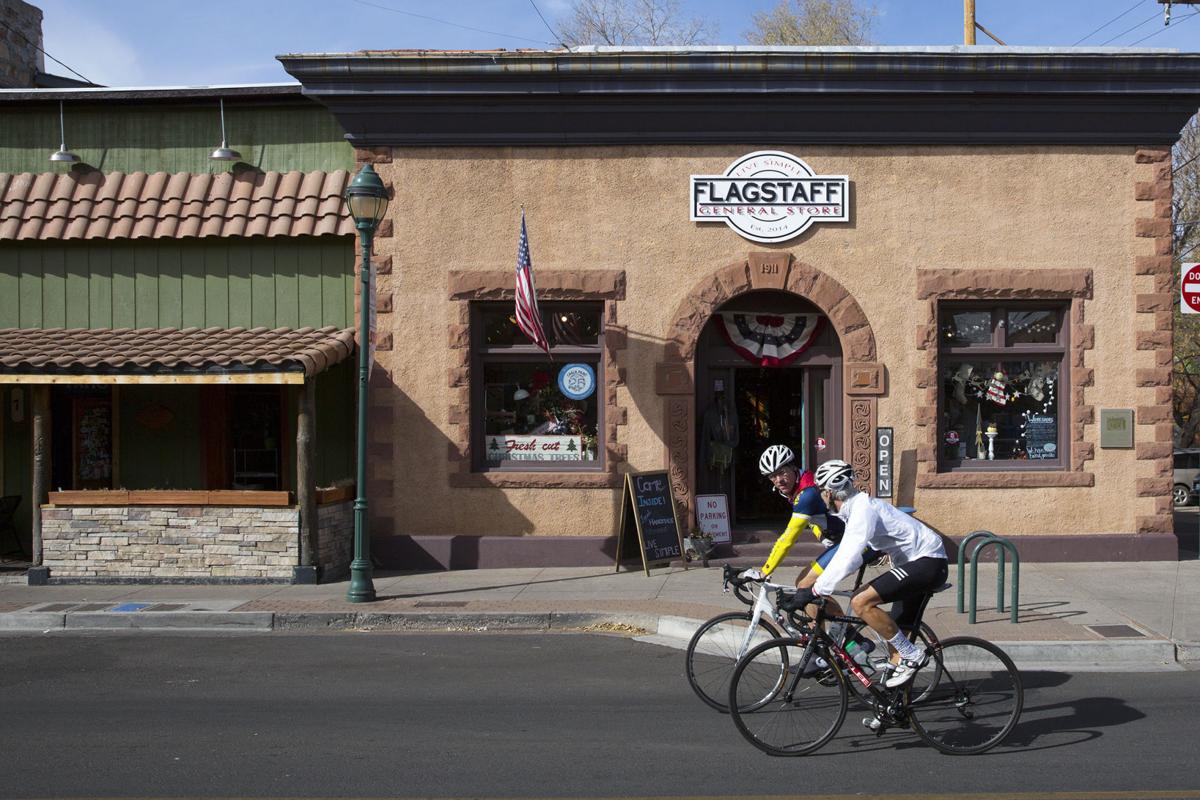 Flagstaff pedestrians and bicyclists might see better sidewalk coverage, improved bike lanes and safer travel routes in the city's near future.
On Tuesday, Flagstaff City Council was briefed on a plan to promote walking and biking within the city, known as the Active Transportation Master Plan.
Councilmember Adam Shimoni, who considers himself a member of the Flagstaff bicycling community, said it is time to "take action" on the proposal.
If approved, the plan provides needed framework for future projects and upkeep of the city's active transportation infrastructure. It also seeks to promote walking and biking as a sustainable alternative to motor vehicles.
City planners are moving forward with the idea in the midst of the COVID-19 pandemic, which has influenced alternative means of travel nationwide. Stay-at-home orders created an increased interest in outdoor recreation, such as biking.
Flagstaff Multi-Modal Transportation Planner Martin Ince said he sees this trend continuing beyond the pandemic. This, in conjunction with Flagstaff's growth in population, necessitates "honest, thoughtful and sometimes difficult" conversations about the future of the city's transportation systems.
"We don't need to recreate planning for transit, we just need to make sure we are taking advantage of the relationship between transit and walking and biking," Ince said.
Congestion management is one benefit of a bolstered transit and active transportation system. Given the city's growth, Ince said, his department can no longer promise less traffic and increased access to free public parking. Reducing the demand for vehicle use could mitigate these concerns.
To encourage walking and biking, the plan aims to increase the convenience and comfortability of its infrastructure. This includes adding sidewalks to more than 60 miles worth of streets that are currently lacking, along with increasing the space designated for bike lanes.
During a presentation to Council, Ince shared data from Portland, Oregon, that categorized citizens by their comfort level utilizing bicycling as a form of transportation. The study showed that between 50 to 60% of citizens are "interested but concerned," while a third of citizens are unable to bike or uninterested altogether.
Councilmember Austin Aslan acknowledged there is a portion of the population that cannot ride a bike, and pointed out that interest in cycling is largely tied to seasonal weather and the mountainous geography of Flagstaff. Overall, Aslan was supportive of the plan.
If successful, the plan will create a comprehensive network of viable routes for pedestrians bicyclists. One goal is to create infrastructure that gets citizens from point A to point B safely and efficiently. 
Shimoni laughed while suggesting that he will sign up his mom to test bike routes, adding that he was also supportive of the proposals.
Flagstaff Mayor Paul Deasy suggested the city should utilize technology, such as a mobile app, as an effective means of informing citizens of trail systems and bike routes. He said he would enjoy using technology to teach his children a safe route to school.
Once implemented, the plan will include a list of goals, strategies and suggested actions to improve walking and biking in Flagstaff. It also seeks to accumulate information on the current conditions of active transportation and the existing inventory of pedestrian and bicycle facilities.
City planners expect the transportation tax renewal to bring in an anticipated $29 million over the next 20 years specifically for pedestrian, bicycle and trail projects. The plan will also lean on future private development projects to implement improved of infrastructure.
The Active Transportation Master Plan will seek city council's final approval in March.