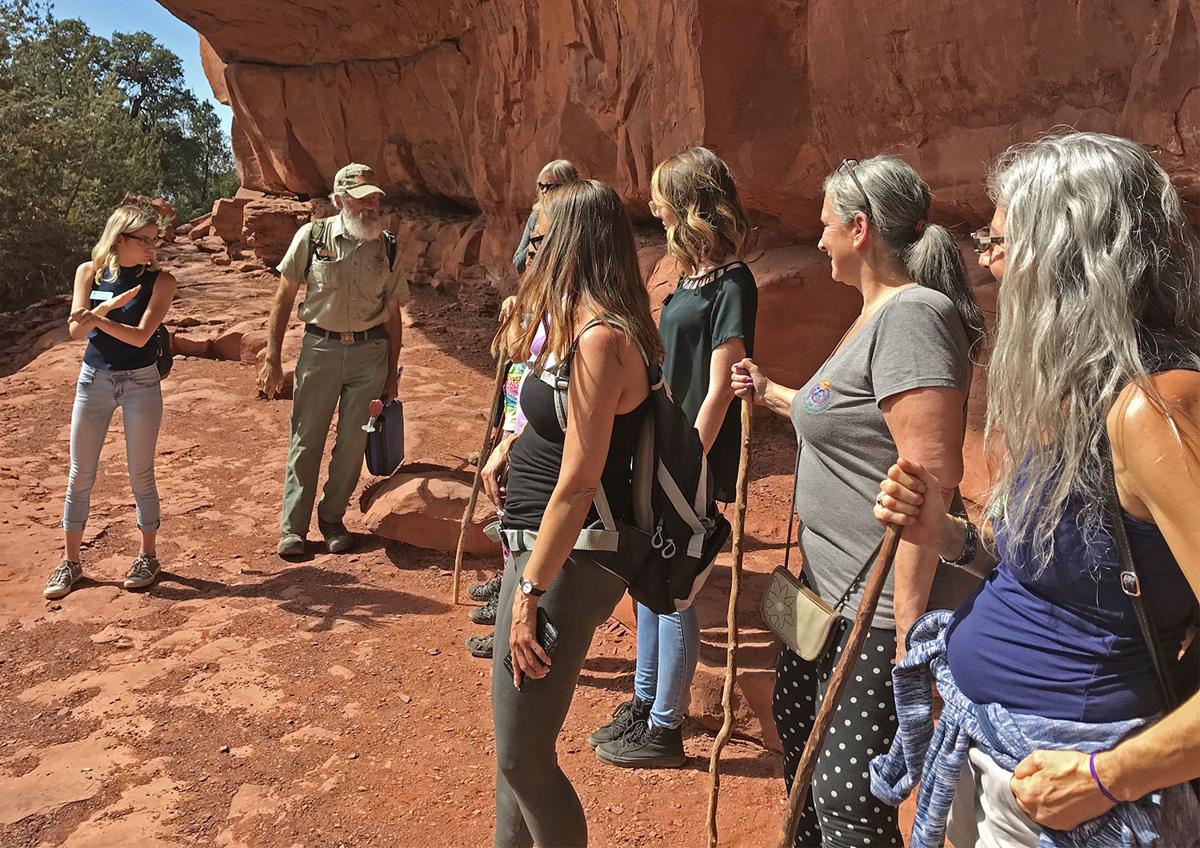 If they didn't know how to say "Sinagua cliff dwelling" in American Sign Language before, they do now.
On Oct. 19, four Coconino Community College ASL students joined a group of five deaf people on a tour of the Palatki Heritage Site near Sedona to interpret a U.S. Forest Service volunteer's narrative. It was a perfect opportunity for real-time experience interpreting for deaf people.
"I was grateful for the opportunity to work with such awesome people," said student Cait Bradshaw. "They were very generous."
Student Heather Casey added, "I don't think we could have had more understanding and accommodating people to work with."
According to information from the Forest Service, Palatki Heritage Site is one of the largest cliff dwellings of the Red Rock Country between the years 1150 and 1350 AD. Visitors get a good view of Sinagua cliff dwellings and "alcoves that shelter the painted symbols, or pictographs, from every native culture to ever occupy the Verde Valley."
The students involved in the tour, all of whom can hear, made their way to ASL studies as a means to satisfy foreign language requirements as part of their college studies. Each of them has decided to continue with it and possibly pursue ASL interpreting as a career.
Student Kelly Hicks said she was grateful to be among deaf community members from another part of the United States on the tour of Palatki. The deaf community in Flagstaff is small, so it was a joy to work with deaf community members beyond Flagstaff. They were very helpful, and corrected the students on signs when a better sign would work to explain a concept or idea.
"They did it in a nice way," Hicks said, laughing. "So, we weren't scared to make other mistakes."
Casey said she learned that it is all right to make mistakes, and that the need for interpreting is essential.
Bradshaw was impressed with the gentleness with which the deaf tour participants helped the students interpret accurately.
"The experience helped me become more comfortable," Casey said. "This gave us one chance to play with the language and figure things out that way."
Hicks said her biggest challenge was her self-doubt of "it's too soon" to interpret. When she first stood to sign, she went "blank," but as the day went on, practicing, her vocabulary and skills came back to her.
Casey said it was important for her to realize that the people she was providing the service for were relying on her information, and that settled her nerves.
"And I said, 'Hey, I actually can do this. It's not the end of the world,'" Casey said.
Hicks said the students typically watch interpreting video scenarios in class, where they get the luxury of being able to practice and think about the interpreting. The work on the Palatki tour was immediate, and it felt very different.
"There's no pause or rewind," Hicks said. "You need to figure it out as you're doing it. We couldn't say, 'We didn't practice that.'"
Sarah Benton, CCC's ASL program coordinator, said that the tour allowed the students to use ASL in a natural, organic setting, with immediate feedback and the ability to adjust and use the language in real-time – a crucial element to increase fluency in a language.
Benton added that the request came to her from a Forest Service volunteer who walked into her office and asked for interpreting services. From time to time, Benton fields similar requests, and she's always on the lookout for opportunities to help her students get a feel for real-time interpreting.
Larry Hendricks is the public relations coordinator for Coconino Community College.