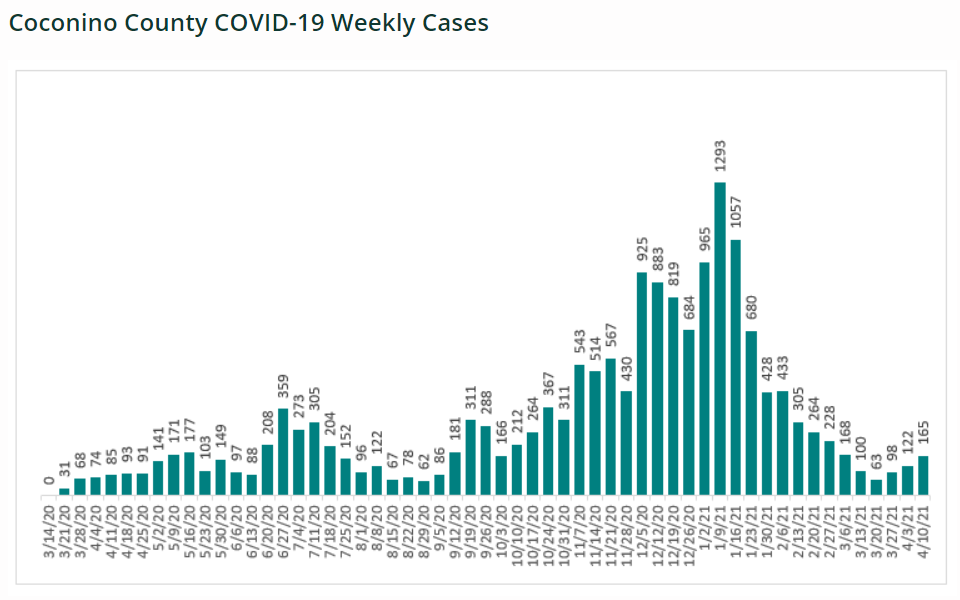 Coconino County saw COVID-19 case numbers rise for the third week in a row as health officials continue expanding vaccine availability throughout northern Arizona.
Coconino County Health and Human Services Director Kim Musselman said the county is continuing to explore methods to increase vaccination rates among residents of the county, with several strategies already underway.
"We have been looking at ways in which we can pivot to reach all of those in our communities who may either have access issues to getting vaccinated, hesitancy issues and ultimately convenience issues," Musselman said.
Total case numbers in the county rose from 122 cases the week ending April 3 to 165 cases the week ending April 10, according to the Coconino County Health and Human Services. The increase comes after cases dropped beginning in January and lasting through mid-March.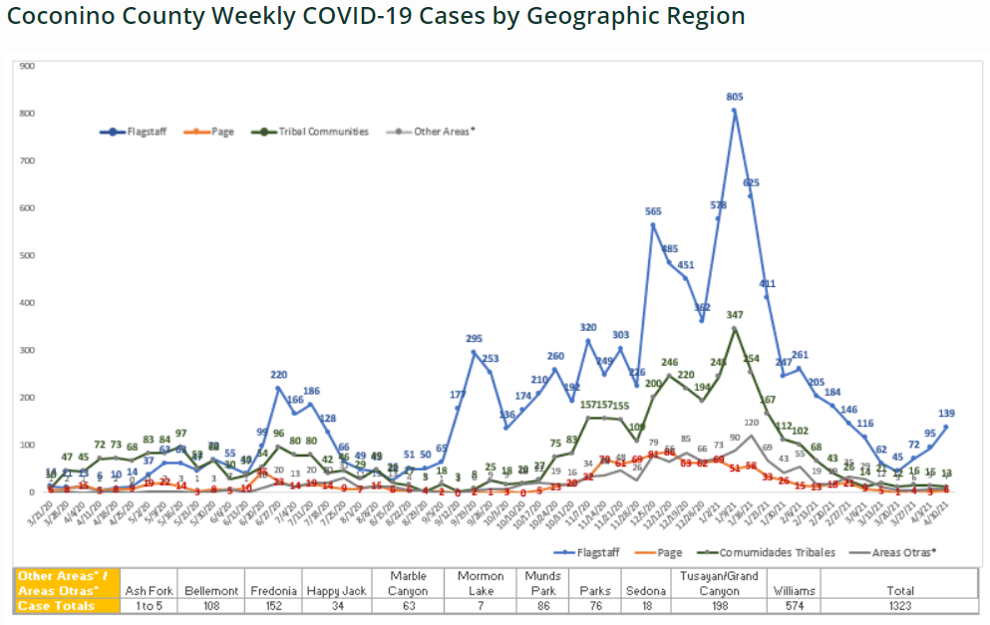 The Flagstaff area was a significant factor in the rise, with case numbers increasing at a rate much higher than other surrounding areas and accounting for 139 of the county's 165 cases in the most recent weekly report.
As of Tuesday, 33% of the entire county population has been fully vaccinated against COVID-19. According to the most recent data from the Arizona Department of Health Services, 64,122 county residents have received at least one dose of vaccine.

Flagstaff residents have been administered the highest total doses of the vaccine, while Page and tribal communities have seen the highest vaccination rates proportionate to population size, according to data from the CCHS.
To address vaccine rate issues, the county vaccination site at Fort Tuthill is now offering non-appointment vaccinations between 10 a.m. and 2 p.m. Those with appointments will have first priority, and both walk up and drive up vaccinations are available to all residents.
The county will also offer pop-up clinics throughout northern Arizona to provide even greater access without the need for an appointment. The first pop-up took place Thursday from 1 to 3 p.m. in the CCHS parking lot in Flagstaff.
Health directors will look to mobilize those vaccination efforts, potentially organizing events in outlying communities or specific neighborhoods.
Vaccine appointments are currently only offered to residents age 18 and older, but a state-operated vaccine clinic in Flagstaff will begin offering doses of the Pfizer vaccine to individuals as young as 16 next week.
That vaccination clinic, the Northern Arizona Regional POD, will open on Monday on Northern Arizona University Flagstaff campus at the University Union Fieldhouse. Free parking for vaccine appointments is available in the campus P16 lot just west of the building, according to the university.
Appointments beginning the week of April 19 were made available Friday at 11 a.m., accessible by visiting the website podvaccine.azdhs.gov or by calling 1-844-542-8201.
The clinic will offer vaccine appointments seven days a week from 7 a.m. to 5 p.m., with the potential to extend hours to 7 p.m, according to the CCHS. The site will begin by offering 1,00 doses a day but is capable of expanding to more than 4,000 a day.
The state vaccine effort is a partnership between NAU, Gov. Doug Ducey, ADHS, Coconino County, Northern Arizona Healthcare and the Arizona Department of Emergency and Military Affairs, according to a letter from NAU President Rita Cheng. Premier Medical Group will be the site's primary operator and Northern Arizona Healthcare will provide additional support for clinical staffing.
Infectious disease researchers are busy tracking and studying variants of the COVID-19 virus…
The county Tuesday announced it would halt Johnson & Johnson distribution this week following reports it could lead to rare but potentially dangerous blood clots, yielding to the recommendations from the Centers for Disease Control and Prevention and the Food and Drug Administration.
Appointments at this week's vaccine clinic at the Elks Lodge were canceled, and affected individuals were encouraged to seek vaccination at other county sites offering the Moderna vaccine.