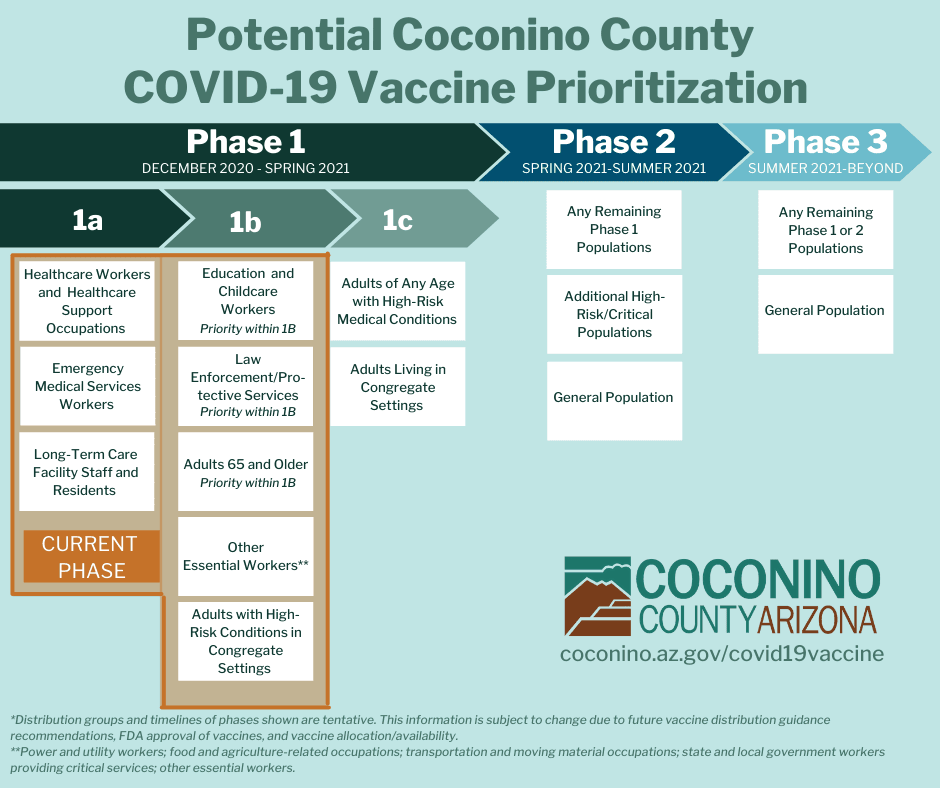 Coconino County will not be receiving its shipment of the Moderna COVID-19 vaccination this week and as a result, an estimated 1,800 first-dose vaccination appointments for Thursday and Friday have been canceled.
All first-dose appointments for Thursday, Feb. 18, and Friday, Feb. 19, at Fort Tuthill County Park, Northern Arizona University, Northern Arizona Healthcare's Elks Lodge clinic and North Country HealthCare have been canceled and must be rescheduled. Those affected will be contacted directly by the vaccination site where they were scheduled.
No second dose appointments at any local vaccination sites have currently been impacted.
The county announced Wednesday evening that it was notified by the Arizona Department of Health Services of a delay in its weekly vaccine shipment due to extreme weather conditions across the country.
At the time, the county reported that first-dose appointments for Saturday, Feb. 20, were not affected, but the status could change based on future vaccine availability. Coconino County Health and Human Services was able to provide vaccines for Wednesday appointments at all vaccination sites throughout the county.
The shipment delay came just days after Coconino County first offered vaccine appointments to its remaining essential workers because several hundred vaccine appointments had been available at the Fort Tuthill and Northern Arizona Healthcare vaccination sites this week, even after making an extra push to the Phase 1a and 1b priority groups, Director of Coconino County Health and Human Services Kim Musselman told the Board of Supervisors in a presentation Tuesday.
The move opened vaccines to about 37,000 county residents in the Phase 1b vaccination group, Musselman said, and by Sunday evening, the week's appointments at Fort Tuthill were full. Appointments at NAH's Elks Lodge clinic for the week were all spoken for by Tuesday morning.
COVID-19 vaccination sites as of Tuesday throughout Coconino County had distributed 70% of the 34,740 total vaccines received, and Musselman said she expects to see increasing demand for vaccines through the Phase 1b group.
With the start of COVID-19 vaccine distribution to remaining essential workers this week, Coconino County is expecting to see an increasing demand for vaccines and is working to meet it with greater appointment capacity where possible.
"This is a very large number of people who there is an incredible interest in getting vaccinated in short order -- which we're thrilled to have happen because that's what we want is people to be excited and want to be vaccinated as soon as possible," Musselman said, requesting that eligible community members have patience as they seek vaccination appointments. "There is going to be a lot more people wanting to access appointments than we have vaccine for in the initial few weeks, but if folks who are able to work remotely and are exclusively remotely, we ask that you continue to be patient and let those who are working the front lines in our essential services take those open appointments."
In addition to all remaining essential workers, the Phase 1b category also includes the county's unsheltered population.
Musselman said North Country Healthcare plans to order vaccines specifically for these individuals this week and begin to coordinate with local shelters to vaccinate their clients as early as next week.
NAH leaders have reported that staff at the Elks Lodge vaccination site administered 2,683 Moderna vaccines in the first five and a half days of operation and are now at a maximum capacity of 500 doses per day. When second doses begin at the site next month, the team plans to scale operations up to 750 total doses a day.
The Elks Lodge site has received 11,000 total vaccines, of which 81% have been distributed. The site's allocation places it just behind Fort Tuthill, which has received 11,140 vaccines but has distributed only 43% so far.
To help meet the increasing demand for vaccines, Musselman said, Northern Arizona University is working with the state to be considered as a future regional vaccination pod, a site that could open as early as Feb. 27 and would be offered in addition to NAU's existing testing operations at the University Fieldhouse.
NAU President Rita Cheng, in a letter to the campus community Friday, described the university's mitigation testing as "vitally important" even as the school expands its vaccination efforts.
Musselman said it is currently unclear which populations the NAU vaccination pod would serve because of the discrepancies in current priority phases between different Arizona counties.
Coconino, Navajo, Apache, La Paz and Santa Cruz Counties are currently vaccinating individuals in the Phase 1b category. The Arizona Department of Health Services reports the remaining counties are serving only prioritized members of Phase 1b, including education and childcare workers, protective services occupations and, in some counties, adults age 65 and older.
Musselman told the supervisors her primary concern with the potential site is how it could affect the county's overall vaccine allocation.
Her hope is the site brings more vaccine capacity to Coconino County and does not take away from other providers' allocations. If the NAU pod site receives the Pfizer vaccine, it would help to increase the local available allocation, she said, because the county is primarily receiving the Moderna vaccine.
As the county works to reach more members of vulnerable populations with its vaccination efforts, anyone needing assistance — for language or technology reasons, for example — can reach out to the COVID-19 Information Line (928-679-7300). Musselman has also encouraged community members to help one another with the vaccination process however they can, from signing up online to providing transportation.
"That is really going to help us all out in terms of making sure we're reaching out to everyone who is ready and willing to accept vaccination when it's their turn," she said.