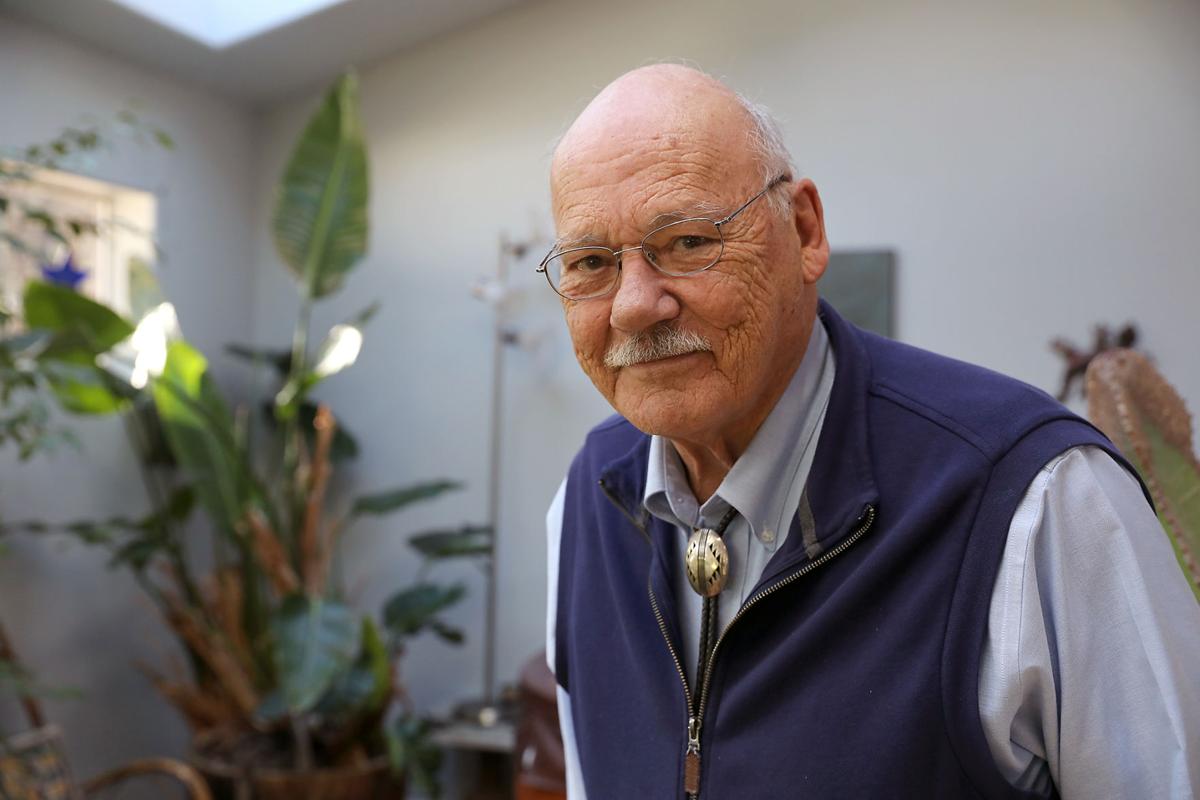 Volunteer and former county supervisor Carl Taylor has lived all along the western hemisphere, from Rio de Janeiro to Pittsburgh.
But the most formative moments of his childhood came from the wild terrain and artifacts found in the rocky valleys of Utah. There, his grandfather was a forest ranger, and as a child he would travel to ranger stations and explore the iconic wildlife his grandfather protected.
Among the sublime and dramatic cliffs of Utah, he found artifacts like arrowheads from people long since passed.
"When I was a kid, I was busy imagining what life would have been like for whoever shot that arrow. I figured if you put a lot of work into it, you would not have willingly lost it," Taylor said. "To find a perfect arrowhead — someone must have put a lot of time into it, lost it, and it somehow survived for hundreds if not thousands of years."
It should come as no surprise that a man who values the traces left behind by this region's ancestors would strive to build things that last. Taylor has been selected as the Arizona Daily Sun's Male Citizen of the Year in many ways for this effort. He spends his retirement protecting the histories of Flagstaff and the communities who have come before, helping construct buildings and relationships that can survive the test of time.
Taylor appreciated the honor, but mentioned that part of his success must be shared with his wife Holly Taylor.
"If I've been nominated, it really should be for a couple," Taylor said. "[Holly and I] worked as a couple all these years."
The two of them found each other in Atlanta. Taylor worked as a professional architect for 32 years specializing in high-tech labs and green buildings before selling his business and retiring to Flagstaff.
When trying to decide where their post-retirement life would take them, Taylor said he wanted to live in the West and Holly wanted trees. They also liked the intellectual communities that are tied to university towns, and Flagstaff's Unitarian Church.
"Trees, scenery, church and NAU — that pretty much decided it for us," Taylor said, laughing. The two made their way out to Flagstaff in 1997.
During his time in Flagstaff, Taylor has worked pro-bono doing architect consulting for nonprofit organizations on strategic planning for facilities. He was elected as Coconino County Supervisor for District 1 and founded programs like the Kaibab Vermilion Cliffs Heritage Alliance, the Coconino County Sustainable Building Program and the Sustainable Economic Development Initiative.
As a volunteer, Taylor has been president of multiple boards for Flagstaff Symphony Orchestra, The Arboretum at Flagstaff, Beyond War Foundation and Beacon Unitarian Universalist Congregation. He currently works with the Friends of the Flagstaff Area Monuments, Diablo Trust Board of Directors, Coconino Community College "Champions," and the Outreach Committee of the Colorado Plateau Water Advisory Council, among others.
It seems moving to Flagstaff was the right decision.
"We talk all the time about how lucky we were to come here," Taylor said.
Elected leader
Taylor first became acquainted with northern Arizona when he went to work at the North Rim in the Grand Canyon at a young age.
"I used to go down to Bright Angel Point, look across at the South Rim lights and think about that," Taylor said. "It never occurred to me that the whole area would be a part of what I'm responsible for as a county supervisor. It meant a lot to me."
Taylor worked for eight years on the Board of Supervisors representing the area from Flagstaff to Utah. He said he treated it like a job, and has respect for anyone who would want to read the 800-page packets before each meeting. He ran on a message of sustainability, and was elected for two terms.
He said one of his most proud accomplishments was the county green building program. The program provides green projects free educational opportunities and resources, green consultations and project certifications.
"That was very satisfying," Taylor said about his time in office. "And kind of a surprise. I had no thoughts about getting into political life when I moved out here."
Volunteerism
In many ways, Taylor's time as an elected official is just a facet of his volunteerism. He jokes that his retirement has been him working without pay. But he truly believes that volunteering and working together is essential to a strong society.
"To some extent, volunteering is like that — working for no money. But most organizations, from government entities on down, are seriously understaffed," Taylor said. "A volunteer can have a huge impact just by providing some baseline help that they otherwise wouldn't be able to secure. A lot of what Holly has done, what I've done, is just pitch in to help row the boat."
Additionally, Taylor thinks it's imperative people work together to solve society's large problems like social, economic and environmental issues.
"One person is not going to turn that boat around. I think it's in our mutual self-interest to work together," Taylor said.
Taylor's strong sense of community stems back to his time organizing for an activist group called Beyond War. There, they would have weekly living room meetings and push for a world without war. In many ways, his sense of community and sustainability strengthen and inform each other.
"We're really fortunate to have met a lot of really remarkable people here," Taylor said. "Flagstaff is filled with a lot of people looking for an opportunity to do something. If you invite them to join, they will do it."
Meeting past and present
Taylor always had a love for archaeology and anthropology, but his father said it wouldn't make any money, so he became an architect. He's continued to enjoy it as a hobby, and feels northern Arizona is a wonderful place to do so.
"If I find a site, I like to look at it, and try to understand what it might have been like in the life of those people — most of whom never made it out of infancy. Thirty years would have been an old person," Taylor said. "It's a hard life, and quite astounding what they did without metal and without draft animals."
He felt that these people were able to be successful by passing on life and values to the next generations. He is most troubled by the degradation of environments and climates, and fears the worst of our actions today have not been felt yet.
"There's an old story about a frog in water, and when you turn up the heat, the frog doesn't know it gets hot until it boils. I think that because this is a slow-moving crisis, it's very easy for people to rationalize it, or to ignore it, or to minimize it," Taylor said. "Even if we were to do a turn-around today and seriously look at population issues, food issues, water issues and our effect on climate, it will still be generations before we would stabilize what is going on.
"The hardest thing for people to do is to be aware of that and still try to make change, to not despair," Taylor said.
Despite the sense of hopelessness that has latched itself onto environmental issues, Taylor keeps acting and pushing toward a better community. In his mind, he tries to see peoples' commonalities and discuss disagreements rather than prescribing evil motives.
In Taylor's mind, we owe it to our ancestors to continue their path of success. He wants to continue to provide life to our children and a world where they can enjoy our same happiness.
"I'm here because of thousands of generations, none of which failed to produce a new generation," Taylor said. "It just seems that you owe them."