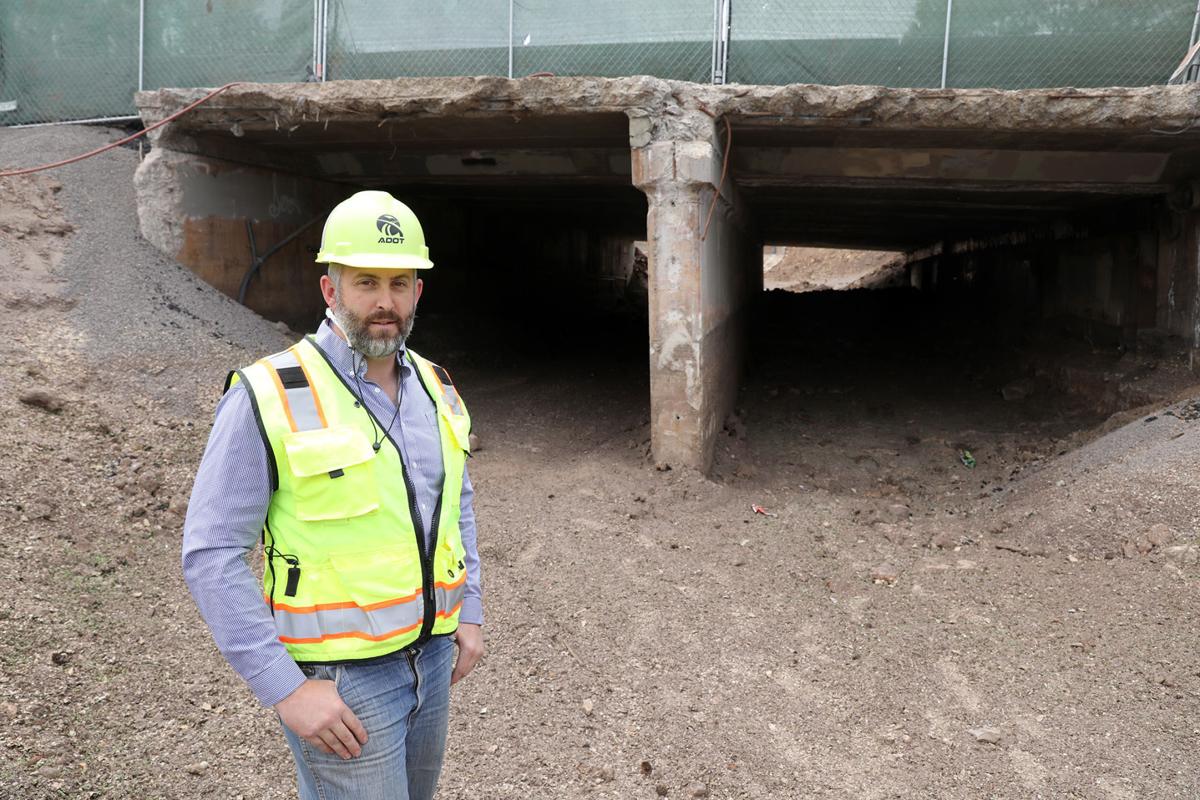 Thousands of commuters cross the Historic Route 66 Rio de Flag bridge everyday -- some without realizing it. But even lesser-known is that the bridge is nearly a century old and a vital component of the city's flood control.
Over the next week, it will be replaced in favor of a new bridge that offers both an additional turn lane and is beneficial to the city's long-term flood control efforts. 
As the old and dilapidated bridge, standing since 1934, says its final goodbye, travelers should expect increased traffic and detours in the downtown area. 
The Arizona Department of Transportation project began on Thursday evening the final phase of replacing the bridge, which officials said has exceeded its service life.
The project will close Historic Route 66 in front of Flagstaff City Hall (from Milton Road to Humphreys Street) for one week as crews work to install precast bridge girders and pour a new bridge deck.
ADOT resident engineer Nate Reisner said using those precast bridge components greatly reduces the time needed for closures.
"Basically with this project, we built a big Lego set," Reisner said. "We're going to come in here and we're going to set those concrete blocks and make a new bridge."
But this week's closure follows more than a year of intermittent closures and visible construction along Route 66, leaving some to question why the project has taken so long. 
It turns out much of that time was spent on a long list of work needed to prepare the site for a new bridge. That includes relocating pre-existing utilities in the area such as sewage pipes and cable lines. 
"So that's what people have seen, the sideways drilling that looked like it was foundation work maybe for the bridge, but it wasn't. It was utility relocation that had nothing to do with it," Reisner said.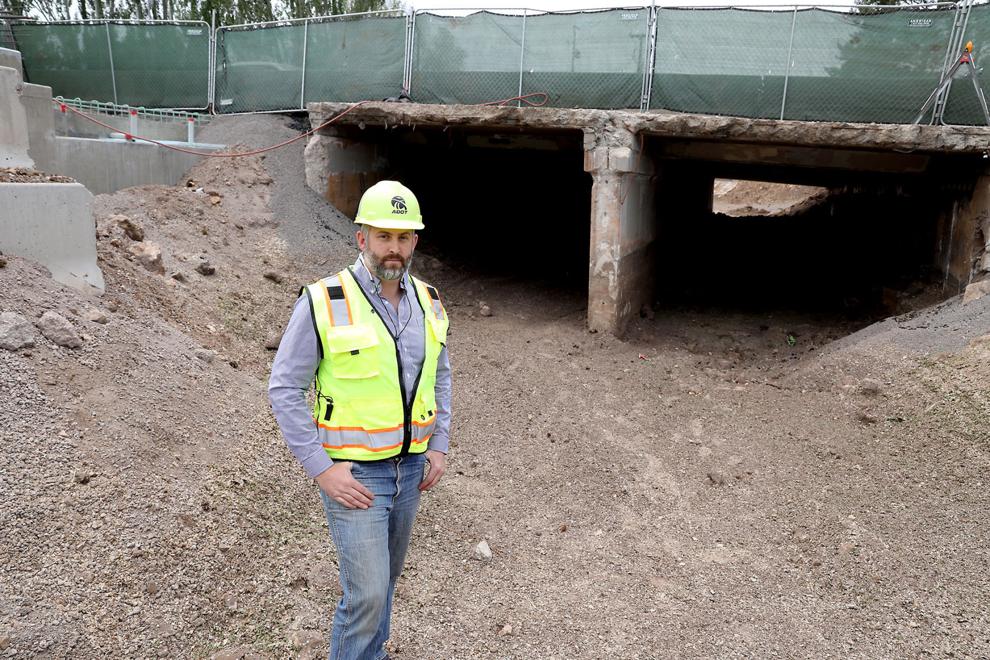 With the site ready for the precast pieces, ADOT crews can now install the new bridge and make improvements to both the roadway and the Rio de Flag flood control project in the process.
The City of Flagstaff is paying ADOT crews to over-excavate the wash beneath the bridge to make room for the city's planned flood control infrastructure, including a box culvert the city hopes to install 17 feet underground, Reisner said.
Crews have also left room for the city to add a Flagstaff Urban Trail System passage under the bridge, he said.
For ADOT, the partnership is a win-win because it allows crews to protect the bridge from future projects while they excavate for the city.
"We're going to install some infrastructure to protect our bridge while we're hammering out the rock for the city's project and we'll fill back in again with loose dirt," Reisner said.
That loose dirt will be a lot easier for the city to remove when it comes time for infrastructure to be installed as part of the Rio de Flag flood control project. That project encompasses a 20-year, $122 million effort between the City of Flagstaff and the U.S. Army Corps of Engineers to make the city safer from flooding.
ADOT hopes the project will enhance the use of Historic Route 66, accelerating long-term traffic plans in the process. The new bridge will be wide enough to implement another left-turn lane from eastbound Historic Route 66 to northbound Humphrey, Reisner said.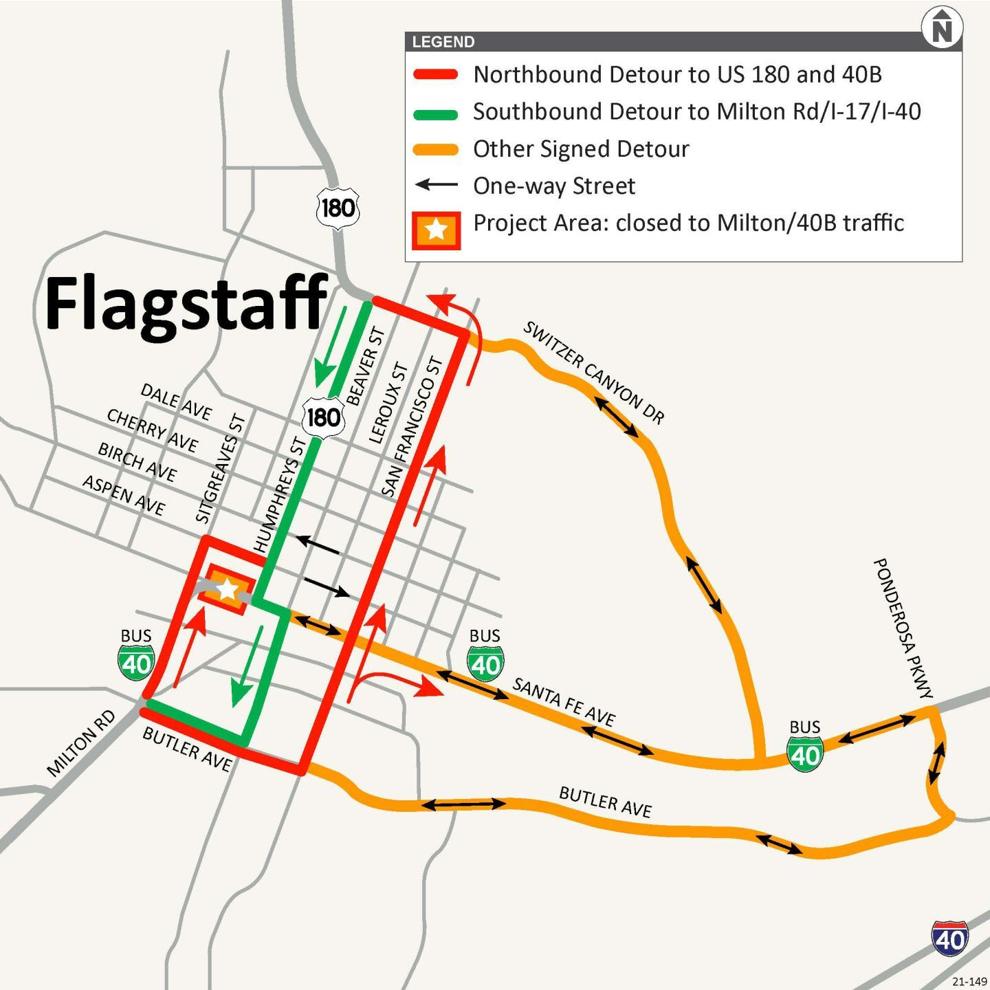 Traffic impacts
According to ADOT, Historic Route 66, also known as Business Loop 40, will be closed in both directions between US 180, known locally as Humphreys Street, and the Sitgreaves Street and Santa Fe Avenue intersection until 6 a.m. Friday, June 18. Detour signs will be in place to direct traffic around the closure.
Drivers heading north on Milton Avenue toward downtown Flagstaff will be detoured onto Butler Avenue to San Francisco Street. Local drivers, and those visiting the area from the Valley, are encouraged to use I-40 eastbound to Butler Avenue to bypass the traffic impacts due to construction.
Drivers heading south on US 180 are encouraged to use Switzer Canyon Drive to Historic Route 66 to bypass traffic impacts. Drivers who head south on US 180 in the downtown area, to get to points south and west of the project area, will turn left on Route 66 and use Beaver Street to head south to Butler Avenue and make a right to connect with Milton Road.
Drivers on Route 66 from east Flagstaff can use Switzer Canyon Drive to head north or use Ponderosa Parkway to head south and connect with Butler Avenue to get to points west and south of the project area.
After the weeklong bridge installment is completed, the crews will spend a few months finalizing the bridge while also improving the sidewalks and median along the street. Those efforts will likely result in additional lane impacts without any more complete east or westbound closures, Reisner said.