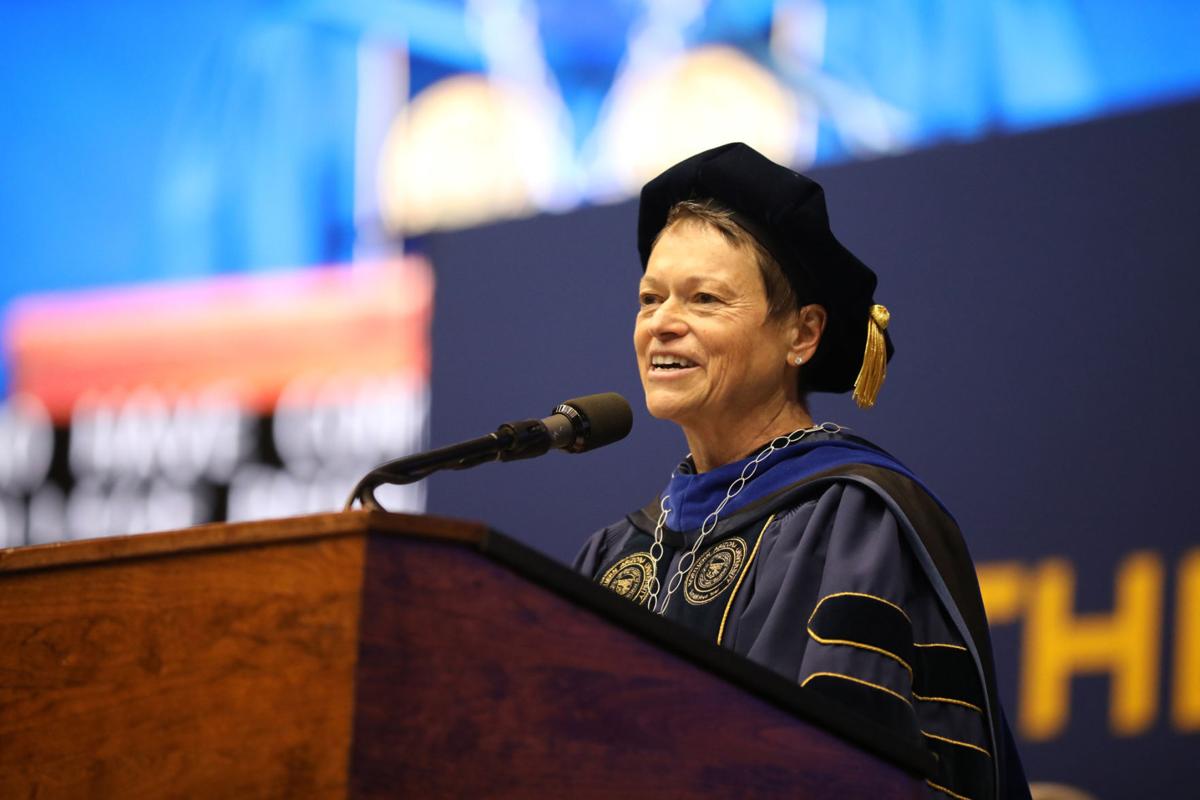 The ability to work with the community and commit to environmental sustainability were the top requested traits for Northern Arizona University's next president during a town hall Thursday evening.
It was the first event held to gather comments from the general public on President Rita Cheng's replacement since the NAU Presidential Search Advisory Committee was formed by the Arizona Board of Regents in September, following Cheng's announcement that she would not seek a renewal of her contract when it ends in 2022.
Regents Fred DuVal and Lyndel Manson, who chair the search committee, said prior to the town hall, they had received hundreds of emails and phone calls and had individual meetings with university, community and business groups.
"Because we have asked for so much communication and actually received it -- which has been fabulous -- I don't know that we're hearing new things," said Manson, who lives in Flagstaff, to the Arizona Daily Sun. "What we're hearing is different ways to phrase it and different ways that resonate. And that's helpful because when you're talking with individuals, potential candidates, having the ability to phrase things in multiple different ways makes that communication deeper and people start to really understand what you're looking for."
The town hall attracted about 20 in-person attendees and 200 virtual spectators, including current and former NAU students and employees, plus other Flagstaff community members. About 18 participants between the two groups shared their thoughts on the traits that should be sought in the next NAU president, focusing primarily on the need to strengthen ties between the university and Flagstaff communities.
"We need a university president that can bridge the gap with the community. We have had a longstanding rift between the city or the county," said community member Joe Carter, who has a family full of NAU alumni. He said these efforts should extend to all statewide NAU campuses and their surrounding communities.
Like many other participants, Deborah Harris, executive director of the Southside Community Association, echoed these sentiments in her comments about the relationship between NAU and the Southside neighborhood.
"The next president should actively participate in community, become thoroughly aware of how whatever happens at NAU affects the Southside and be thoroughly aware of what those consequences of NAU's actions will be on the Southside neighborhood and the city," Harris said, adding that the ideal president would also have an awareness of historically underrepresented populations. "That leader should also be morally courageous and make decisions based on moral courage. They should join us in building community and making NAU the institution that we all want it to be."
Flagstaff Mayor-elect Paul Deasy, a research analyst at NAU, spoke of his ties to the university as both a former student and current employee, promising to do his part to improve the relationship between the NAU administration and the City of Flagstaff.
"I care deeply about the prosperity of this city. I care deeply about the prosperity of NAU. And I see this as a huge opportunity for the success of both," Deasy said. "I am committed to whatever president you choose that we will work together and work for the betterment of this community."
Among students, improving the university's sustainability practices and response to climate change was a popular topic Thursday. Students asked that the new president make these actions more of a priority.
"There is an incredible opportunity here to speak to student concerns," said Ellie Broadman, a doctoral candidate in the School of Earth and Sustainability. "Students like me who are drawn to NAU to tackle environmental problems want to know that our institution is a leader not just in climate research, but also in climate action. And if you want to attract the best and brightest, both of these must be part of our institutional pride and brand."
Additional requested presidential traits from town hall participants included kindness, transparent communication and support of faculty, research and diverse students and staff.
The regents had addressed some topics that were mentioned by participants prior to the start of the public comments, expressing ABOR's support of expanding NAU's commitment to diversity, equity and inclusion as well as environmental sustainability, among other areas of interest.
In response to one individual who submitted a comment online asking if the future president would have a salary similar to Cheng's — which totals more than $475,000 — DuVal said the board is aware of the financial stresses on campus and would be mindful of the cost to find a new president, but that this salary is below average for the leader of a university of NAU's size.
Finding candidates
DuVal and Manson admitted to the Arizona Daily Sun that it will be difficult to find someone with all the traits people have requested for the new NAU president.
"I think there are things that are absolutely required, I think there are things that would be desirable and I think there are things we may or may not find," Manson said. "But the idea is to have the best combination of those skills and attributes be here leading the institution, and so our job and the committee's job is to look at all those pieces and figure out how do we find somebody who rates as high as we can find."
ABOR is expected to adopt a list of leadership characteristics for this position during its next meeting, Thursday, Nov. 19. Once approved, the search for candidates can begin.
"We'll fill it when we find the right person. … It's hard to guarantee a date, but when we've found the right person, we'll move," DuVal said of the search timeline.
"Anyone in this community who's got a point of view, we want to hear it," DuVal said. "It's critically important not just to get the selection right but in order that the new president arrives with as much buy-in from both the campus and the Flagstaff community, as possible."