Moran Henn was camping with her horse Jazeera at the end of Slayton Ranch Road last Friday night when Jazeera broke the lead rope tying her to the side of a horse trailer and ran away, leading to a two-day epic search to find a missing white horse that saw strangers from all across the community come together in a common cause.
"Jazeera in Arabic, it means island. For me she was an island of joy, happiness and dreams in what I experience as chaos in this world," said Henn, who is from the Middle East and has lived in Flagstaff for 12 years. "She is an Arabian horse, so for me it was always fitting for her to get an Arab name. I came to Flagstaff in 2007 from Tel Aviv, Israel to go to Northern Arizona University and after graduating got a job and stayed, first working for Friends of Flagstaff's Future and now as the executive director of Willow Bend.
"While my horse is named after an island, the real island was not the horse but the community that came together to help me find her," Henn added.
Henn described what happened the night Jazeera ran away and "disappeared into a sea of darkness."
"She protested being tied at night while we were camping, but she had calmed down. At sunset she pulled her head back, braced her front legs and broke her lead rope," Henn said. "She didn't take off, she was just trotting around. She got to the road and it looked like she was going to come back. We had her grain bucket and she was coming to that, but then a car came down Slayton Ranch Road and had to slam on its brakes. That spooked her and she took off.
"My first thought was that there's no way I can find her alone. I'm so used to doing things by myself. I don't know too many people in the area where she disappeared, and then I thought of the power of social media. For the first time ever I posted about something personal that I needed.
"Then I called Clayson Benally because he lived close and is a really good tracker. In the first hour we found her tracks, but were unable to catch up with her. After two hours and still not finding her, we decided we had to wait until morning.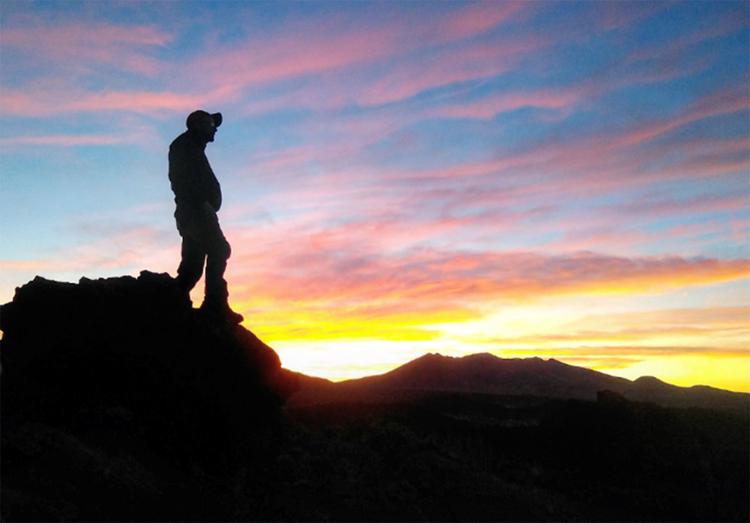 "I didn't want to lose time overnight, so I spent the night reaching out every way that I could to groups and individuals. I was probably messaging 50 different people that night who said that there was something that they could help with in the morning.
"By 8 a.m. one of my friends had made a flyer. By 9 a.m. they were printed and being distributed. Dan Duke, Joe Bullis and Sean Coolidge flew drones over the area. That was really helpful because we did find white horses and I was able to go into backyards and rule those out. Lots of people called on those horses and it was really helpful to be able to say 'no, that's not her.'"
Coolidge had arrived in Flagstaff from San Francisco a month earlier and was searching on Facebook Marketplace for furniture when he saw Henn's post about her missing horse.
"Flagstaff's a really unique place," Coolidge said. "Not long after I arrived I came across a couple of homeless veterans on the street. I talked to them and asked what they needed, and when they said they were hungry I walked into a Jimmy Johns to get them some food. When I told the manager what I was doing and asked for the bill they told me not to worry about it, that they had got it and would cover the cost. That really stuck with me.
"I look at (Henn's) missing horse as the gift of loss. When you lose something, it gives you so much more perspective. Loss is a part of life. We all go through it and you could be bitter or you could be better. I saw this as being my chance to give back to this place, to fly my drone and help block out places we knew the horse wasn't."
During the course of the search, Henn's request for help led to a small army of total strangers combing almost 200 square miles searching for the missing horse.
"There were 12 to 15 people on horseback, three people flying drones, two trackers looking for signs and even a group of paragliders who were flying off cinder cones in the area who said that they would search the black cinder fields and forests looking for a lone white horse as they circled in the sky above."
Benally was the first person Henn called when Jazeera bolted into the darkness.
"I wouldn't call myself a tracker, but I grew up with horses and livestock, and when you have lots of animals, cattle, sheep and horses they go missing from time to time and you end up looking for them," Benally said. "I think I put about 40 miles on my horse looking for her. What was amazing is that it's hunting season and there were lots of people out spotting. The support of that community was great. They were all out scoping and looking and all said that they would lend a hand."
A day and a half had passed and there had been no sign of the missing horse despite all of the resources looking for her.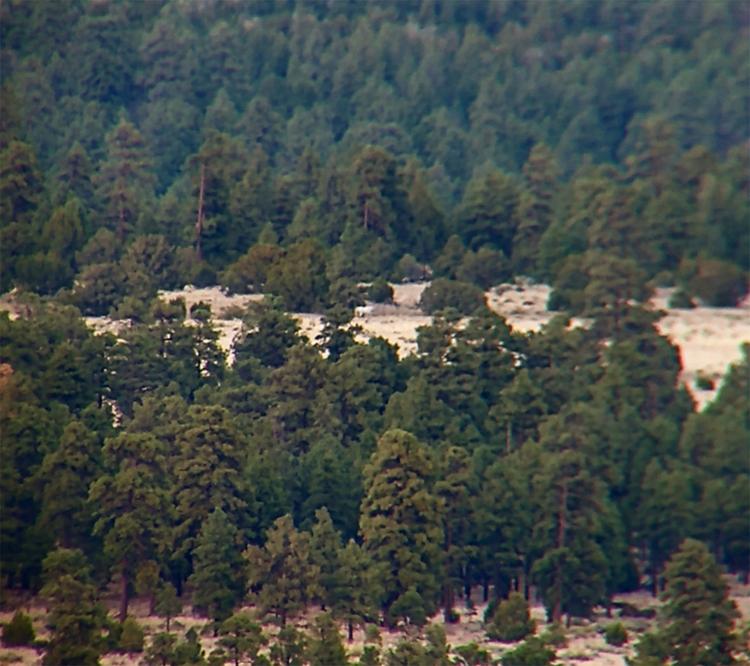 "Midday Sunday I was really getting discouraged because there had been no sighting and I was thinking how could she just disappear," Henn said. "My friend Betsey Hammil was at a store handing out flyers and she calls me and says the weirdest thing happens. As she was telling the story in the Sprouts grocery store, the man at the register interrupted to say that he and a buddy had been riding motorcycles out in the middle of nowhere and out of the corner of his eye he had seen a white horse walking on its own out by Sunset Crater. That call was critical as it completely changed the area that we were looking in."
"At 4 p.m. on Sunday I put out a social media post with a map pinpointing where I thought she was to update those who were searching for her. There were so many people out looking and I had never met or even talked to many of them. There were others who I had only messaged via Facebook or texted on my phone."
Sandra Mounts and her son Kevin Rennaker had never met Henn, but had heard about the search through social media. They had been driving dirt roads parallel to Leupp Road east of Slayton Ranch Road when they saw the updated map that Henn posted.
Mounts works with a group called Northern Arizona Animal Search and Rescue that specifically looks for lost animals.
You have free articles remaining.
"When we saw the map with the update on where they thought the horse was, I thought, whoa, that's way off from where everyone's been looking. We know that area really well." Mounts said. "I ride that area almost daily on my dirt bike."
As Mounts and Rennaker were driving to the area shown on the map Gerad Alvin was sitting alone on the top of a dormant volcanic cinder cone looking out over a black landscape dotted with a sea of emerald green pine trees. Tall ponderosas were giving way to juniper and pinyon trees as the elevation changed.
"I was on the top of O'Neill Crater looking for elk. It's an old gnarly cinder hill topped with big rocks, caves and Indian ruins. It's the tallest one in Doney Park and has 360 degree views of the whole area," Alvin said. "Two days prior a friend had given me Moran's number and told me that she was looking for a lost white horse. I figured that if it was out there we would see it, being a white horse against black cinders.
"I spotted it about a mile and a half out. I was looking north into open prairie and that's when I saw her horse walking back and forth along a fence line. It was 6:15 p.m., 40 minutes before dark and already dusk. It became kind of a rushed deal because it was going to get dark soon."
As Alvin was picking up the phone to call Henn, Mounts and Rennaker were also closing in on Jazeera.
"We drove 21 miles and the roads were nasty, really rocky," Rennaker said. "Once we got down onto the gas line road we noticed her hoofprints and started to follow them. We followed her tracks for half an hour or 45 minutes before we found her. She seemed happy and excited to be found; she didn't even attempt to run. She came up to us and was rubbing up against us.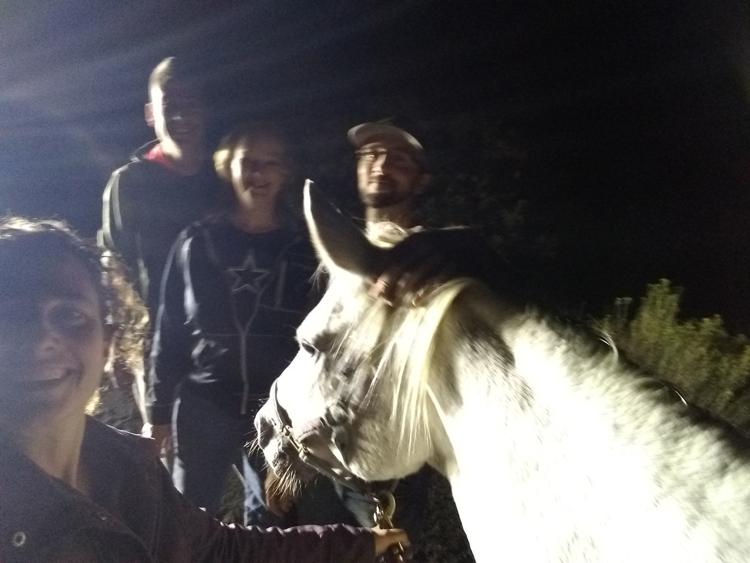 "I had a strong dog leash and hooked that onto her bridle and just started walking out with her. I kept trying to call Moran but she had no cell service, so I ended up posting to her Facebook page that we had found her horse."
Mounts and Rennaker didn't know it, but Henn had no cell service because she had already met up with Alvin, who was driving her along the power line road from the other end looking for Jazeera.
In another example of the community of rescuers coming together, it was someone sitting at home following the search efforts on social media who provided the last link in the chain.
"I can't see Facebook because I have no reception at this point," Henn said. "My Facebook page is going crazy because Sandra is at the other end of the fence line, has found her and is posting, but I can't see it. So now there's another woman I didn't know, Theresa Schumann, who has my flyer and she sees Sandra posting but me not responding, so she connects the dots and calls me. She's sitting there watching all of this live and calls me to say, 'hey, you have to call Sandra, she has your horse.'"
Mounts and Rennaker ended up walking Jazeera almost four miles along the power line road toward Henn coming from the other direction.
Driving the rough road in Alvin's truck they came to a section where progress was reduced to a crawl. The delay was too much for Henn, who jumped out of the truck to run the last half-mile up a final hill to where Mounts and Rennaker were waiting with Jazeera.
"All I can see from a distance are the lights of a vehicle and the silhouette of a woman and a horse. And I tell you I don't cry a lot, but to me she just looked like an angel," Henn said. "I was downhill and she was uphill -- it just looked like this angel was standing there with my horse perfectly lit from behind in a halo of light on this completely dark night. I sprinted up to them and just hugged my horse crying and then was hugging Sandra and we were both crying."
The final act came when Henn realized that while she had found her horse thanks to a huge team effort, they were still in the middle of nowhere with a horse and no horse trailer.
One more phone call provided the solution. "I called a friend at 10 p.m. to ask if she could help and her response was immediate. She said 'my trailer is already hooked up, I'm on my way,'" Henn said.
Henn reflected on the search for her horse and the completely unexpected response from so many strangers.
"No one can love without community. It was the most spectacular showup of people from different parts to create a happy ending in a world that doesn't have enough of those," Henn said.
Reached by phone days after helping Henn find Jazeera, Alvin was also in a reflective mood.
"She wanted to get me something to repay me, but seeing her reaction to be reunited with her horse -- she was in tears -- it was definitely rewarding. That was worth far more to me than anything you could give me," Alvin said. "The fact that she did something as simple as posting on Facebook led to her horse being found. People aren't like that much anymore, to drop everything on a dime and help out. I've always been of the mind that you treat people the way you would want to be treated, so I was glad to help out."
Henn made a huge carrot cake to share with some of those who she knew helped to find her horse, but said that even four days after getting Jazeera back, she was still getting daily calls from complete strangers sharing that they were looking for her horse and just wanted to congratulate her on being reunited.
"The thing that makes this a community story is not that the horse went missing. Horses do goofy stuff all the time," Henn said through more tears. "The fact that so many people from so many different areas, very few of whom were connected, came together -- there was nothing connecting these people other than community wanting to reach out and help someone."