Going down the final stretch of the Division III girls 300-meter hurdles finals, Woodlyn Smith's focus wasn't on winning a title.
The Coconino Panthers star hurdler, who came into the state meet with the top 300 hurdles mark in the division, just wanted to cross the finish line while putting together the best race she could.
Smith did the best she ever had in the event, taking the gold behind a 45.86 personal record.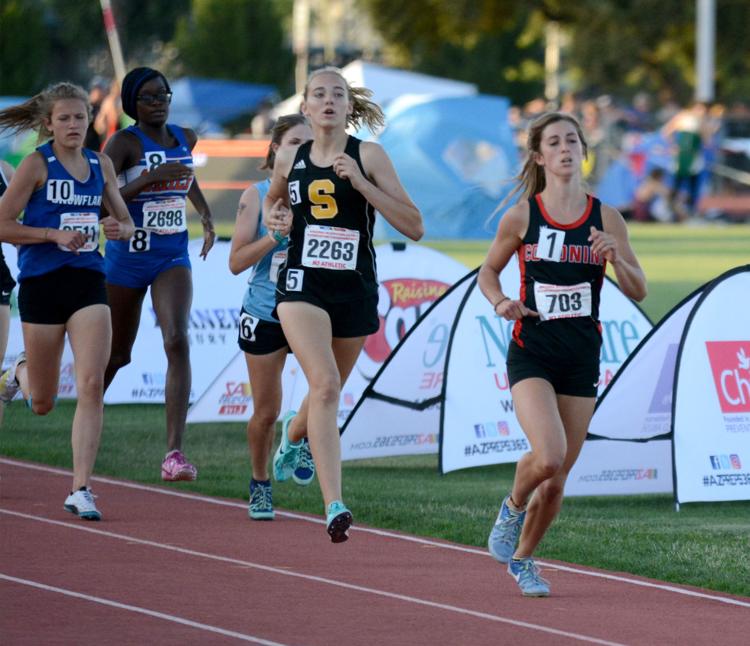 "When I was racing, I wasn't even thinking about first place," Smith said. "I was thinking about doing my best and crossing that finish line. When we both finished there was a second to think about, 'Wow, we're both great athletes and whoever wins this deserved it.' When my name popped up first I was surprised, but (Meredith Kiekintveld) did incredible and it was just a great race."
The two were locked together for the entire race, with the outcome coming down to just .01 seconds as Kiekintveld finished in 45.87. Smith barely edged out the Payson runner on a final dive onto the track across the finish line to secure her first-ever gold performance at the state meet -- a year after placing fourth in the state championships.
"She's worked really hard," Panthers head coach Erin Motes said. "Just watching her growth throughout these past years has been amazing. I think for her it's her work ethic and tenacity and her want to win that has set her apart."
Smith quickly followed up the win in the 300 hurdles with a strong showing in the 800m, taking third in 2:23.11 for another spot on a podium.
In all, Smith earned one gold and one bronze at the state meet, and for that effort she has been named the 2019 Arizona Daily Sun Girls Track and Field Athlete of the Year.
"I think last year I was more focused on winning and doing well, and just getting my times down," Smith said of the change between her junior and senior years. "But this year, I knew I was going to run in college and I have that security, and that it's my senior year and I want it to be fun and memorable, and I knew that titles would come along with that."
Smith, a major contributor for the Panthers girls soccer and cross country programs, said the endurance she built from running in the fall helped her when it came to the mid-distance races over on the track.
Running the 300 hurdles and 800m is a tough task, with both events putting a large toll on a runner and the events coming consecutively at most meets.
At state, Smith had some time to catch her breath with the D-I and D-II boys taking the track for the 800m finals first.
"Doing cross country gives me that endurance to do events back-to-back with the help of that extra kick," Smith said. "I think when it comes down to it, it's not just about your athletic ability, it's your will and want to do it. And I wanted it."
The Panthers star dominated in the 300 hurdles this season, placing first in six of her eight completed races. The only two times she didn't take the top spot at a meet was at the Nike Chandler Rotary at Chandler High School and the Ron Smith Classic at Shadow Mountain High School.
Despite her strong high school success running the hurdles, there is a change coming up for Smith.
Smith committed to run cross country and track and field at the next level at Grand Canyon University and said there will be a bit of a change to what she will be doing on the track. Rather than running the hurdles, Smith will focus on middle-distance events -- specifically the 800m and the mile -- a challenge she said she is ready to take on.
"The mile is kind of a work-in-progress but they see potential. I'm actually not doing hurdles, I'll be doing more mid-distance," Smith said. "I'm super excited and I think it will be a great new challenge for me."
Get local news delivered to your inbox!
Subscribe to our Daily Headlines newsletter.