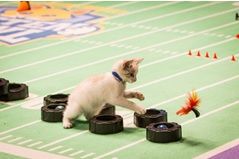 The Coconino Humane Association is hosting a Kitten Bowl Party adoption bonanza this Super Bowl weekend at two locations in Flagstaff.
In a press release, the Humane Association announced it was joining North Shore Animal League America and more than 35 shelter partners nationwide to celebrate the Hallmark Channel's Kitten Bowl III game. The purpose is to find homes for adoptable dogs, cats, puppies and kittens in Coconino County.
The local Kitten Bowl Parties will offer a $25-off adoption fee special, along with free Kitten Bowl trading cards, merchandise, pet toys, and other freebies and discounts. Attendees can even use the spin-to-win prize wheel for a chance to win full-discounted pet adoptions all Super Bowl weekend.
Kitten Bowl Party events will be held Friday from 10:30 a.m. until 5 p.m. and Saturday from 10:30 a.m. to 4 p.m. at the Coconino Humane Association, located at 3501 E. Butler Ave. There will also be parties Friday, Saturday and Sunday from 9 a.m. to 5 p.m. at PetSmart, located at 1121 S. PlazaWay
Kitten Bowl III will premiere Sunday at noon on the Hallmark Channel.
Get local news delivered to your inbox!
Subscribe to our Daily Headlines newsletter.