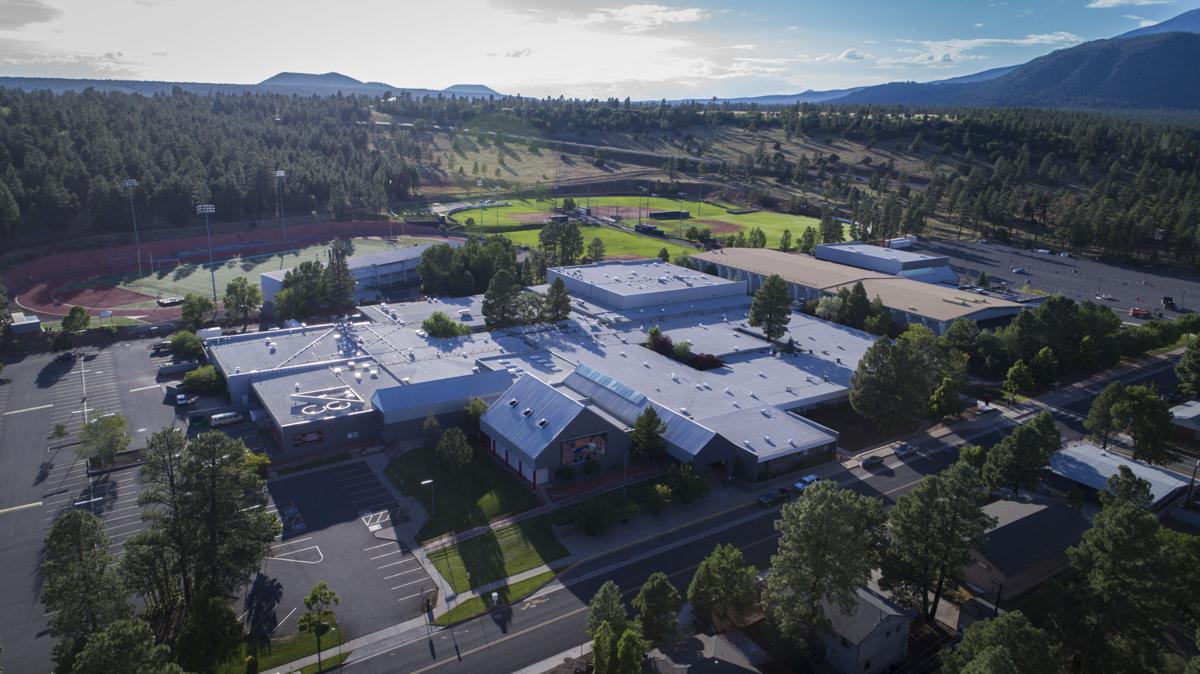 With a semester of their first International Baccalaureate (IB) classes complete, Coconino High School students remain pleased by their decision to enroll in the advanced program.
A total of 55 students have enrolled in at least one of eight IB classes offered this year, including 19 who are participating in the full IB Diploma Programme, an advanced learning option for students during their last two years of high school.
Oscar Landa-Samano, 16, said the community among students participating in the program was ultimately what led him to choose IB and, even during remote learning, he says he still feels the camaraderie among his classmates.
"Yes, cameras might be off at times and it might be a little more difficult to look at each other face to face, but it's still there. We're still communicating, we're still having these very intense and mind-boggling conversations," Landa-Samano said.
For Raina Delmar, 17, the program felt like a return to the values of the charter schools she attended through her freshman year. She said the college preparatory program is more in-depth than other advanced programs in the way it has promoted learning about herself, such as through a project where students analyzed their names and heritages.
The International Baccalaureate Organization is an international educational foundation based in Switzerland. Its four programs for students ages 3 to 19 emphasize personal development of students through critical thinking and inquiry skills, as well as global perspectives.
CHS was authorized as an IB World School in April after a two-year application process and began offering classes this fall to juniors. It is one of 23 Arizona schools hosting the Diploma Programme. Two other Flagstaff Unified School District schools, Puente de Hozho Elementary and Sinagua Middle School, are candidates for the IB Primary Years Programme and Middle Years Programme.
Several CHS students contrasted the program with Advanced Placement (AP), another advanced learning option at the high school, especially regarding IB's focus on class discussions.
History teacher and CHS IB coordinator Chelsea Drey said her IB class has discussions twice a week that started this fall at about 15 minutes per discussion. Now they're pushing 45 minutes to an hour at times.
"It's about formulating the right questions and giving them the opportunities to explore things that you might not have otherwise had time to do or been willing to take the time to do in a non-IB class, because in IB you are given the time and they expect you to take the time to really explore these different perspectives and ideas," Drey said.
Students said they have enjoyed moving away from the multiple choice question tests characteristic of AP programs in favor of essays and other open-response opportunities.
"IB kind of has this more understanding idea that there's different forms of success in the program, there's different forms of intelligence," said Aidan Yoakum, 17. "In IB there's all these different ways in which, whether you're a more physical learner or have to hear it learner or have to do it, IB can appeal to all those learning styles and do it extremely well -- which I think is very impressive and it gives everyone the chance to shine."
Stacy Parra, 16, said unlike in her previous classes, she is no longer solely focused on answering questions correctly.
"We learned more about perspectives and different scopes, which I think is really helpful because for me personally, knowing that there's not just one right answer, it pushes me to think more out there, not just stay on one topic or one thing just because I think it's right. It makes me think more mentally and I think that's something we should all do," Parra said.
The CHS counseling department is next on the list to receive IB training, as well as teachers interested in leading the next group of IB students through the two-year classes, including elective subjects such as music.
Drey said there are currently about 50 students who are preparing to take IB classes starting next year. The ultimate goal is that all teachers would be trained to either help lead these classes directly or prepare younger students for them, said Principal Stacie Zanzucchi.
The training helps teachers learn to integrate IB themes into their curriculum and encourage connections between subjects.
Over the next few years, Drey and Zanzucchi said they hope to expand the number of IB classes offered and even apply for the Middle Years Programme, which could be used in ninth and 10th grades to allow for a local IB program to be offered continuously from elementary through high school.
"We really would like to see program growth and giving more access to more students," Drey said. "I think it really is clear how transformative IB has been for [current IB students'] own education and lives. And we want that opportunity for everybody."