Coconino Panthers head coach Martin Reyes wasn't fully aware of who he was coaching against on the opening day of the Pepsi Holiday tournament at Sinagua Middle School.
The young Panthers continued to work on their game on the way to a first-round 56-37 win over a pesky Poston Butte Broncos team coached by former Flagstaff Eagles player Savannah Bix.
Reyes said his team has been a work in progress to start the season and needs to play scrappy teams like the Broncos, who are in their first year under Bix. Led by 13 points from Kiana Manuelito, Coconino kept Poston Butte at bay until the team used a big fourth quarter to secure a spot in the winners bracket.
"It's about being physical and learning how to play that way and handle when a team plays that way. They were scrappy, they played hard," Reyes said.
A member of the 4A Conference along with Coconino and based out of San Tan Valley, Poston Butte gave Coconino fits on the boards throughout the game in order to get some second-chance points. In the third quarter, the Broncos made it 32-27 on a 6-0 run after grabbing a third rebound in a row and getting to the line. Coconino's Kaelynn Ashley stopped the bleeding and a scoring drought with a short bank shot.
Coconino went into the fourth quarter with a 36-27 lead and then ran away with the game as Manuelito scored six points in the final eight minutes. She was one of four sophomore starters for the Panthers, and she added five rebounds and three assists to the box score totals.
"It's a different type of basketball, and I don't think they realize that, so it was good for them to see some of the top schools and get a little beat up," Bix said. "And the elevation, they are wheezing a little."
Bix's senior year with Flagstaff High was the 2012-13 season. She played for years under the direction of current Eagles girls head coach Tyrone Johnson, along with spending time working with Danny Neal.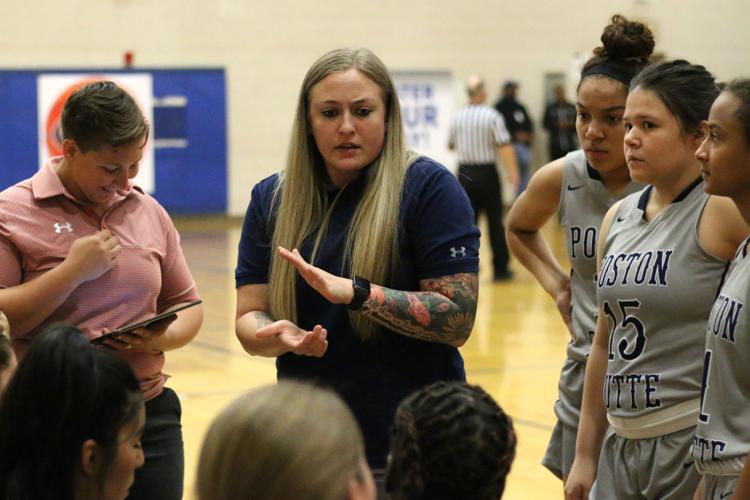 "I think one of the biggest reasons I coach was because of Coach Johnson and Coach Neal. A lot of what I have learned from them I have transferred into my own coaching career," said Bix, who is in her first year ever as a head coach of a varsity program. "And they are like family, so every time I see them, it's a good-to-be-home type of thing."
Poston Butte found itself down 10-2 early in the game after a 3-pointer from Coconino's Oniah Barton-Paddock, who finished with six points, eight assists and seven rebounds. The Broncos battled back on a 6-0 run after the Barton-Paddock 3, hitting a trey of their own during the outburst at 3:43 for their first field goal of the game.
But Coconino used a 9-0 run from the end of the opening quarter into the second, taking a 23-13 lead with about five minutes to play before halftime when Kailani Charlie drained one of two free throws.
The Broncos hung around down 41-30 before Coconino's offense really started to click and the altitude started wearing on Poston Butte. Reyes said his team has been working on speeding up the game, so the struggles containing rebounds were part of learning how to push the floor.
Barton-Paddock also tallied five steals. Coconino's offense came from a team effort, as Maya Tijerin finished with eight points and nine rebounds, and Mahala Long also had eight points to go with six boards.
Marilee David added seven points for the Panthers, who finished 20 for 38 on 2-point attempts and 22 for 52 overall.
"In the fourth quarter, they played more that way," Reyes said of his team's closing effort. "And they changed up and started playing man against us again, and we were able to run some man offense and get some easier looks."
Coconino plays 3A Winslow on Friday at 4 p.m. in Sinagua's main gym.
BOYS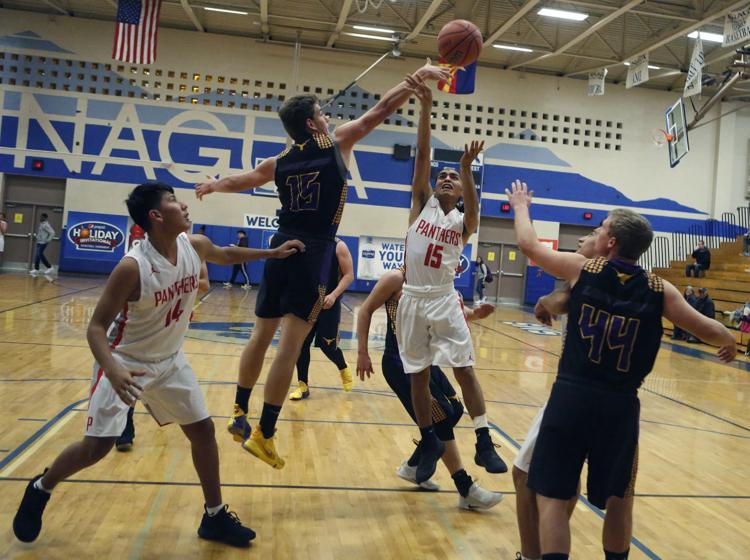 The Coconino boys team used its speed and athleticism advantage to run past the physically larger 3A Payson Longhorns in a 65-37 win in the opening round of the Pepsi Holiday tournament Thursday night.
"I'll tell you what, in the game of basketball today teams are playing their best athletes," Panthers head coach Mike Moran said. "They don't necessarily match up, so we want to make sure the other team has to match up against us. That's what we did and we shocked them early. We had them on the ropes real early."
Facing Coconino's four-out scheme, Payson struggled to keep up from the tipoff. The Longhorns committed 11 turnovers in the first quarter alone, and Coconino took advantage of them in scoring 19 points off the miscues. After closing the first with an 18-3 scoring run behind the strong defensive effort, Coconino held a 25-5 advantage heading into the second.
Panthers guard Preston Olney, who scored eight of his 13 points in the first quarter, also assisted on three of the Panthers' baskets during their first-quarter surge.
The Panthers did much of the same in the second quarter, putting pressure on Longhorn guards and speeding past mismatches on the perimeter. The Panthers closed on an 8-0 run capped off by a Roy Billups floater over the Longhorn bigs to send Coconino into halftime with a 40-15 advantage.
"I use that move daily against bigger defenders. The floater helps me out a lot with getting shots up in traffic," Billups said. "Some teams like that, with a bunch of big bodies, we like to run and gun against them to get them out of shape and tired."
Billups ended the night with six points, all of which came via the floating layup he has worked into his game, and he controlled the flow of the Panthers offense with his passing.
The Panthers kept a firm hold on their big lead for the rest of the night, never letting Payson cut below 19 points. Coconino slowed the tempo down and subbed in more reserves in the second half to work on offensive sets and committed a few turnovers.
"It got a little funky with the second and third groups, but that's OK," Moran said. "The first group looked good and we got seven sophomores playing and they are playing well so far. So I'm not discouraged by anything; we played very well tonight."
The Panthers ended the night with 13 players receiving playing time and 10 who scored. Jacob Begay hit four 3s as part of his game-high 14 points in the win. Brennan Motes added 10 points as the third Panther to score in double digits.
The win advances the Panthers to a match-up with 6A Tolleson Union, who beat 2A Pima 67-46 Thursday morning.
Moran said that despite the short turnaround, he is confident in how his team will handle Tolleson based on how he believes the Panthers can guard and match up with just about any team. Against Payson, one issue that could be hashed out is not getting beat on back-door cuts, but other than that Moran said he is confident in his squad's chances.
Tipoff is set for 2:30 p.m. Friday at Sinagua Middle School's main gym.