It took a real team effort for the Coconino Panthers to repeat as city champions.
Five different Panthers had large contributions to the run game, the defense got some big stops down the stretch and Coconino outlasted the Flagstaff Eagles Friday night to come away from the epic 50th meeting between the two programs as victors, 24-10.
The Panthers (7-3, 4-2 Grand Canyon Region) made the best of playing in their own Cromer Stadium after 40 years of facing the Eagles mostly in Walkup Skydome, the usual home of Flagstaff High football games. They overcame mistakes and penalties to eventually put the regular-season finale away in the second half on Eli Deherrera's second rushing TD of the night that put his team ahead 14 points late in the fourth quarter.
"We got to learn to throw it a little bit more, but we'll take it because we control the clock when we run it like that, and it gives us a chance to win," said Panthers head coach Mike Moran.
Deherrera was the only one of the five main rushers who fell short of hitting 50 yards for the game, but it was when he ran that counted. He finished the game with 21 yards rushing and back-to-back sprints into the end zone, the first of which gave Coconino its second and final lead of the night in the third quarter.
Powerful Panthers running back Dawson Buckley, who ended his night with a game-high 124 yards running, did most of the work to get Deherrera into scoring position on Coconino's first drive of the second half. Despite the Panthers facing an 1st-and-18 situation early in the possession, Buckley kept charging through Flagstaff's defense, setting up Deherrera's first of two 1-yard scores.
"Buckley, Buckley, Buckley, over and over," was all Moran needed to say of his senior after the game.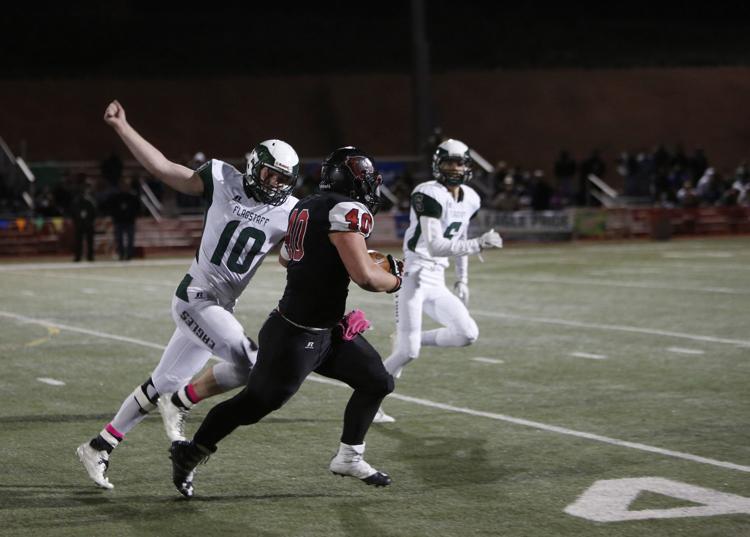 Buckley's effort didn't go unnoticed, as he won the Bill Epperson Award.
"We just had a great team effort overall," the first-year head coach added.
Coconino, which had 12 flags thrown against it, saw quarterback Ty Furr and running backs Zach Bennett and Bailey Mccauslin all run for 50 yards or more. Most of Furr's 80-plus yards came on a 64-yard burst for a first-quarter score, and the point after made it a 7-7 game.
The Panthers, No. 15 in the 4A Conference rankings and still hoping for a chance to make the postseason, tallied more than 380 yards offense while holding the Eagles to fewer than 170.
"We were a little uptight early, made some errors. You know this is a big game, a lot of pressure on these guys playing in front of huge crowd. It was a great night. We played well enough to win this one for sure," Moran said.
Eagles running back Luis Jaramillo was held to his least-productive game of the year at just over 30 yards, but he got his team on the board first after Bennett turned the ball over on the Panthers' opening drive.
No. 27 Flagstaff (3-7, 2-4 Grand Canyon) also had moments of working against themselves, committing nine penalties.
With Josh Morrow working as quarterback and running back for the first time this season, the Eagles came out of halftime blazing only to see the Panthers force them to kick a 32-yard field goal and settle for a 10-10 tie game.
"This is a great group of seniors and we wanted obviously to go with a senior group and finish with them on top," Eagles co-head coach Bob Castillo said.
Coconino scored on the ensuing possession and never looked back, and the defense made sure of it. Flagstaff, again gaining momentum, had its second drive of the second half come to an heartbreaking end when Coconino stopped its rival just short of a fourth-down conversion.
Flagstaff's defense didn't let up. It forced Coconino to punt after nearly forcing two turnovers on fumbles that the Eagles couldn't scoop up. Bennett turned the punt play into a run, but Michael Becenti, who took home the John Ply Memorial Award, stopped him from moving the chains.
"We knew we had to stop the run, but (Buckley) played a great game and they made some big plays on us," Castillo said. "Our objective was to stop the big play, and they just got a touchdown ahead of us, we couldn't regroup and they got the best of us."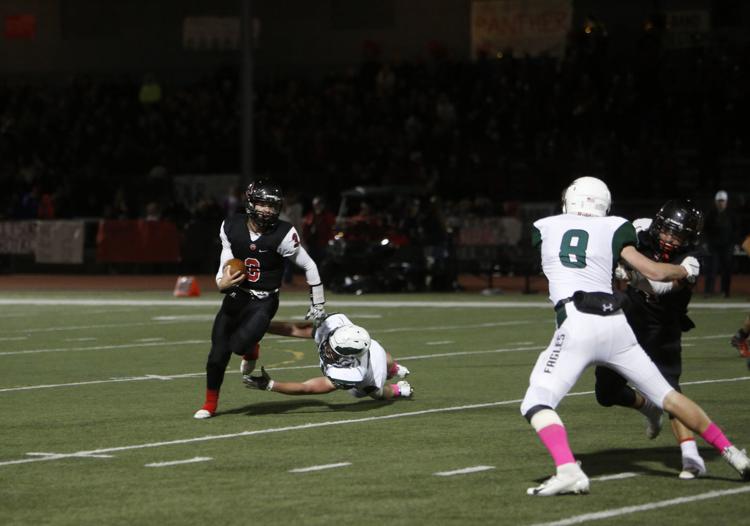 Coconino, ending its Cinderella story regular season on a high note, closed Flagstaff's lead in the overall record between the crosstown rivals to 26-24 with the regular-season finale win.
"We went into halftime and we knew that the penalties were hurting us, but we knew we could beat them, we knew we were the better team," Furr said. "We come together as a brotherhood and that's what we did and we come out with the W."