Through the thickness of the somber atmosphere penetrated the sound of applause.
While some left the stands of Cromer Stadium with heads down and grumblings of what-ifs on their breath, many stayed behind and gave thanks to the Coconino Panthers varsity football program, which saw its impressive 2019 season come to a heartbreaking close Friday night.
Mistakes, a questionable call on a reception and missed opportunities doomed the Panthers on their home field against the Gila Ridge Hawks in the first round of the 4A Conference state championship tournament. Giving up a lead late in the game, No. 8 Coconino lost, 10-9, to No. 9 Gila Ridge, and the Panthers' return to the playoffs for the first time since 2005 was spoiled by the team from Yuma that caught a big break in the second quarter.
Down 9-0 with a few minutes to play before halftime and facing a third-and-5 situation, Gila Ridge came down with a questionable call on a reception that moved the chains and then some. The Panthers sideline and their fans didn't like the call, and the Hawks responded with a 26-yard passing touchdown not long after and connected on the extra point to trail by just two points entering the break. 
Zach Bennett ended his stellar junior season for the Panthers with a 103-yard rushing night in the first-ever postseason game played in Cromer Stadium. But Coconino's offense struggled to complete drives and ended up unable to score a touchdown in a loss that saw them produce just 98 yards of offense in the first half to Gila Ridge's 150.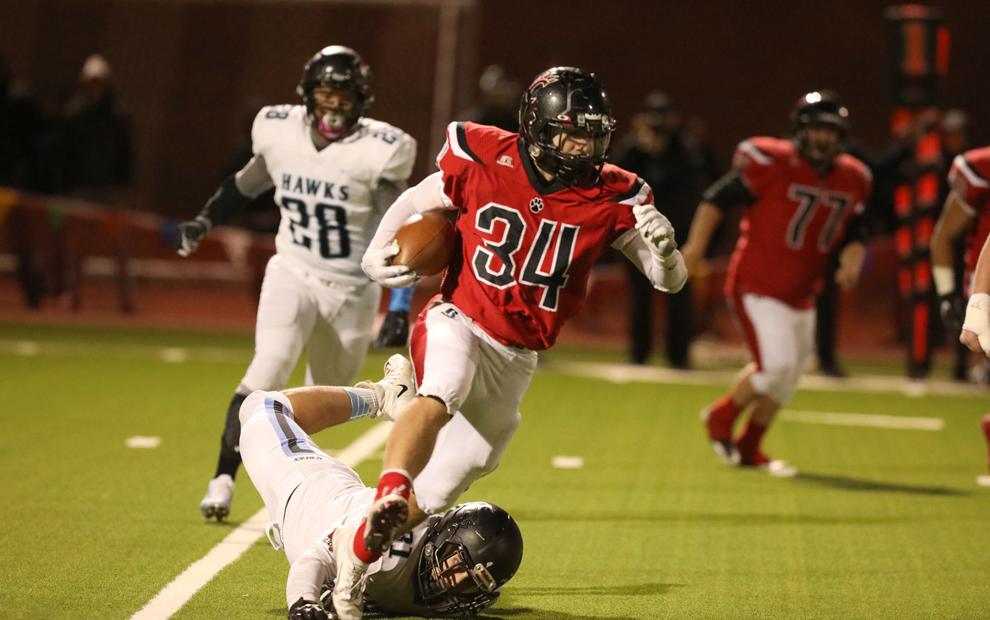 "I felt like offensively we were right on the cusp," Panthers first-year head coach Mike Lapsley said. "It was one more block or just stay on the block one more second and things could have opened. A couple of dropped passes that could have kept drives going, missed extra point, missed field goal."
Coconino, which ended 2019 at 9-2 overall and with Grand Canyon Region and city titles, finished with 237 yards of total offense, and kicker Jesus Trejo connected on a 29-yard field goal in the second quarter but missed a crucial 34-yarder in the third quarter. The missed field goal came one drive after the Panthers couldn't covert on a 4th-and-2 at their own 21-yard line.
The missed field goal took a bad bounce, as it hit the upright and came down off the crossbar onto the paint.
Hawks junior quarterback Cassell Wiggins finished 6-of-21 passing with one touchdown and one interception, which Coconino's Andy Ruiz grabbed to end Gila Ridge's opening drive of the second half.
Defense got Coconino on the board to start the game when, after both teams went three-and-out to start the contest, Eli Deherrera scooped up a fumble and ran it in from about 35 yards out. The point after was no good.
To add injury to insult, Coconino struggled to keep key men on the field, with Riley Darnell, for instance, spending much of the second half on the sideline.
Bailey McCauslin added 50 yards rushing on eight carries, and Jordan Lucero and Beau Gomez finished with 27 and 23 yards rushing, respectively.
After the Trejo missed field goal, Gila Ridge took the lead in the fourth on a 37-yard try with 9:25 to play. Coconino began driving on the ensuing possession, but on a fourth-and-long Lucero threw an interception.
A big pass late in the fourth put the nail in the coffin, with Gila Ridge deep in the host's territory and little time to play on the clock after a nice Hawks run.
"The first half, defensively, we were shutting them down, both the run and pass game. It's never an excuse but we had a lot of guys go down with injuries and we were plugging guys in there who don't get a ton of reps," Lapsley said. "And credit to them, they stepped up, but ultimately some things didn't go our way in the second half."
Gila Ridge (10-1) will go on to face No. 1-seed Sahuaro in the quarterfinals next week.
"I am proud of these young men, they have a lot to be proud of. They worked their butts off all season and have a bright, bright future," Lapsley said.