The Coconino Panthers weren't going to let a second straight game slip away in the second half.
Zach Bennett ran for 135 yards, Kyle Casados and Malcolm Morris provided a few key interceptions, and the Panthers scored 10 straight points out of halftime en route to winning a third straight city championship, besting the crosstown rival Flagstaff Eagles, 13-7, Friday in the Walkup Skydome.
Beau Gomez added 66 yards on 10 carries and a 9-yard running touchdown for 11th-ranked Coconino, which never trailed in the contest despite being held to a season-low three first-half points by the 20th-ranked Eagles (6-4, 3-3 Grand Canyon Region). The senior's score came on Coconino's first drive of the new half, punching it in right up the middle of the field for a 10-0 lead.
Panthers kicker Jesus Trejo, making a return from injury for the regular-season finale between the rivals, was 2 for 2 on field-goal attempts, hitting his first at 38 yards out to get his team on the scoreboard and another from 28 yards in the third quarter for the 13-0 lead.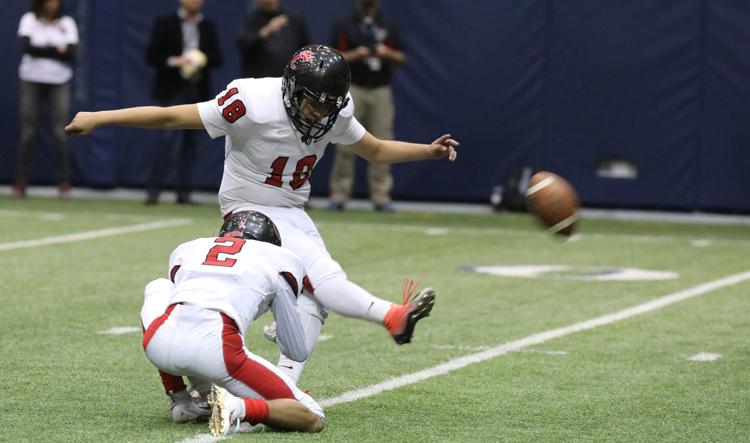 "It was our mindset," said first-year Panthers head coach Mike Lapsley of controlling the second half. "We talked about it, and we did some adjustments, but just in very basic form. We started realizing some things that were not clicking, but almost were clicking."
The little adjustments made a big difference.
Coconino (9-1, 6-0 Grand Canyon) was coming off its first loss of the season, a 53-14 rout at the hands of Cactus last week that got out of control in the second half. Bennett sat at 72 yards rushing on 14 carries heading into the break against Flagstaff, with the rest of the backfield struggling on the few carries they received.
Bennett moved into No. 1 all-time in total single-season rushing yards at 1,650, surpassing a record held by Bruce Branch at 1,607 yards since 2000.
"I want to thank everyone for supporting me this season, helping me get those yards, especially the offensive line," Bennett said.
Flagstaff, entering the night desperately needing a win to keep any 4A Conference postseason chances alive, was led by senior Luis Jaramillo, who finished with 110 yards and his team's lone touchdown. Jaramillo carried it in from 12 yards out just one snap after Eagles quarterback Joe Weidinger found Julian Milligan wide open near the right sideline for a 56-yard gain. 
Weidinger was 6-of-16 passing for 99 yards and two picks. Morris got his interception on Flagstaff's second drive of the third quarter. Casados came up with a diving interception in the second quarter, spoiling an Eagles drive that started at their own 20-yard line and ended with Coconino set up on its own 15.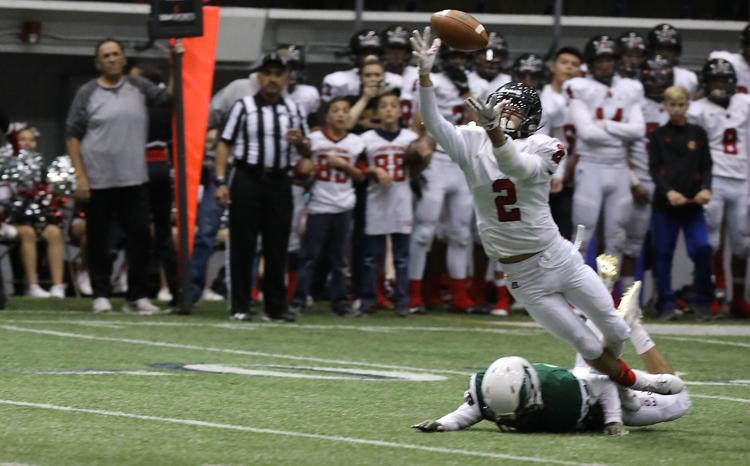 Flagstaff had a few chances early, but couldn't complete drives with points on the board -- an issue for the team all night long. Weidinger missed an open receiver in the middle of the field who had clearance for a TD and then missed a 38-yard field goal, the distance Trejo would strike at on Coconino's ensuing drive. 
"Well, what's new, I thought our defense did a great job," Eagles head coach Todd Hanley said. "What more can you ask. ... We had a couple wide open guys and we just missed them, things didn't go our way and my hat's off to them, they played a great game. I thought it was a really great high school football game."
Trejo was even moved back on his first try, as Coconino was flagged for a delay of game on the first attempt.
Lapsley got his first city title, and helped guide the team to its first postseason appearance for the first time in 14 years as winners of the Grand Canyon Region. It was just the second time in program history the Panthers have held the city trophy up three straight seasons.
"It's been special, this game is always special, so I am kind of on cloud nine right now." Lapsley said, adding he wants his team and coaches to celebrate and enjoy the moment before getting back to work for the postseason.
Jaramillo and Coconino's Riley Darnell were named the Outstanding Eagle and Panther for the game.
Get local news delivered to your inbox!
Subscribe to our Daily Headlines newsletter.