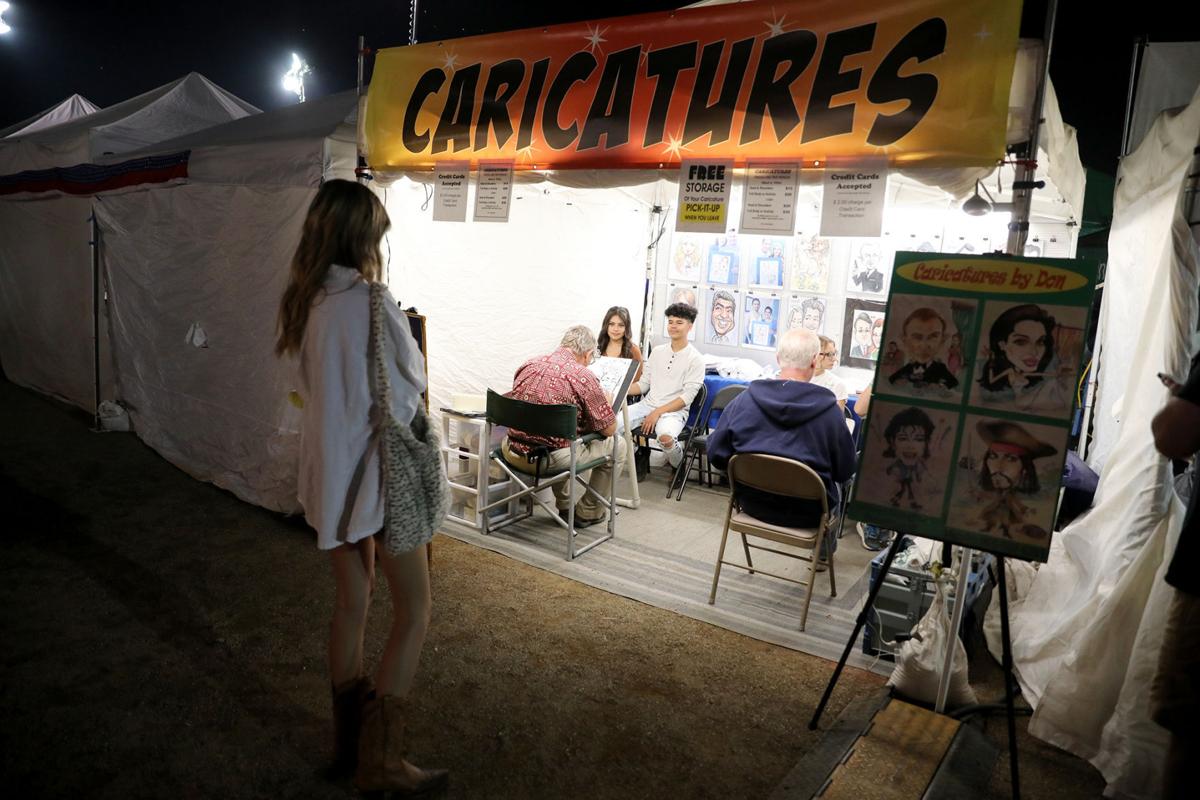 The county fair is over for 2021, and Coconino County Parks and Recreation (CCPR) is considering the return to an in-person event a success.
"It was really positive, a really great bounce-back year after doing the virtual fair in 2020," said Ricky Conway, recreation and fair manager for CCPR. "...People I talked to were very happy. Most vendors, exhibitors [and] people who put in their artwork were so excited to come in and get their ribbons."
The fair saw increased attendance on Monday, he said, though numbers were slightly lower overall. Conway said the number of vendors was also a little lower than usual, with some having to back out at the last minute or not participating in the first place due to the pandemic or having closed since the 2019 fair, as well as from purposeful reduction to allow for larger aisleways.
The lower numbers actually helped with the overall COVID-19 protocols that were in place.
"We see it as an opportunity to really help promote that physical distancing with a couple fewer people on the ground," Conway said.
He said that people were overall appreciative of and following the fair's COVID protocols. Some, such as extra seating areas throughout the fairgrounds, went well enough that they're planning to continue incorporating them in future fairs.
And hand sanitizer has been a fair fixture since before the pandemic.
"We found that the public really responded well to the PPE we had available," Conway said. "We had masks and sanitizer aplenty and were constantly redeploying it to all of our various building and the information booths. We found that they were being utilized, which is great; that's what they were there for and I'm glad we were able to offer it to the community."
President of the Northern Arizona Junior Livestock Association Sherri Brendel said that the 4-H auction was a success. Though they sold slightly fewer animals, sales were actually higher than in 2019.
"It was a very successful year. The kids were happy, our buyers were awesome to come support [them]," she said. "...I haven't heard a complaint yet."
The carnival was also a hit, Conway said, who guessed it stayed busy throughout the weekend.
"Whenever I'd go back...they had a lot of very happy guests, people were very appreciative, I think, of the opportunity to come out and ride some rides and eat some fair foods and be part of our event," he said.
Most of the changes CCPR will be bringing forward into next year's fair will be small.
"A lot of things I think we're going to implement are going to be more behind the scenes in order to enhance that customer experience as they get to our event, but it won't necessarily be something big and flashy," he said.
He said he was grateful for the help they'd received in making the fair happen.
"I want to say thank you to all the community who came down to volunteer, all the staff. It's a large community event [and] it takes a community of people to run it," he said. "I just want to say thank you to everyone who attended, participated [and] helped plan this event. Without you, there would not be a Coconino County Fair."
After tearing down the fairgrounds, Coconino County Parks and Recreation will be returning to day-to-day operations with a number of other small projects. Pickin' in the Pines and the Flagstaff Pro Rodeo are both scheduled to take place next weekend, for example.
Conway said that booking for performing acts and vendors for next year's fair is planned to start in early 2022.