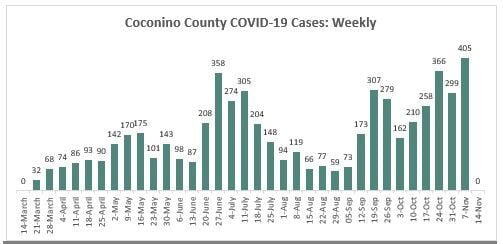 Coconino County Health and Human Services is working to get local hospitals to share more information about potential COVID-19 patients in order to better track the disease's prevalence in the community.
Although hospitals are required to report their number of confirmed COVID-19 patients, County Epidemiologist Matt Maurer said the goal is to get more hospitals to participate in a voluntary program that tracks COVID-19 symptoms in patients as they visit emergency departments and urgent and ambulatory care centers. At both the county and state levels, not all hospitals are sharing this information and only a limited number of urgent care clinics are participating as part of a pilot project, the Arizona Department of Health Services (ADHS) reports.
These records of patient symptoms are used to determine the percent of COVID-like Illness (CLI) among total hospital visits, one of the benchmarks set by ADHS for the reopening of businesses and schools. According to the latest report, using data from the last week of October, Coconino County's CLI is 2.7% while statewide, CLI this week is 5.1% for emergency departments and 3.6% for inpatient settings. A CLI percent of less than 5% is considered minimal community transmission, while the moderate category includes up to 10%.
The process for calculating CLI is called syndromic surveillance and is organized by the National Syndromic Surveillance Program (NSSP), a collaboration between the Centers for Disease Control and Prevention, local and state health departments and other federal, academic and private partners. More than 5,000 healthcare facilities from 47 states contribute to this program every day, sharing data from about 73% of the nation's emergency department visits, according to a CDC description of the program.
"COVID-like illness has really brought syndromic surveillance onto the map," said Maurer, who explained the process has previously been used during events such as heat waves or wildfires to track how many people have symptoms of heat- or smoke-related illnesses in real time instead of waiting for later reports.
CDC further explained the process can characterize and allow for a response to situations including foodborne outbreaks and drug overdoses within a community.
To participate in NSSP, medical facilities send data on chief complaint, diagnosis, patient characteristics and location to state and local health departments or to Health Information Exchanges, CDC reports. Any possible patient identification is removed from the data before being submitted and the information is available for analysis within 24 hours of a patient's visit.
Maurer said much of the challenge in having hospitals report this data is aligning the software programs used by hospitals and ADHS to allow data to be shared between the two.
Banner Health Page Hospital is currently participating in the program, while Flagstaff Medical Center and Tuba City Regional Health Care are both working toward syndromic surveillance reporting. 
"We're always working with the hospitals to try to onboard more people into that system. With COVID-like illness being a benchmark, it's really shown the importance of having that ability on that system," Maurer said.
Coconino County reported an additional 238 COVID-19 cases in its Monday report, which includes all cases added Friday through Sunday, bringing the County's total case number to 5,803. Of those, 700 were admitted to the hospital and an estimated 4,345 have recovered.
Last week saw a 35% increase in cases, setting a record for total number of new cases registered throughout the week, at 405, surpassing the previous record-breaking week — ending Oct. 24 — by 39 cases.
Maurer said areas of particular concern include Flagstaff, Page and tribal communities, which have all been seeing increased cases over the last month. Flagstaff has had more than 3,400 total cases as of Monday and, according to Northern Arizona Healthcare, there were 18 positive COVID-19 patients at Flagstaff Medical Center and 22 with COVID-19 test results pending.