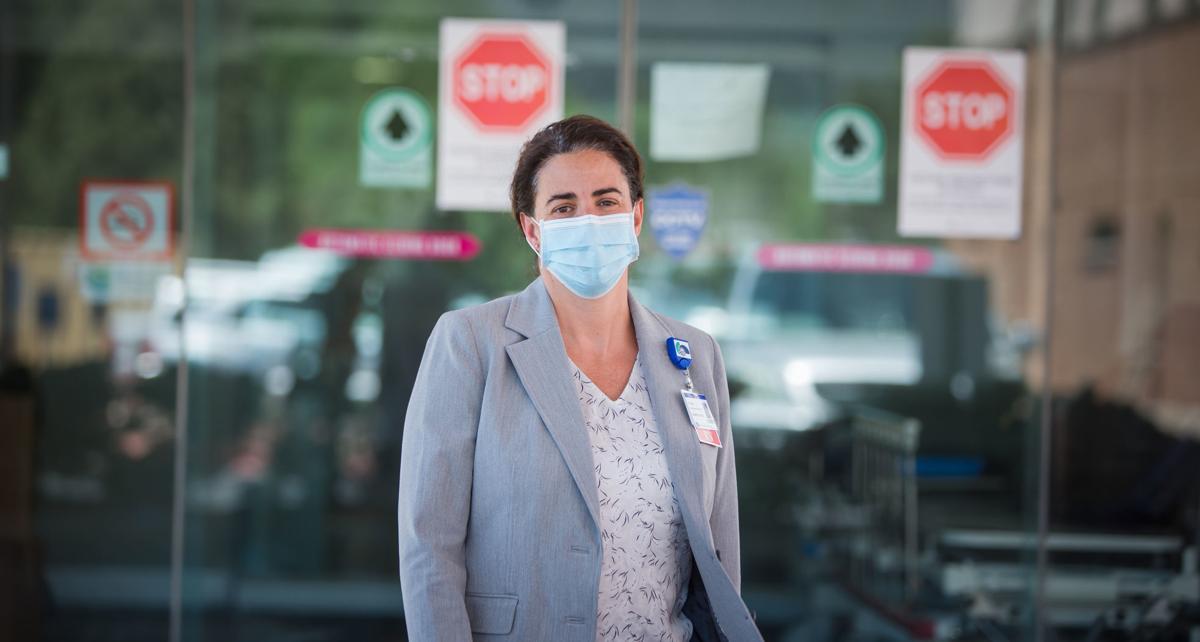 Coconino County's weekly coronavirus case count doubled last week after weeks of a mostly slow yet steady decline.
Coconino County went from 80 positive cases reported the second week of June to 169 positives reported last week. Last week's jump was the highest record of positive coronavirus cases the county has seen reported within a week since the pandemic began, just barely passing the previous weekly record set at 168 the week of May 9.
It's the second-most severe jump in cases since the outbreak began in March, according to county data. One major difference, however, between the two highest weekly peaks of the coronavirus in the county is when they're occurring and what county and private health officials know about the virus now as compared to May. Currently the hospital is conducting elective surgeries, which Northern Arizona Healthcare (NAH) officials say they could stop in order to provide more capacity for COVID-19 patients if cases increase.
NAH continues to monitor how many COVID-19 cases they're handling and what their total capacity looks like. According to their online counter, the Flagstaff Medical Center (FMC) currently has 15 COVID-19 patients, with 12 pending cases as of Tuesday evening. Their intensive care unit capacity is close to being full with 48 out of 55 beds filled. Verde Valley Medical Center has eight positive cases with one uncertain.
Coconino County health officials were unable to comment by press time.
Flo Spyro, CEO of Northern Arizona Healthcare, said they were ready to follow their plans in place to create more capacity at northern Arizona hospitals when it's needed.
"Our incident command remains intact and functioning," Spyro said. "We are not yet at capacity even though we have opened up elective surgical cases, and we manage that capacity every day and remain committed to the surge plan to increase capacity at any moment if we need to do that."
However, cases in Arizona are rising faster than ever, and COVID-19 has proven itself unpredictable.
Tuesday, Arizona broke a new record of daily positives with 3,591 positive cases.
Over the past two weeks, Flagstaff was the largest contributor to Coconino County's increase, as tribal communities continue to decline, as the two made a switch for having the most higher number of cases of the last weeks. Flagstaff saw 100 positive tests over the past two weeks, tribal communities had 80 and the City of Page 46, according to county data.
Out of the 1,509 positive COVID-19 cases and 87 deaths in Coconino County, 12,373 cases have been returned negative.
As of last week, Joshua Tinkle, chief administration officer for NAH, said the largest impact on the hospital's capacity is that it has returned to semi-normal operations with elective surgeries. Months ago the hospital ceased elective operations that opened up more beds for COVID-19 cases.
"Obviously, one of the things we can do to prevent reaching capacity is we can limit or throttle those elective surgeries or procedures, and that's what we do on a daily basis," Tinkle said. "As we get closer to our 80% capacity, we look and make sure our discharges are happening appropriately and at a good pace and that we're managing that elective surgical volume."
COVID-19 patients tend to stay in their beds for a longer period of time than patients with different illnesses, chief nursing officer at NAH Tiffany Laurano said. Tinkle added that 15 to 30 patients can be discharged per day as more patients come in.
Derek Feuquay, chief medical officer for FMC, explained that the hospital is currently "hovering" around 15 active COVID-19 cases.
"At our peak, we had 40 active cases with another 30 suspected or more. So the same things we've done previously are the same things we do in the future. We have appropriate PPE, we have appropriate procedures for donning and doffing PPE," Feuquay said. "If we have to put units back up that are COVID-only units, we know how to do all that stuff now, we know how to do it efficiently and if we have to do it again, we certainly can."
Get local news delivered to your inbox!
Subscribe to our Daily Headlines newsletter.