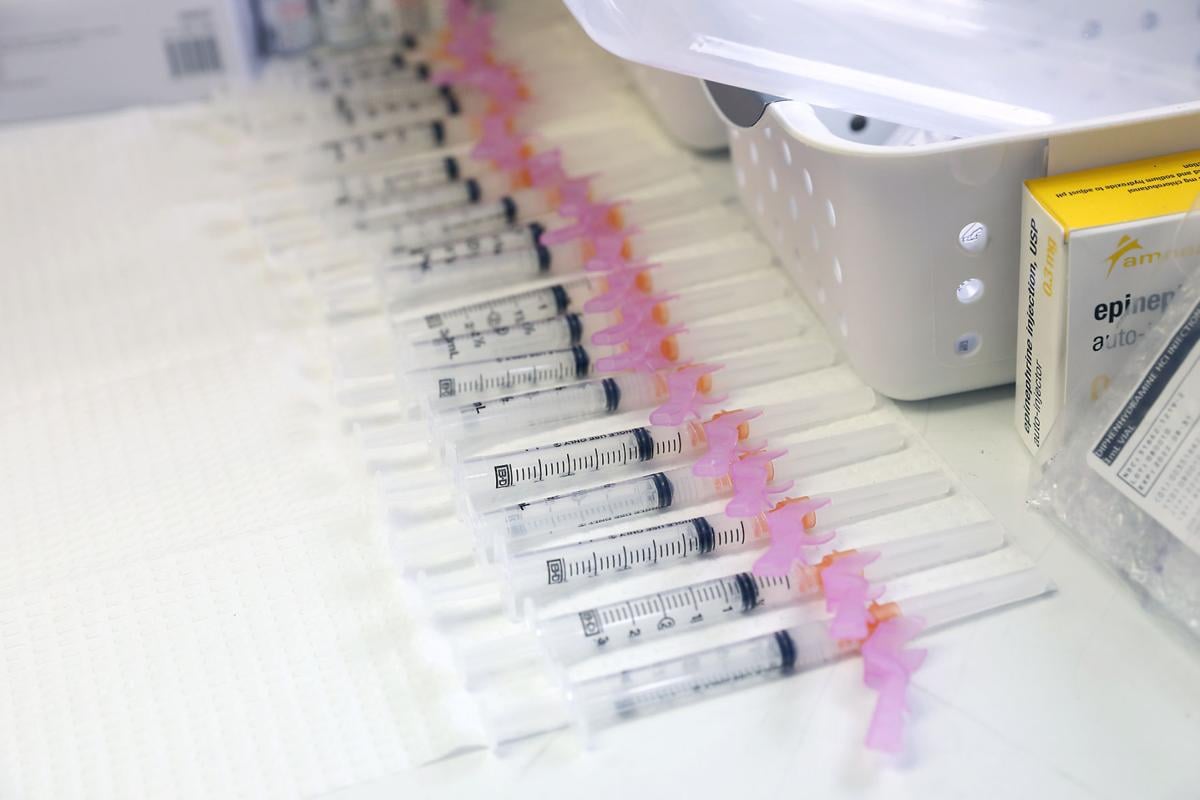 On a weekly basis, Coconino County continues to adjust to fluctuating COVID-19 vaccine allocations and new policies surrounding those allocations, such as an Executive Order issued by Gov. Doug Ducey last week that will penalize vaccine distributors that hold too many of their vaccine doses.
The order requires vaccine distributors to submit detailed records of their capacity to administer vaccines and the upcoming vaccine appointments for those doses to see if providers have any unfilled appointments. Those who have greater than 40% of their received vaccines in inventory will not receive any additional vaccines until they administer enough doses to drop below this threshold.
Although a few of the county's partner vaccination sites were flagged for not meeting this mark, CCHHS division manager Sarah Schildecker said in a presentation to the Coconino County Board of Supervisors Tuesday afternoon that Coconino County Health and Human Services (CCHHS) itself will not be penalized by the Arizona Department of Health Services (ADHS), even though it was technically out of compliance with the order due to the second doses being held for already booked appointments in February.
"ADHS will not say that you cannot order more vaccine and they will not transfer from us as an entity, but they may for our partners, and in that scenario the vaccine would actually come to us to figure out where it should go next in terms of who can administer it most quickly," Schildecker said.
To meet the threshold of the executive order, health departments are being encouraged by the state to use some of the second doses they have set aside as first doses; however, Kim Musselman, interim CCHHS director,  said Tuesday the county will continue to prioritize second doses for Fort Tuthill and partner sites, even if it may decrease the number of first dose allocations it is able to send out.
Between Dec. 23 and Jan. 29, 13,575 first doses have been allocated to the county, with about 43% going to CCHHS and the other 57% going to partner organizations. Weekly allocations have ranged from 600 to 2,500 doses. According to a Feb. 2 vaccine report from ADHS, Coconino County has administered more than 17,000 total vaccine doses, or 79% of its allocation.
The latest county vaccine model predicts that the Biden administration's plan to deliver an additional 10 million doses nationwide in the coming weeks, Coconino County should receive about 4,800 more doses.
At Fort Tuthill, up to 300 doses a day can currently be administered, including both the Moderna and Pfizer vaccines. Distribution of the Pfizer vaccine began last week. Schildecker told the Arizona Daily Sun that the type of vaccine received by individuals who visit the CCHS vaccination site is not a choice for community members, but is determined by supply.
"We have limited vaccine supply and they're both at the same approvals from FDA, so people receive what they receive when we are giving it out," Schildecker said.
Second vaccine doses will be of the same vaccine type as the first dose, as required by the manufacturer, according to the county website.
The vaccine allocation and ordering timeline resets weekly, Schildecker said Tuesday.
ADHS receives its allocation for the state by Wednesdays, the same day CCHHS requires its partner sites to submit their orders. When the allocation is opened to CCHHS on Thursdays, it has about 24 hours to determine how doses will be distributed throughout the county. Sites receive the doses early the next week as the process starts again. 
County leaders say they continue to advocate for additional vaccines and will be meeting with congressional staff next week to do so.
"Coconino County and our health care professionals throughout this county have the capacity to put shots in arms. We need vaccine. It's that simple," County Manager James Jayne told supervisors Tuesday.
On Saturday, Fort Tuthill was closed to the general public — except those who have a scheduled vaccine appointment, a Flagstaff Snow Park ticket or are official on Luke Air Force Base — as a result of traffic gridlock from snowplayers that was blocking the vaccine site.
In explanation Tuesday, Emergency Management Director Wes Dison said some individuals arriving for their vaccination appointments on Saturday reported waiting an hour in line just to get through the traffic, which spilled onto Highway 89 and Interstate 17, even to the off-ramp.
The county is currently working on a new traffic plan for Fort Tuthill, which will remain closed to the public until further notice, as well as a more user-friendly website where eligible individuals can schedule their vaccination appointments.