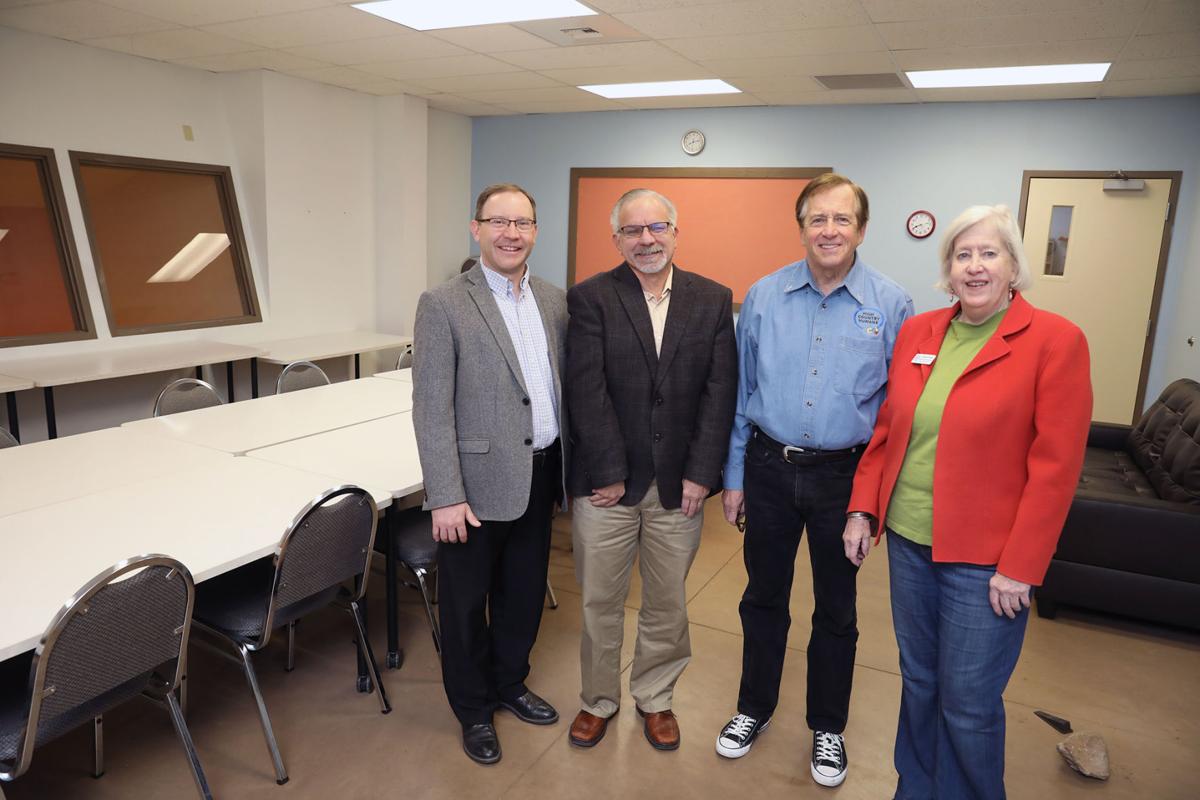 Coconino Community College plans to offer at least three new career and technical education (CTE) programs in areas throughout Coconino County beginning this fall.
The Veterinary Technician, Marine Maintenance Technician and Cyber Security programs were all approved by the college's governing board during its December meeting. An Automotive Technician program is also in the works.
CCC administrators will spend the coming months building curriculum, hiring faculty and establishing partnerships with other local organizations.
"We can't do these programs on our own. The local employers can't do these programs on their own," said Provost Nate Southerland. "It requires all of us working together to bring these up and keep them sustainable in the long term."
Each of the programs will accept about 12 to 15 students per year and will have one director and one full-time faculty member. They will also be included in CAVIAT (Coconino Association for Vocations, Industry and Technology), allowing local high school students to begin these courses before graduating.
Southerland said new CCC programs are chosen based on three main criteria: community interest, employment data from the Arizona Department of Economic Security and local job force agencies, as well as interest from employers and students. Income is also a factor.
"We don't want to burden people with student debt to put them into jobs that only make minimum wage. We're really looking for something where we can give the student a return on their investment," Southerland said.
Each program has an advisory committee made up of local members of the industry and other community members, who explained that if someone leaves the county for their training, they often do not return.
"All of these programs are based on helping put people to work and economic development," said CCC President Colleen Smith. "We have not only had employers contact us, but I've had parents contact me. … The need is there. We do see it as being an important part of our mission to help with economic development."
To do so, CCC will also expand its hospitality, service and tourism trainings, especially in Williams, where it was most requested. Though the short classes are not for credit, those who complete it will receive a certificate of participation that some companies use for continuing professional education points, Southerland said.
Veterinary
Students completing the new veterinary classes will receive both an associate degree and certification through the American Veterinary Medical Association (AVMA).
It will become the first veterinary technician program in the region; according to the AVMA, which accredits veterinary programs, the next closest program is held at Pima Medical Institute in Phoenix.
The High Country Humane animal shelter will lend CCC the use of its facility for the new veterinary classes and several local veterinarians have offered to be clinical placement sites for students, to allow them to work with animals, a requirement to become certified.
"At this point, we're not looking to have animals on campus. Instead, we would access and utilize all the resources in the entire county," said CTE Dean Jeff Jones, explaining that students will be trained in working with animals of all types, including pets and livestock.
A local veterinarian has also offered to act as a volunteer faculty member to teach fulltime and help develop curriculum for the program.
Though CCC officials said it may take longer and cost more for this particular program to begin, due to needed equipment and state and national approvals, they plan to have students start taking their prerequisites in the fall.
Marine Maintenance
Kay Leum, Executive Director of Extended Learning, said the marine maintenance program, which will be located at CCC in Page, will address both an aging population of technicians looking to retire as well as individuals impacted by the closure of the Navajo Generating Station.
Because of the nearby Antelope Point Marina and Glen Canyon National Recreation Area, she said immediate boat repair needs as well as general maintenance provide plenty of work in this industry year-round.
The program will not only become the first in the state, but also one of only a handful in the western part of the country.
"There are so few of them that we really have the opportunity to build a niche program that would attract people from all over the country," Leum said.
Local technicians have agreed to not only donate shop space where classes can be taught, but have also offered to employ CCC students to do on-the-job training.
As students complete the marine maintenance certificate, they will earn several "stackable credentials" like certification from the Occupational Safety and Health Administration (OSHA), United States Coast Guard, American Boat and Yacht Council, as well as training in apartment maintenance, for use on houseboats.
Cyber Security
The new Cyber Security program, which will focus on penetration testing and incident response, will join four existing emphases within CCC's Associate of Science Degree in Computer Technology: Computer Technician, Desktop Support, Graphics and Web Design and Network Administrator.
It will also serve as a transition program to Northern Arizona University's developing undergraduate and graduate programs in cybersecurity, for which NAU is currently hiring lecturers.
"Cybersecurity is one of those areas of training where, as long as they've got good, robust internet connectivity, people can do a lot of their work from home and serve the world," Jones said.
CCC faculty are working to establish internships with local organizations for these new students, as well as opportunities for participants to share computer skills with community members.
Funding
The three programs, in addition to the Early Childhood Education program that began in September, were created using one-time funding the state allocated in its 2020 fiscal year budget for eight rural community colleges.
CCC received $1 million for its CTE programs – funds that will sustain these four programs, plus the automotive program if it is approved, for three years.
Southerland estimated it will cost $100,000 to $200,000 annually to maintain these programs. By partnering with local agencies for classroom space instead of building new ones, the college will save at least $500,000.
To support the programs after the state funding has run out, Steve Peru, Chief Development and Government Relations Officer, said the college will be advocating to the state legislature to make such funding recurring.
If secured, grants from organizations like the U.S. Department of Agriculture and the National Security Agency could also help to sustain the programs, alongside donations and partnerships from additional community members.
"It's kind of like a financial jigsaw," Peru said of program funding. "You have to put the pieces in place, but you have to have all the right pieces on the table."