Coconino beach volleyball head coaches Scott Dendy and Greta Hannemann like where their team is at right now.
The Panthers followed up a win for a section title over crosstown rival Flagstaff on Thursday with a first-round state tournament victory over Canyon Del Oro Tuesday, besting both opponents on their home courts. In both matches, Coconino clinched the match thanks to the No. 2, 3 and 4 pairings holding down the lineup.
Dendy said his team played more consistently on Tuesday en route to a 4-1 victory that punched a ticket for the Panthers to the quarterfinals of the Division II state championship tourney.
"All the girls brought their A game today, so I am really happy with the way we played," Dendy said.
Sophie Sinek and RiKenna Curtis were greeted by coaches and teammates after sealing the deal for the team with a 21-11, 21-10 win at the No. 3 spot. The sixth-ranked Panthers extended their win streak to three matches while ending the Dorados' at two.
Canyon Del Oro avoided the postseason sweep by pulling out a three-setter at court five. Coconino's fives, Rain Varney and Elyce Palmer, opened with a 21-15 result in their favor, but ended up on the wrong side of that same score in the second set. Struggling to defend the lines, Varney and Palmer faced a 10-4 lead in the tiebreaker after allowing a 7-0 run, and Canyon Del Oro knotted the match score at 1-1 on a 15-10 decision.
"CDO had some good players too, but they didn't execute as well as we did today," Dendy said.
Curtis showed some strong swings on court three and Sinek won the first set on a tip that hugged the line. The Coconino pairing only went through three ties in the second set, cruising after the last came at 5-all.
"Any time you get a win in a state tournament, that's a great thing. Great for the program, great for the school, great for the seniors," Hannemann said.
It was the first-ever state tournament victory for the Panthers on their home courts. Last year, the first year Coconino had sand in its backyard, the Panthers were on the road and lost to Corona Del Sol.
Now the Panthers have to take on the back-to-back returning D-II state champions. Looking for its first-ever state semifinals appearance, Coconino is on the road Wednesday to face off with No. 3-seeded Fountain Hills for the first time in program history. 
Wednesday's quarterfinals match between Coconino and Fountain Hills is set for a 4:30 p.m start.
Coconino hopes to carry its momentum into Wednesday, especially after getting another solid outing from its No. 2 duo of Mireya Cabrera and Megan Hicks, who claimed their court 21-10, 21-10. Knotted up at 6-all in the second set after getting a side-out, Cabrera and Hicks jumped out to a 14-7 lead before their outburst ended on a hitting error. During the surge, Hicks had two blocks and Cabrera tallied a service ace.
Sam Hampton and Maggy Popham cruised to win at the No. 4 spot for Coconino, notching a 21-9, 21-5 result for the day's first victory. At No. 1, Brooke Parker and Kenzie Palmer also breezed by their opponents, taking the court 21-11, 21-12.
Parker and Palmer, who lost on Thursday to Flagstaff's No. 1s, have not faced much pressure this season, as the rest of the order usually takes care of business. But Dendy and Hannemann are not worried about how their ones will perform when relied upon.
"If the time comes, I don't think they will have any issues executing," Dendy said.
SCOTTSDALE CHRISTIAN EAGLES 3, FLAGSTAFF EAGLES 2
Playing host at Flagstaff Athletic Club East on Tuesday in the opening round of the D-II state tournament, No. 5-seeded Flagstaff was nixed by 12th-seeded Scottsdale Christian.
Scottsdale Christian lost to Flagstaff on Thursday, 3-2.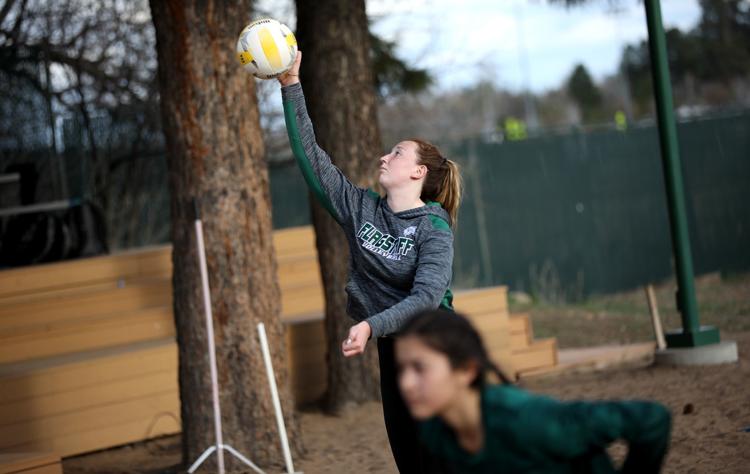 Flagstaff ended its 2019 season at 10-3 with the loss, improving from last year's 4-8 record.