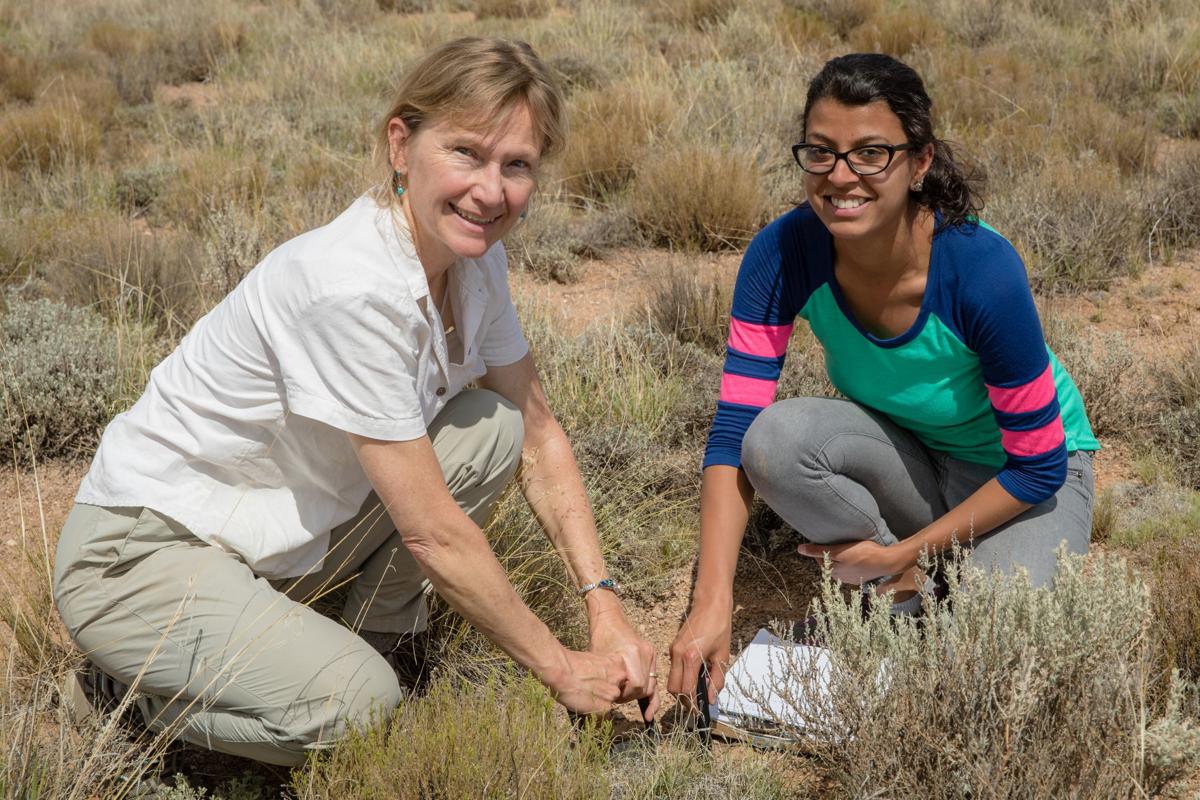 Among environmentalists, ranchers and land managers, the name Allan Savory can elicit a range of responses. An ecologist who did much of his work in Africa, Savory advocates an intriguing idea: that a regimen of high intensity, short duration grazing, combined with holistic land management, can help fight desertification and even reverse climate change.
The technique of "mob grazing" imitates natural cycles of dense herds of grazing animals constantly moving across the landscape, Savory says.
Savory's method has drawn criticism from many who say its benefits haven't been replicated elsewhere and that the concept is riddled with caveats and unsupported by scientific information. At the same time, Savory's ideas have spawned an entire institute in Boulder, Colorado, dedicated to perpetuating his land management teachings.
Now, researchers at Northern Arizona University are wading into the debate with their own test of Savory's grazing methods on ranchland southeast of Flagstaff.
Nancy Johnson, a soil ecologist at NAU, decided to pursue the idea after seeing Savory's 2013 TED talk.
It "made me crazy," Johnson said.
Savory was so absolute, saying in no uncertain terms that there is only one solution and that is to graze according to his method, she said.
One of Savory's points was that the intensive grazing helps the soil store carbon, which would help reverse climate change. But when Johnson and NAU research specialist Aradhana Roberts looked through the scientific literature, they couldn't find consistent support for Savory's assertion. So the two decided to do the experiments themselves.
Luckily, the team already had an ideal location. Another NAU professor, Tom Sisk, had nine plots at the Flying M Ranch where, since 1997, he has been comparing how native and invasive species respond to three grazing treatments: intensive grazing, with 200 cattle grazed on a one-hectare area for 24 hours once a year, no grazing, and the normal grazing regime practiced by ranch owner Kit Metzger. It was exactly the setup Johnson and Roberts needed for their study as well.
The main goal, Roberts said, was to study the effect of grazing management on soil carbon and how that tied into carbon sequestration and the potential to affect climate change.
According to Savory, masses of cattle allowed to graze only briefly on a segment of land act to trample the grass over the soil and cover it with dung and urine, which prepares it perfectly to absorb and hold rain, store carbon and break down methane. He contends that using this method on half the world's grasslands could remove enough carbon from the atmosphere to return the planet to pre-industrial carbon dioxide levels.
At her experimental plots on the Flying M Ranch, Roberts spent a year measuring the soil carbon, which includes roots, fungus, bacteria, microscopic organisms and mycorrhiza, at each of the nine plots. What she found was that the intensively grazed plots did indeed have a higher amount of carbon per gram of soil. Over a year of measurements, the carbon content was 11 percent higher than plots that weren't grazed at all.
Johnson explained that one hypothesis is that when cows munch the plant shoots above ground, it causes a dieback of roots, which delivers organic carbon deeper into the soil that may then decompose more slowly. Another hypothesis is that the cattle's hooves push the plant pieces deeper into the soil.
"The key factor for increasing carbon storage below ground is to make the inputs of dead plants greater than the decomposer organisms can break down the compounds and respire out CO2," Johnson wrote in a follow up email.
At the same time, Savory's grazing method proved to have some drawbacks. The experiments found an increase in invasive species and noxious weeds on the heavily grazed land. Soil compaction also rose, which changes the ability for the water to filter into the ground and created drier soils, Roberts said.
The land grazed according to rancher Kit Metzger's established systems landed somewhere in the middle of the two extremes in terms of vegetation characteristics and carbon content, she said.
The amount of carbon stored in soil also is important on a broader scale for cap-and-trade systems implemented in places like California, where emitters of greenhouse gases buy and sell credits allowing them to release more carbon into the atmosphere.
Additional information on how different grazing practices affect carbon storage can be used to improve and simplify carbon credit systems that allow ranchers to earn revenue by proving their responsible land management helps lock up more carbon in soils, said Megan McKenna, master's student for environmental science and policy who is also working on the project.
"If there are protocols that are usable for a landowner but also rigorous enough for a market, I think there is a lot of potential to produce revenue," she said.
"The key factor for increasing carbon storage below ground is to make the inputs of dead plants greater than the decomposer organisms can break down the compounds and respire out CO2."

--Nancy Johnson, NAU soil ecologist