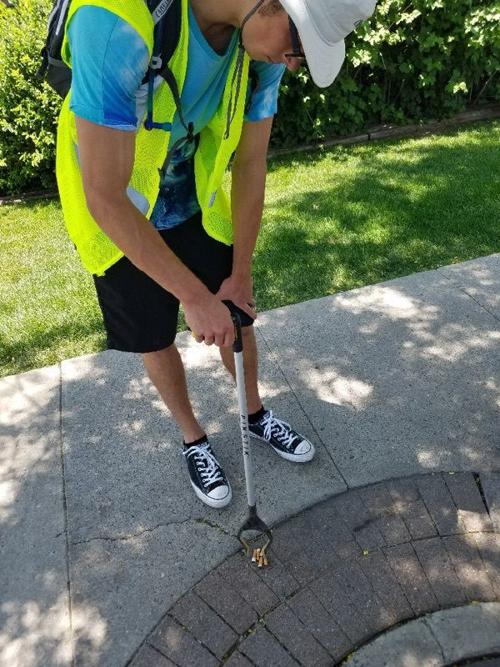 Visitors in downtown Flagstaff will be greeted by a friendly face and cleaner streets thanks to the Clean Team Ambassadors, an effort by the Downtown Business Alliance to help beautify the downtown area.
Terry Madeksza, the executive director of the DBA, said the Clean Team was developed to keep the public spaces clean as well as to serve as a "roving concierge" to greet people and answer questions about downtown Flagstaff.
"We want everyone they encounter to have a positive and memorable experience," Madeksza said.
For now, the Clean Team Ambassadors are equipped with rolling trash cans and brightly colored vests, but Madeksza said soon they will all have a teal uniform shirt so they will be easily identifiable.
There are currently three ambassadors who work Monday through Friday. The DBA is looking to hire at least two or three more people and expand the service to seven days a week in the future.
The program is funded by an improvement district in the downtown area, meaning property owners agreed to create a separate taxing district to pay for enhanced services, Madeksza said.
In the first 10 days of working, the ambassadors cleaned 12 alleys, swept 137 block faces, assisted 18 visitors and distributed 13 Better Bucks, Madeksza said.
"The response has been fantastic," she said.
The work is a part-time job, and so far all of the ambassadors are Northern Arizona University students. However, Madeksza said the DBA is working with the county's career center to find people who are interested, and said the hours can be flexible to suit the person's needs.
"We are looking for someone who is the right fit," she said. "We want someone who has the right personality, who is outgoing, good at talking to others and is proactive."
The ambassadors learn all about downtown from the DBA, and are there to answer any questions that visitors might have. If a visitor needs something outside of the downtown area, the ambassador will walk them to the Flagstaff Visitor Center.
The pay for the ambassadors begins at minimum wage, but there are opportunities for raises based on performance, Madeksza said.
"I'm really excited to bring this program to Flagstaff," Madeksza said. "Programs like this exist in hundreds of downtowns around the country, including other places in Arizona and places that are comparable to Flagstaff."