More than five years after Flagstaff voters approved a $10 million bond to thin forests around the city's watersheds, city staff say they now expect the bond money won't cover all the work that needs to be done.
A report sent to city council Thursday states the Flagstaff Watershed Protection Project, or FWPP, faces a $4.5 million shortfall, meaning about 35 percent of the project won't be completed with current bond funding. Unfunded portions will likely include part of the forest thinning planned for the Dry Lake Hills area north of Flagstaff and all of the work that was to happen on Mormon Mountain, in the Lake Mary watershed.
The shortfall also means the project meant to protect Flagstaff's watersheds from severe fire and post-wildfire flooding will fall further behind schedule, as work was expected to begin on Mormon Mountain next year.
With that in mind, the city will begin discussions next week on the possibility of seeking additional funding to complete FWPP and provide ongoing maintenance, City Manager Josh Copley said. That could be through another bond measure that would go on the ballot in 2020, tapping general fund dollars or approving something like an additional fee on water bills, Copley said.
Since it was approved in 2012, FWPP has repeatedly been lauded as one of only a few projects in the nation to use municipal funding to support restoration work on the national forest. And even with the budget shortfall, Copley emphasized the project's successes, including thousands of acres that have already been treated via tree thinning and prescribed fire. The city continues to see FWPP as "a good story to tell," he said.
WHERE MONEY HAS GONE
So far, the city has spent about a third, or $3.2 million, of the FWPP bond money. That has gone toward planning and implementation of prescribed burning, hand thinning and mechanical tree harvesting on about 5,000 acres, mostly across Observatory Mesa and several state and city parcels near the southeast and southwest edges of the city. Of the 11,000 acres expected to be thinned across the FWPP footprint, work has been completed on about 40 percent of them.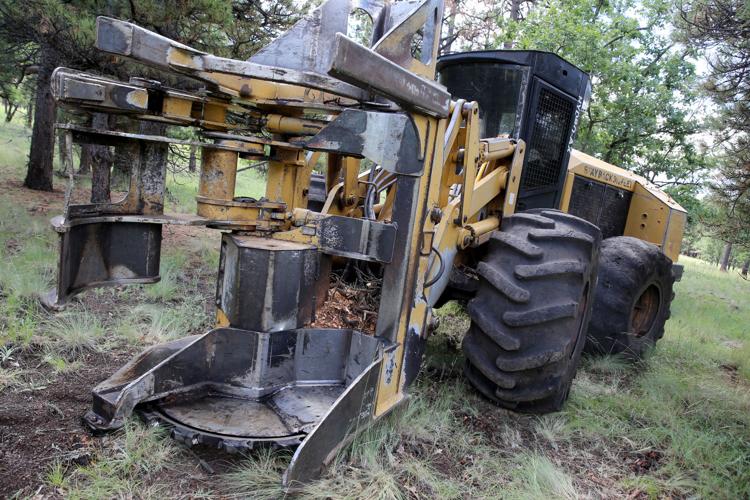 But those acres were the less expensive, low-hanging fruit that the city knew it could accomplish right away, Copley said. It has also required significant outside money, in addition to the city bond money, to accomplish the work to date. Agencies like the state and the Forest Service have put an additional $4.9 million into the project, mostly to pay for thinning and the subsequent piling or disposal of low-value woody biomass.
RISING COSTS
City staff now know the work ahead will be much more expensive, with tree thinning in the Dry Lake Hills area alone expected to cost $7.1 million. That's $2.45 million more than the city has in remaining unreserved FWPP bond money.
It wasn't until early 2017 that the city realized the FWPP work would balloon above the $10 million mark, the council report stated. At that point, new estimates concluded that thinning work on the steep slopes of Dry Lake Hills could be two to five times more expensive than previously anticipated. That's due to several reasons, according to city and Forest Service staff:
The timber in area forests isn't as valuable as the city originally estimated it would be, in part because wood processing industries that could boost local demand haven't moved into northern Arizona as expected. That means the city will have to pay contractors more to thin trees because it can't use the value of the timber to offset its costs, said Mike Elson, Flagstaff District Ranger.
Inflation has increased the cost of things like fuel and labor.
The more mechanically intense helicopter and cable logging planned for steeper slopes on Mount Elden and Dry Lake Hills is going to cost more than originally expected, in part because there are only a few contractors to choose from.
Plans for which sort of logging equipment should be used on what acreage have changed.
INITIAL PLAN
When the city went out to voters in 2012, it was expected that the $10 million in bond money, in addition to grant money and other funding from partner agencies, would be enough to cover necessary thinning and prescribed fire operations over a footprint of about 15,000 acres around the city of Flagstaff and Mormon Mountain, Copley said.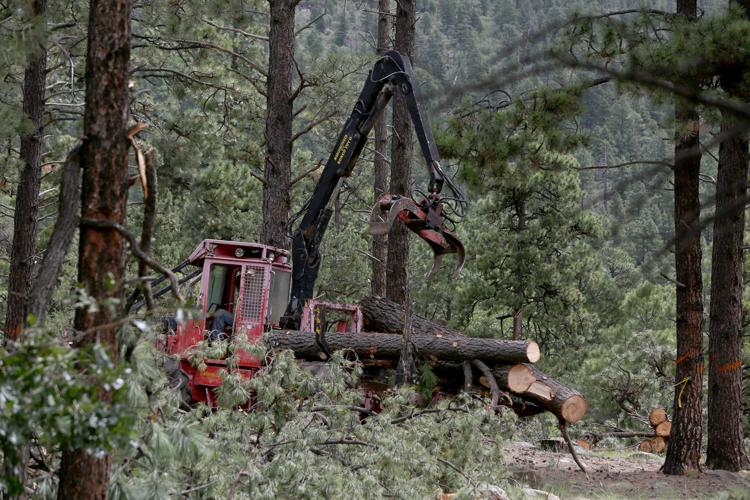 "It was an estimate based upon as good of knowledge as we had at the time with the idea we certainly didn't want to go to the community and over-ask," Copley said. 
The city always expected to come back to residents with a request for more money to support longer term FWPP maintenance, including follow-up prescribed burns to reduce and prevent fuels buildup, additional thinning and monitoring of things like runoff, said Paul Summerfelt, wildland fire management officer with the city of Flagstaff.
Though it now faces a funding shortfall, the city defended its decision to spend the first FWPP dollars doing tree thinning on Observatory Mesa and areas southeast and southwest of the city, even though they don't pose nearly the same flood risk as areas in the Dry Lake Hills north of Flagstaff.
Those areas were state and city land that didn't need to go through a federal environmental review, so work could start almost immediately. That was important to show voters progress was being made soon after the bond's approval, Summerfelt said. Observatory Mesa is also a "critical flank" to the city when it comes to general wildfire danger, he said.
WHAT'S NEXT
On top of the $3.2 million it has already spent, the city has budgeted $1.8 million over the next two years to fund its own operations related to FWPP, Summerfelt said. It expects to use another $4.65 million to pay contractors for selective logging, including cable and possibly helicopter logging, in the Dry Lake Hills between 2019 and 2021.
That leaves about $350,000 in bond money that the city has reserved in case it needs to pay for thinning on 642 acres near the base of Dry Lake Hills and Mount Elden. That work was supposed to be completed by a logging contractor in December.
But Terry Hatmaker, the only bidder, defaulted on the Forest Service contract after failing to realize how much time and money it would take to build a mill that could process wood from the timber sale, he said. The Forest Service is now obligated to reoffer the timber sale, which asks loggers to pay for the value of the wood in the area instead of getting paid to cut it. If no one steps up this time around, the city plans to take on the contract and pay someone to do the thinning, Summerfelt said.