As the city works to reduce Flagstaff's water consumption, staff and community partners hope to set an example for the rest of the community.
Flagstaff plans to convert the majority of the city hall lawn into native plants and grasses. The full project likely won't see funding for a year or two, but that hasn't stopped one local organization from getting the project started.
The group Terra BIRDS, which helps manage several community gardens across the city, has been working with interns and youth enrolled in summer programming with the Coconino County Juvenile Detention Center  to convert a 2,000-square-foot section of the lawn to native plants.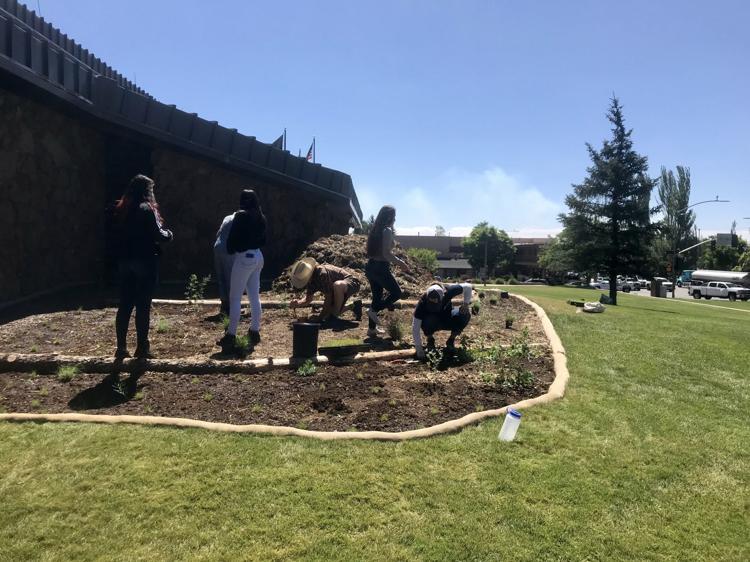 John Taylor of Terra BIRDS said they have all spent the past few weeks tearing up the Kentucky bluegrass that makes up the lawn, installing terracing and enriching the soil in preparation for planting.
The project, in part, came out of a discussion focused on water conservation in April of last year between city staff and community stakeholders, including Taylor.
But the project didn't receive funding in this year's city budget. The city committed a portion of the lawn to be used as part of a construction project by the Arizona Department of Transportation, which is planning to make improvements to the intersection of Route 66 and North Humphreys Street.
During the project, the lawn may be used to store construction materials and heavy machinery. As a result, it made little sense to relandscape the lawn only to have everything crushed, according to staff.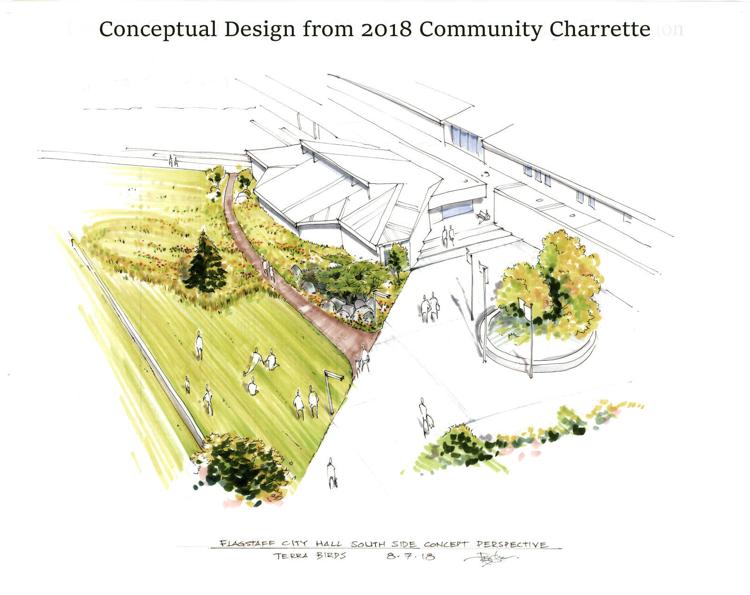 However, Taylor said he was inspired by the conversations last year and thought there was no reason they couldn't get started on a piece of the lawn that wouldn't be affected by construction. On top of that, Taylor said he hoped to keep the momentum toward water conservation efforts going by getting started on this project as soon as possible.
According to Flagstaff's Water Conservation Program Manager Tamara Lawless, the city hall lawn alone consumes as much as 1.3 million gallons of water a year.
With the majority of the lawn still intact, the first section Terra BIRDS is replacing now likely won't reduce that by much, but if the whole project goes forward, much of the lawn would rely on rainwater alone.
You have free articles remaining.
Register for more free articles
Stay logged in to skip the surveys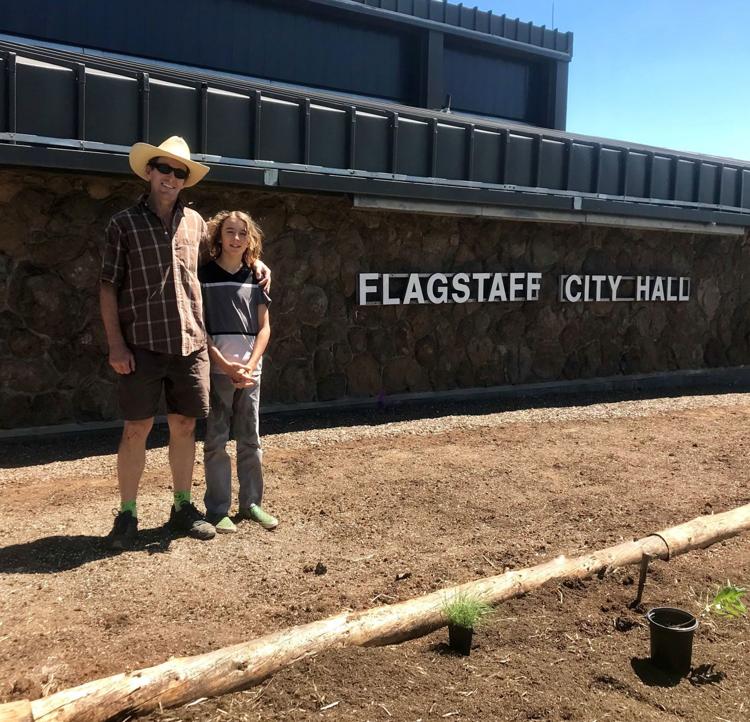 And even if the majority of the lawn goes forward, Taylor said there have been discussions regarding how sizable portions of the lawn will remain unchanged to accommodate the political activity that often occurs along Route 66.
But for Taylor, reducing water consumption is not the only concern.
He added it's also about "starting to change the paradigm about how we steward our urban lands, so water conservation is part of that."
"Moving toward using less fertilizers and herbicides is part of that, and creating more habitat," Taylor said and pointed at the lawn in its current form. "There's not any real wildlife value here."
To address this, Taylor said they are using plants that can attract "appropriate kinds of wildlife."
That means in addition to planting native bunch grasses like blue grama, they are also planting various kinds of wild flowers, such Bridges penstemon and three kinds of milkweed. These plants can help support animals like hummingbirds, monarch butterflies and bees.
Taylor said he also hopes to inspire residents who see it to consider changing their own lawns, if they have them, to less water intensive plants, or at least make changes to reduce their water consumption.
"I mean, we're not going to change the world with [this project], but it's a symbol and a demonstration that hopefully inspires more," Taylor said.
To that end, they have held several workshops inviting members of the public to come and help with the project and learn about how they may be able to do similar projects at home, Taylor said.
A final workshop planned for Saturday from 9 a.m. to noon.