The Frances Short Pond was bustling with activity 8 a.m. on Monday.
But rather than residents walking their dogs or anglers casting lines, volunteers and city parks crews were gathering up hundreds of dead fish.
The effort came after a die-off of fish occurred over the weekend, just one more consequence of the intense monsoon rains Flagstaff has experienced in recent days.
Scott Rogers, regional aquatic wildlife manager for the Arizona Department of Game and Fish, said fish die-offs are not uncommon, especially this time of year as the monsoon rains flush into bodies of water.
Indeed, Rogers said the Francis Short Pond, often referred to as simply the duck pond, has experienced a number of events in the past.
Rogers said the die-off was likely the cause of a growth plankton, a microscopic algae within the pond, that then died in significant numbers.
Rogers said plankton can grow rapidly as rain water drains from surrounding areas and runs into the pond. That runoff may bring with it significant nutrients from fertilizers or animal manures nearby and allow the plankton to grow quickly.
But those same storms can spell the plankton's doom. As runoff brings more sediment and clouds block out sunlight, the plankton might quickly die out in significant numbers.
As a plant, plankton produces oxygen when it is alive, but once it has died, not only does it stop producing oxygen but the decomposition of the plankton takes yet more oxygen out of the water, Roger said.
It's that lack of oxygen in the water that kills fish, Rogers said.
Bubblers in the pond do help oxygenate the water but that only helps so much, Rogers said.
There were also some reports that those bubblers may have not been working correctly after they were covered with sediment flowing into the duck pond. But according to city staff who arrived on the scene Monday morning, those devises appeared to be functioning.
Rogers said they had received some reports of fish seemingly having difficulty breathing -- and lots of dead fish -- on Friday, but by the time they checked the situation out on Monday, Rogers said, the city and volunteers had already cleaned up the area.
"I will say 'thank you' to everyone who came out to help," Rogers told the Arizona Daily Sun. He added that he has helped clean up fish die-offs before and it is not a pleasant job.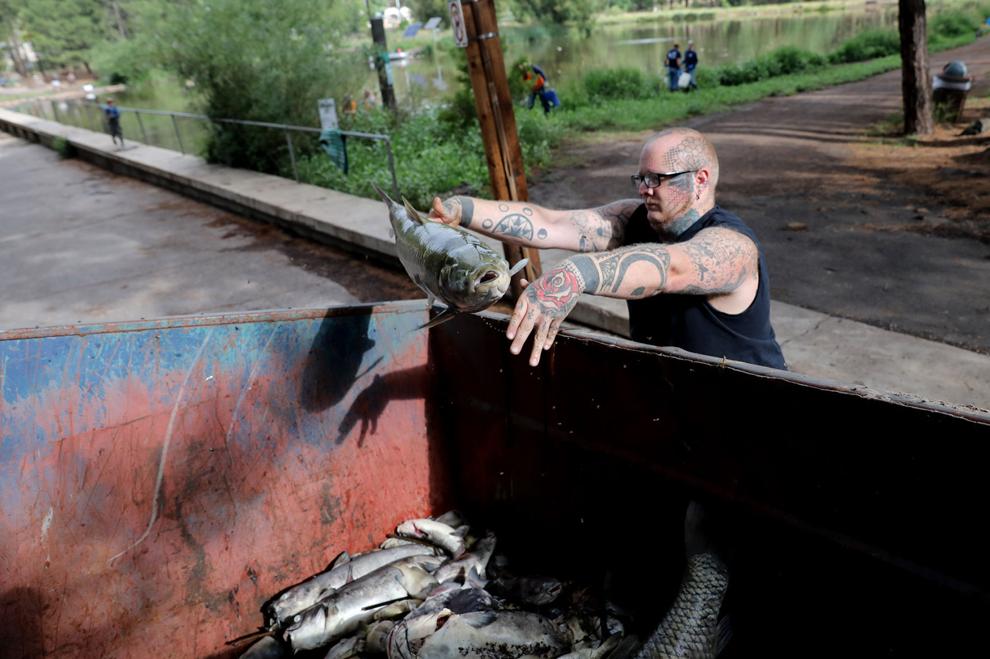 Community member Dan Duke was one of the volunteers who decided to spend his Monday morning gathering up buckets of dead fish and disposing of them in the dumpster.
"I saw the call of need in our community through social media. It's my hometown and I like to walk the pond and was like, 'That's something that I can do,'" Duke said. "I kind of geared up with what I had at home and brought my waders and a rake and some laundry baskets and inner tube and trying to make my small impact in the world."
That call to action was made by Arizona Daily Sun Chief Photographer and community member Jake Bacon, who also informed the city about the issue.
"It was awesome. There was a whole city crew here with probably six to eight gentleman, and they had boats. They were pretty much pushing everything to the shoreline, and then us citizens were gathering them from the shore," Duke said. "Some monster fish as well as some baby fish and all sorts. There was some gold fish. I'm not a fish person but there was some really unique fish in there."
By close to 8:30 a.m. most of the fish had been gathered, and city staff and volunteers had filled dumpster nearly a quarter of the way full.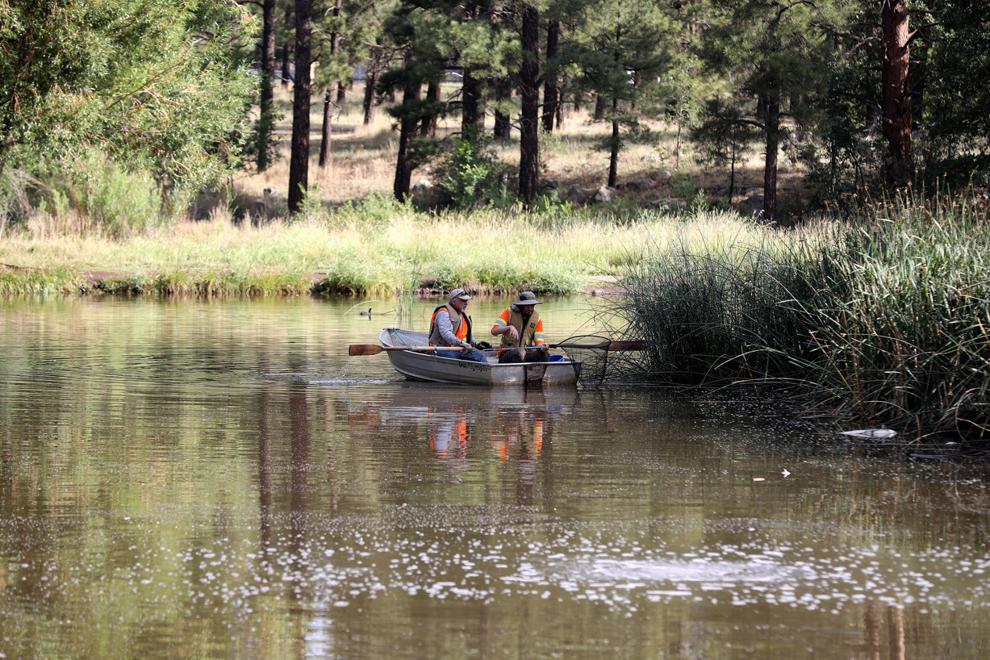 Flagstaff Parks and Recreation Director Rebecca Sayers said her department doesn't typically look after the pond itself, instead maintaining many of the trails around it. Instead, the pond is managed by the city stormwater section.
But with flooding in east Flagstaff, the storm water section is pretty slammed so Sayers said she and her staff were happy to lend a hand.
Rogers said once the duck pond clears up somewhat, they will again stock the pond with fish.
And there could be a silver lining, he said.
For some time there have been a large number of Bullhead catfish in the pond, a species they don't want in it. Bullhead catfish are smaller than the species of catfish they stock the pond with but multiply quickly within it, Rogers said. This die-off might have eliminated that species from the pond.
Adrian Skabelund can be reached by phone at (928) 556-2261, by email at askabelund@azdailysun.com or on Twitter at @AdrianSkabelund.