It was a struggle for the Coconino Panthers girls tennis team against one of the powerhouses of Division II.
The Panthers lost their first match of the season to Cactus Shadows, 8-1, Friday at Coconino High School. But even with the defeat, therein lies positives for a young Panthers squad.
Coconino's No. 1, Emma Walker, who is just a sophomore, played her opponent Danielle Quenzler tight in the second set after dropping the first 6-2. Although Walker ultimately lost 6-4 in the second, the young Panther has shown why she is her team's No. 1 this season.
The loss was her first of the year -- on a day when two other Panthers lost for the first time this season as well -- and she and her coaches know how she can get even better.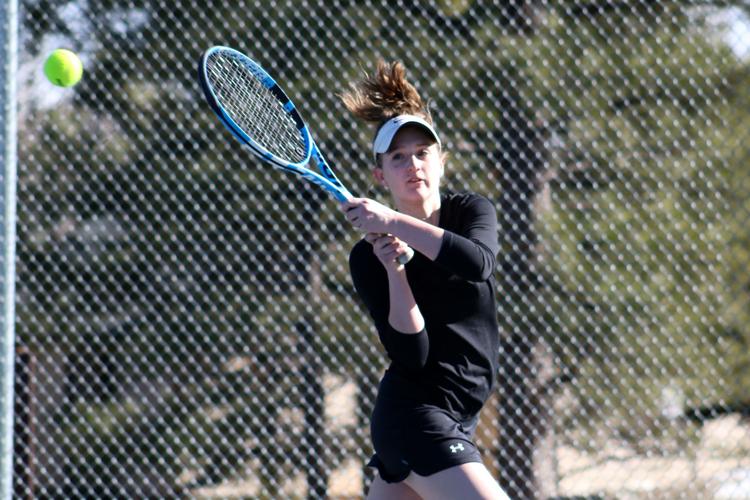 "I think it's just my mentality, being more positive when mistakes happen and stuff like that," Walker said. "I've definitely gotten more aggressive compared to last year. I think I need to just not overthink at times, because I tend to overhit and overthink where I place it or the type of spin. I just need to go for the kill and not even think about it."
Walker pushed the No. 1 player on one of the best teams in D-II -- the Falcons were the D-II runner-ups last year in the state tournament -- holding her own against the undefeated Quenzler.
Once Walker was able to calm down in the second and, as she said, play her game, she nearly pushed the match to a third set.
"I tried to go for kills and sometimes it worked and sometimes it didn't, so I just wanted to play my game and not play hers."
Register for more free articles.
Stay logged in to skip the surveys.
One of the major improvements Walker made came in between her ears. In the past she had struggled to shrug off a tough break or missed point, while this year the sophomore has made strides in mental toughness and leadership.
"She's had to show a lot of maturity for someone who is barely 16," Panthers head coach Kelly Lasley said. "Last year she struggled to control her emotions when things weren't going her way and this year I've seen an improvement. She's acting like a leader -- last year she was able to get away with being the freshman and No. 2 and let Faith (Daab) run the show. This year she is having to do that and has done well."
The lone win for the Panthers, whose record fell to 4-1, came from Taylor Rhoton, Coconino's No. 3 in singles. Rhoton took a 2-6, 6-1, 10-6 victory over Sarah Hoffman in a three-set battle. The two traded points on serving faults in the third until Rhoton took advantage with a four-point swing to end an emotional match that kept Rhoton a perfect 5-0 in singles matches this year and 10-1 in overall sets in singles play.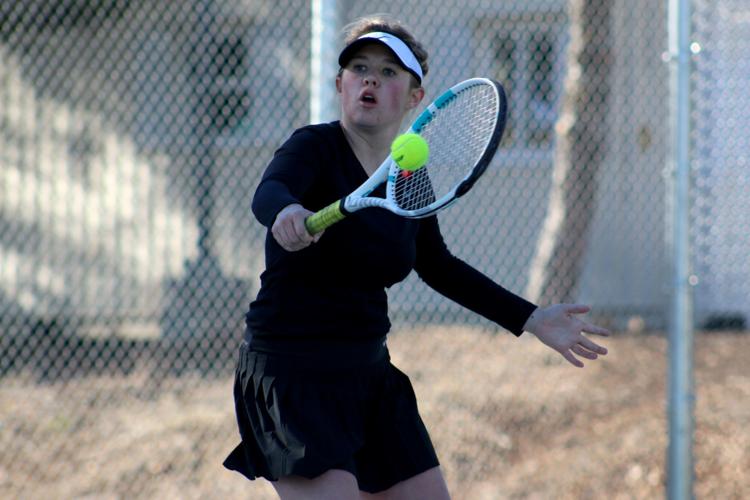 In the No. 2 spot for Coconino, Olivia Larson lost to Nicole Quenzler 6-1, 6-3 despite holding a 3-0 lead in the second set. In the Panthers' No. 3 slot, Connor Garrod was blanked by Caroline Nieminen 6-0, 6-0. Angel Begay, Coconino's No. 5, fell to Sydney Smith 6-2, 6-1 while the Panthers' No. 5, Hannah Goodman, dropped her match to Sydni Reimer 6-4, 6-1.
Doubles ended with a clean 3-0 sweep for Cactus Shadows. Walker and Larson fell 8-0, Garrod and Rhoton lost 8-3, and Begay and Goodman were defeated 8-2. Lasley said the way doubles ended for her team wasn't indicative of the final score, noting how good Cactus Shadows is as one of the best in the division and how this experience will help the Panthers going forward.
Coconino will return to action after spring break on the road at Mingus Union in Cottonwood Tuesday, March 26.