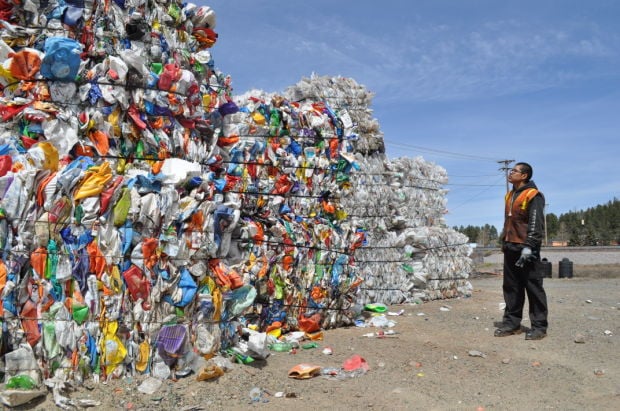 Starting today, the city of Flagstaff will no longer accept a range of plastics in its curbside recycling program. Going forward it will only accept plastic jugs, bottles and jars. All other plastics, including things like plastic trays, takeout containers, cups and produce containers, can no longer be recycled at the city facility.
The reason is rooted in changes made an ocean away. China, which had accepted about half of the world's plastic and paper recyclables, has been narrowing what materials it will take in and how clean they must be.
In January, the country banned 24 types of solid waste and announced it would only accept loads of recyclables with a contamination rate of less than half a percent — a difficult standard for most recycling facilities to meet, said Todd Hanson, the city's solid waste director. China used to be more flexible and inspectors would allow contamination levels up to 3 percent or 5 percent, Hanson said.
Those moves by such a giant player have shaken the recyclables industry worldwide, he said.
Markets for recycled materials have tightened up, making it even harder to find buyers for materials that were already hard to recycle, especially the lower quality plastics that the city has had to stop accepting, Hanson said.
Most buyers now consider those plastics a contaminant because the market for them is so poor and the chances of it turning around are pretty slim, Hanson said.
The story is the same at Norton Environmental, the company that operates the materials recovery facility where Flagstaff sends its recyclables, the facility's general manager Ray Sellards said.
Sellards is sitting on eight trailer loads of those low-quality plastics, with nowhere to unload them, he said.
"I was hoping the market would change but it got worse," Sellards said. "It's all got to do with China."
The city also can't force Norton to take those hard-to-recycle plastics -- its contract only requires that Norton take things like plastic bottles, jugs and jars. He has no problem finding markets for those plastics, Sellards said.
CLEANING RECYCLING
It's no easy task to clean and sort recycling that comes into the Norton facility in order to produce loads of homogeneous material. Sellards said about one quarter of all recycling that gets brought to his facility is not recyclable. The materials get sorted with things like magnets and air blowers, but much of the contaminated, nonrecyclable material must be picked out with human labor, which is costly and time intensive.
So far, Sellards said he hasn't received any complaints about contamination in loads he sends to buyers.
He said he won't be laying off any employees due to the changes in what the facility accepts, but with fewer types of material to worry about sorting, his staff can better focus on separating recyclables from nonrecyclables.
A perpetual problem that contributes to materials contamination is "wishful recycling," Hanson said. People throw items into their recycling bins even if they're not sure those items are recyclable, thinking they're doing the right thing. But that actually makes things harder because it requires more effort to sort through and remove those nonrecyclables. And with more contaminants, each batch is not only harder to sell but has the risk of having to be tossed out entirely, he said.
"If that stuff wasn't in the carton to begin with, the opportunity to reduce contamination is much greater," he said.
The latest statistics show just 17 percent of Flagstaff's waste stream gets recycled, about half the national average. Hanson said the types of plastics that the city will no longer accept were only a minority of the total volume of plastics it received. He doesn't know if accepting fewer types of plastic will have much of an effect on the city's diversion rate. Of the total incoming volume, fibers make up 60 percent of what gets sent to the recycling facility, he said.
Neither Hanson nor Sellards said they foresee major changes in the markets for other materials like glass, metal cans, paper and cardboard.
Looking ahead, the future of the waste stream is unclear, but communities need to be prepared for a different business model for recycling, Hanson said in a follow-up email.
"There will be some emerging markets and new technologies that will at some point help with the situation, but it won't be soon or cheap," he said.