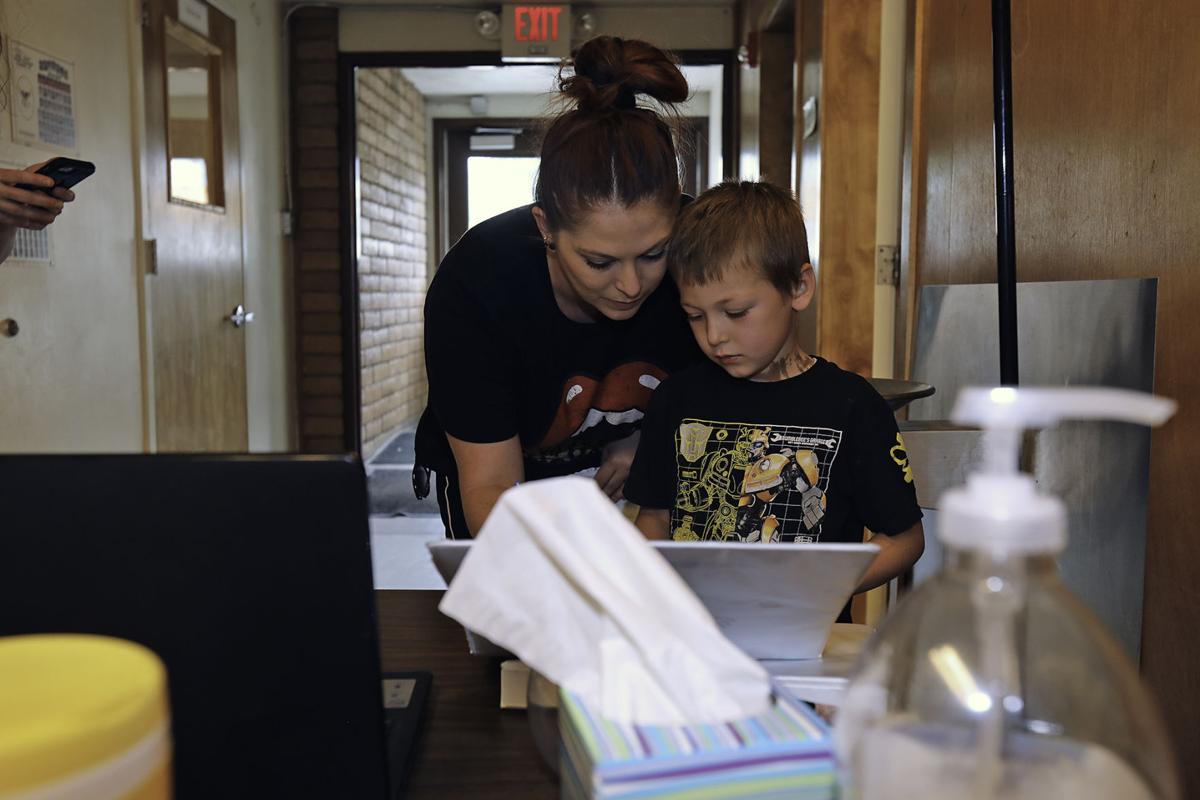 Classrooms have become a no-visitor zone at various Flagstaff child care programs, which have remained open throughout the COVID-19 pandemic as an essential service.
Instead, families check their students in at the door for a health screening before staff bring them to the classroom, where teachers are striving to keep things as close to normal as possible.
"It's been probably the most challenging experience in my career as a [child care] director of 26 years, for sure," said Beth Frost, director of Foresight Learning Center in Doney Park.
Fortunately, she said, Foresight not only has large windows that can be opened for ventilation, it also has more than two acres students and teachers have been using as teaching spaces throughout the summer. That might change when winter arrives, but for now it's an option.
Inside the classrooms at Foresight and other local programs without as much outdoor space, though, the days look different.
Children and teachers are kept to one classroom a day, unlike previous rotations. Longtime activities such as play houses as well as work rugs and pillows were removed to prevent congregation of children, while modeling clay is now labeled with individual names and items such as crafting tools are sanitized after each use.
Hand-washing happens like clockwork — between activities, before and after snacks, and various other times throughout the day for everyone in the building.
"They wash hands every 20 to 30 minutes, no matter what they're doing," said Angela Riley, co-owner of Head Heart Hands Preschool, located inside Flagstaff Federated Community Church.
Like other cleaning procedures, hand-washing is not a new practice, but it has been expanded. Frost said pre-pandemic, she probably washed her hands about 20 times a day. Now it has doubled.
Classes are also smaller now but are growing slowly since they reached a low in April and May during statewide closures of businesses and schools.
At Foresight, enrollment dropped from 58 children to 15 at the end of March. Head Heart Hands had only eight or nine children for about two months.
"It hurts a lot, to be honest, when you go from full capacity to all of a sudden 25% capacity. It's really tough," Riley said, noting that the Paycheck Protection Program (PPP) loan helped bring back the staff whose hours were cut due to the drop in services.
At Pinecone Preschool in Sunnyside, a larger facility that typically serves up to 125 children at once, its lowest enrollment point hit about 20, said director Beth Johndrow.
As enrollments are increasing again, these programs are each setting caps to limit the total number of children in each room to prevent any cases of COVID-19, which all three have avoided so far in both adults and children.
Curriculum is being modified to further address social-emotional needs of students, while teaching them about the pandemic.
Following guidance from the Centers for Disease Control and Prevention, which advises child care programs that have remained open not to use masks on children younger than the age of 2 because of the risk of suffocation. These three programs are not requiring masks inside the classroom -- which they said will also help children work on language development and learning to read facial expressions.
"We are talking to the children about what COVID is, but we don't fixate on it," said Christine Hart, director of Head Heart Hands. "They do know that after every transition period that we're cleaning tables, we're washing hands. It becomes a daily routine; it's just the norm."
Head Heart Hands staff have been using tape measures and broomsticks to demonstrate the 6 feet needed for social distancing for their preschool-aged students, while redirecting toddlers to keep them apart.
Frost said at Foresight, teams are using widespread "airplane arms" for social distancing, while the coronavirus is sometimes being explained to children as "the big germ."
Beyond these tweaks to instruction and sanitation measures, the three programs said their days proceed as normal in order to remain a constant for children even as things might change at home due to the pandemic.
"We're really making it as normal as possible for the kids that do come — a learning environment where they don't have the stress," Johndrow said.
Back to school
As local schools have delayed the return to in-person classes until at least October, these child care centers are expecting some changes in their services, including more support for kindergartners.
Foresight will have its largest kindergarten class in over a decade, with eight currently registered to continue in the program into their kindergarten year as they wait for schools to reopen. Each year, Foresight usually has only about one or two such students.
"Of all the parents we spoke with, no one's going to do kindergarten virtually because it doesn't make sense," Frost said, referring to the social-emotional components of a typical kindergarten class.
Hart said Head Heart Hands will be sending out a survey to families to see if it, similarly, should take in school-aged children to support working families, while Pinecone Preschool is looking at creating an even larger, enrichment program for its existing families' school-aged children, likely in kindergarten through fourth grade, to support them as they complete distance learning through their normal school.
"We definitely want to be there for the families that need us to help them in that area," Johndrow said.
Concerned about COVID-19?
Sign up now to get the most recent coronavirus headlines and other important local and national news sent to your email inbox daily.