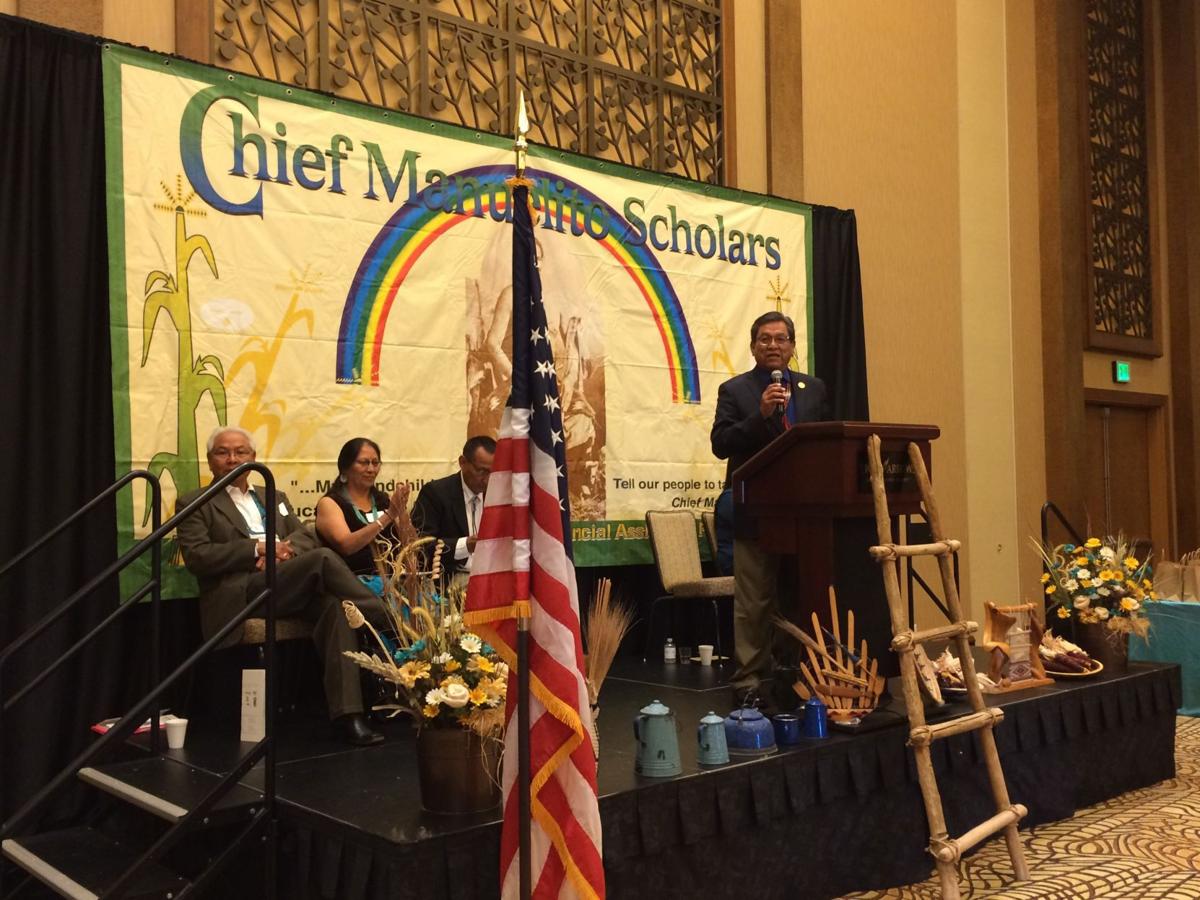 High-achieving Navajo high school graduates were honored at Twin Arrows Navajo Casino and Resort Friday morning at the Chief Manuelito Scholars Ceremony.
The scholarship, which gives a qualifying student $7,000 annually for the four years of an undergraduate degree, is awarded to students based on ACT scores, GPA and completion of required coursework, which includes a Navajo language course and Navajo government course.
The scholarship is named after a 19th century Navajo Chief who fought against oppression from the United States' military. Chief Manuelito was one of the signers of the treaty that established the Navajo reservation. 
This year, 120 students received the scholarship, most from Arizona and New Mexico. Six students from the Flagstaff Unified School District were scholarship recipients.
Carolyn Calvin, a spokeswoman for the Office of Navajo Nation Scholarship and Financial Assistance, said 15 of the recipients planned to attend Northern Arizona University in the fall. Other choices included Ivy League schools, private colleges and universities, public universities and community colleges.
Students, many clad in traditional Navajo attire, accompanied by their parents and some grandparents, filled the ballroom at Twin Arrows.
Tommy Lewis Jr., the superintendent of the Department of Diné Education, challenged the students to plan to finish their degree programs in four years, and work to improve themselves away from home.
"For many of you, you will be living away from home for the first time," he said. "You're going to have to learn to live independently, and you're going to need to learn to budget your money and your time."
Lewis said students needed to keep focused on their educational and professional goals, and remain organized.
Sophina Manheimer Calderon, a former Chief Manuelito Scholar who is now a physician in Tuba City, told the group that their heritage and experiences are different than many non-indigenous people, and they should use their skills and knowledge for advancement in their careers.
Keynote speaker, Navajo Nation President Russell Begaye, said he hoped the group of students would one day bring an educated workforce back to the reservation.
"I hope to one day see a cancer center here on Navajo (Nation)," Begaye told the group. "I would like to see a cardiology unit. You will be the ones to perform those surgeries. You will be the ones taking care of our Navajo people."
Begaye highlighted highly-educated Navajo people who have come back to the reservation to improve conditions there, including Ethel Branch, the Navajo Nation Attorney General, a graduate of Harvard Law School.
"It's time that we use our own minds and our own talents," Begaye said.
Begaye said 80 percent of contracts issued by the Navajo Nation go to companies or people who are not Navajo, and said he would like to see more qualified Navajo people competing for contracts issued.
"We need scholars, we need engineers, doctors and CPAs," he said.
Begaye said the Navajo government is looking at ways to create high-paying jobs for highly educated workers, and said he wants to attract successful Navajo people back to jobs within the tribal nation.
Begaye said, as the largest Native American tribe in the United States, other tribes around the country look to the Navajo Nation for guidance and innovation ideas.
"They will be looking to you for advancement," he told the students. "You are the ones that we will be looking at to supply new technology."
The FUSD students receiving the scholarship are: Leo Bia, Justus Roberson, Lauren Slim, Kelsey Williams, Kristen Woody and Yasmin Zuch.
Get local news delivered to your inbox!
Subscribe to our Daily Headlines newsletter.