Before moving from teaching to leadership this year, Northern Arizona University chemistry professor Brandon Cruickshank would often surprise his students with a Calvin and Hobbes comic strip or a science pun by the glasses- and bowtie-clad "Chemistry Cat" to break up long lectures.
This week, though, the surprise was on him.
Cruickshank was in a faculty meeting Tuesday afternoon when colleagues and students swarmed in with a cluster of blue and gold balloons and pins featuring his face, announcing that the student body had chosen him as the 2019 Homecoming Dedicatee.
"I'm about to cry. I don't know what to say. I never expected this," he said to the group, who commended him for "joining the ranks of [John] Wettaw and [Wayne] Hildebrandt," two other chemistry professors who previously won the title.
"Am I as red as I feel?" he asked, beaming.
Cruickshank will be recognized with a banquet the week of Homecoming and will preside over all Homecoming festivities with perks including VIP admission to the football game and chili cook-off. Stickers of his portrait will also be added to campus buses.
This year is Cruickshank's 25th at NAU. He began as an assistant professor of chemistry and the coordinator of the general chemistry program in 1995 after previously teaching at an engineering college in New Jersey.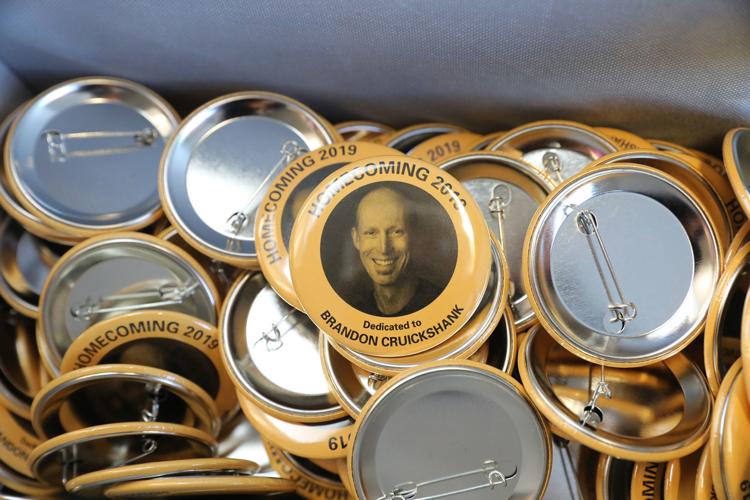 He has since received numerous university awards, including two Golden Axe Influential Faculty Awards and several NAU Louie Awards. He also served two terms as a President's Distinguished Teaching Fellow.
You have free articles remaining.
"Dr. Brandon Cruickshank personifies NAU's commitment to student-centered learning and is a true ambassador of the Lumberjack Spirit," Marin Robinson, professor of chemistry and biochemistry, wrote in her nomination letter.
Cruickshank is currently chair of the Department of Chemistry and Biochemistry, a position he also held from 2004 to 2008.
Though he sometimes misses faculty meetings to complete "chair stuff," when the team questioned if he would be in the meeting, he jokingly asked if there would be a surprise. Nevertheless, he was still shocked when the celebratory group burst into the room.
"I remember when two former professors of our department were chosen as dedicatee and … I never even expected it for me. I'm so excited. This is quite an honor," Cruickshank said.
The tradition began in 1936 to recognize an exceptional faculty or staff member who has been at the university for at least 10 years. Each spring, student leaders receive a list of all qualifying nominees and must narrow it down before a secret ballot is sent to several hundred student clubs and organizations for voting.
In anonymous evaluations of the general chemistry class he taught last fall, the majority of students said Cruickshank himself was the best part of the course.
"I love how he is always telling us jokes and comic strips during class. It helps ease what would normally be a stressful course," one student wrote. "The way he teaches the course overall has really clicked with me, and I have learned many concepts I had previously struggled with back in high school."
"My teacher always had a positive attitude and was engaging in a subject I used to hate," another wrote. "The class actually made me love chemistry."
Others, fondly calling him "Mr. C," commended his humor, enthusiasm and original teaching style, the same qualities that earned him the title of 2019 Homecoming Dedicatee.