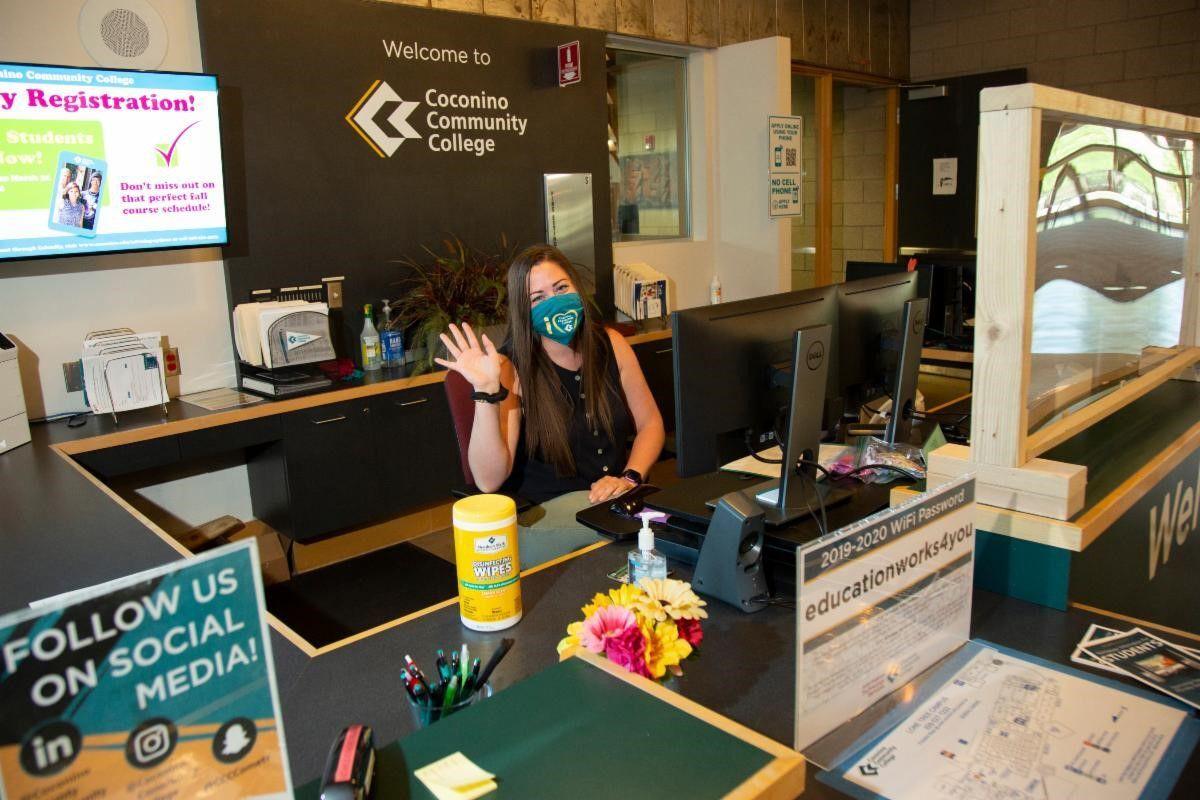 Coconino Community College plans to reintroduce in-person classes for the upcoming spring semester in response to student requests.
According to a survey conducted this fall, about a third of CCC's students say that having some face-to-face classes is very or extremely important to them.
"We recognize that many of our students lack access to internet infrastructure and good cell service because we serve the whole county, so that's a big challenge," said Provost Nate Southerland, who explained that safety of students and employees will be the focus in this effort to resume some of the on-campus classes that were moved online this year in response to COVID-19.
Faculty who will return to campus to teach in the spring will do so on a volunteer basis.
If the COVID-19 data for Coconino County does not suggest it is safe to resume, Southerland said, in-person classes will be moved to online again. Students will be notified of these changes by Jan. 4, a week before the start of the semester.
When campus reopens to more students, between 10% and 20% of CCC's classes will be fully in person. This will be in addition to CCC's current hybrid classes, where half of the class is spent doing lab work on campus and the other half is taught through videoconference. This semester's in-person classes, which are mostly hybrids, are only offered in programs that require hands-on skills training, such as nursing and construction. Southerland estimates this to be about 20% of the college's current classes.
The majority of classes in the spring will continue to be offered either fully online, where students can work at their own pace, or through live videoconferencing. The college does not plan to regularly offer classes where students can simultaneously attend the same class through either in-person or videoconferencing.
Class registration begins Nov. 2 for current students and Nov. 9 for new students. Enrollment for in-person classes will be limited depending on classroom size in order to separate students by at least 6 feet for social distancing. Students choosing to do so can be added to a waitlist for these classes. If a spot opens, the first person on the waitlist will have 24 hours to register before the next person on the list is notified.
"We will use those waitlists to give us an indication of what demand is like," Southerland said. "If there is huge demand for a particular kind of in-person class and we have the ability to add another one safely, we will."
Students and faculty will continue to be required to wear masks while on campus and will have their temperature taken upon arrival. CCC has only had three reported COVID-19 cases among students and employees since March, with two in July and another the week of Sept. 26.
"We are not out of the woods yet with the COVID-19 pandemic, but CCC is here, and we're ready to help everybody who comes to us achieve their goals," CCC President Colleen Smith said in a newsletter early this week.
NAU spring semester
Northern Arizona University announced Tuesday it will start its spring semester the same way it started the fall, with two weeks of mostly virtual classes and a phased move-in for students living on campus. These students will be required to provide a negative COVID-19 test result within a week before they return.
"Given the successful start to our fall semester, and in consultation with many groups across campus, we have decided to follow this proven process for the start of our spring semester," NAU President Rita Cheng said in a letter to campus Tuesday. "By following this same strategy, we will continue to deliver on our national reputation for a quality education through multiple delivery options while helping mitigate the risk of COVID-19 to our community."
She encouraged students to take advantage of the free COVID-19 testing offered on campus before returning to their families over winter break.
In-person classes will begin Jan. 25 alongside NAUFlex, which allows some students to attend class on campus while others simultaneously attend virtually. The end of the spring semester has also been moved up to April 29 by pushing spring break to the end of the term.
Concerned about COVID-19?
Sign up now to get the most recent coronavirus headlines and other important local and national news sent to your email inbox daily.