The sun was just setting and a soccer match was still playing on the Sinagua Middle School field as another group of students arrived for class.
Though noticeably different from the middle schoolers who gathered there earlier, the group of Coconino Community College construction technology management (CTM) students were no less enthused about being in the school's workshop, where the pounding of hammers and settling sawdust filled the air.
While the CCC workshop at its Fourth Street campus is being renovated using a $1 million grant from the Del E. Webb Foundation, Flagstaff Unified School District has allowed the college to utilize the Sinagua workshop.
Construction began at the end of September and is scheduled for completion by the start of the spring semester. The total space under renovation is just over 5,000-square feet, which includes the shop space and two connecting classrooms.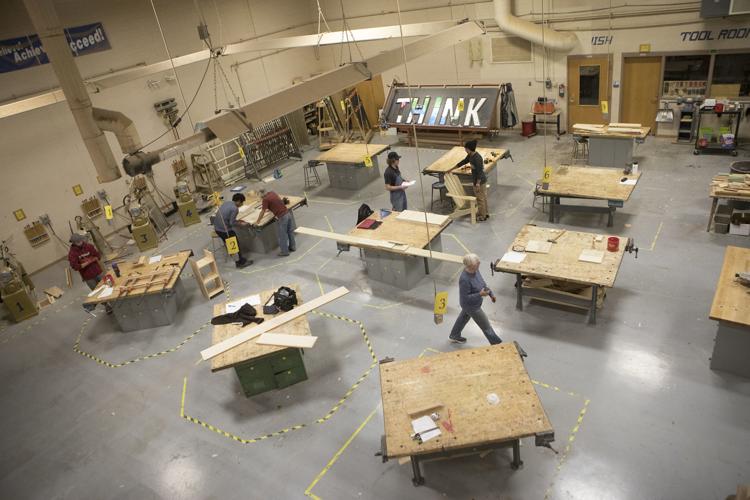 An estimated $600,000 will be used for construction, with the remainder of the grant allocated to expanding courses with new, state-of-the-art training equipment.
"We've got great faculty in this program and our students come out doing really well," CCC President Colleen Smith said. "We have not financially been able to have all of the kinds of equipment and the most updated things because the college couldn't afford that, so this is huge in trying to support this program, which to me is truly one of our stellar programs."
For now, though, students and faculty have embraced the Sinagua space as their own.
"I forgot this place existed," said Antonio Rivera, who is taking CCC's introduction to woodworking course this semester. "My high school woodshop definitely wasn't as nice as this."
CCC classes meet at the middle school workshop four days each week, with different classes rotating between lecture time at the Fourth Street campus and workshop time at Sinagua.
"It's been an adjustment, but I think the students are getting a lot out of it," Ken Myers, CTM faculty at CCC, said.
Myers said the partnership came about through conversations between himself and Amy Dries, the middle school woodworking teacher, who took Myers' class last year and co-led Camp Build with him this summer.
"It was simple neighbors talking about simple neighbor things and it evolved into this," Myers said.
To make the space work for college students, Dries cleared out a tool room for the college's smaller supplies, as well as space in the workshop for it to bring in several pieces of its larger equipment, like table saws.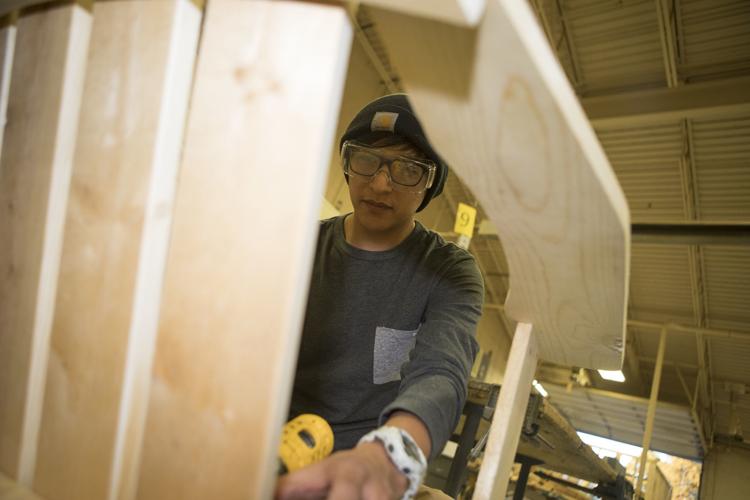 The partnership is more than just a shared space, though.
CCC gets free rein of the space while it is empty in the evenings and, in exchange, Sinagua students get to use the equipment brought in by the college during the school day. The CCC faculty is also gradually restoring some of the middle school equipment that has been unused for years and training Dries on how to use it.
"Now that she's got some extra equipment, she's actually been utilizing the new stuff, so she's expanding what she is able to do with her kids," Myers said. "[Repairing the equipment] is a lot more extra work than I thought it would be, but I'm having fun with it."
Myers' students are also creating a new concession stand for the soccer field as a way to show their appreciation. It is currently set up at the far corner of the Sinagua workshop and has replaced the class's usual dog house project.
Dries said watching the creation of the small building, bit by bit, has been a good example for her students.
You have free articles remaining.
Register for more free articles
Stay logged in to skip the surveys
"I tell them they can start doing stuff like that in high school and it's really not that far off. I think it will be really great for them to see what possibilities are out there and inspire them to keep up building and making things," Dries said.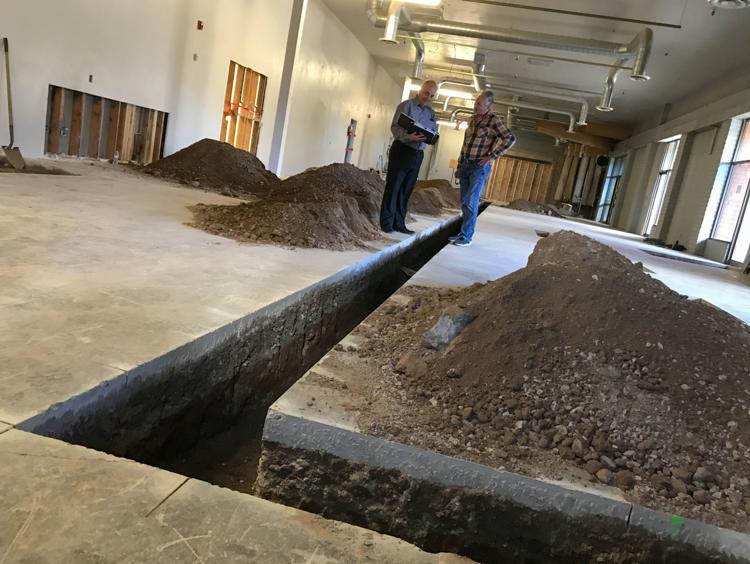 CCC renovation
Even just a few weeks in, renovation of the CCC shop space, built in the 1950s as a shopping center, has resulted in some interesting findings, including a rusted lemon-lime soda can and a set of abandoned pipelines that will be cut out or capped.
"With a building this old, you're really sometimes not sure what you're going to run into," Kurt Stull, executive director of facilities, said.
As the construction continues this fall and winter, CTM students have been invited to do worksite tours to see the steps of the process from beginning to end.
In addition to installing needed updates, a major focus of the renovation is sustainability.
Construction crews have currently cut trenches into the floor for new water and electric lines, and light fixtures been removed to be replaced with LEDs.
"Our faculty teach all of that [sustainability] and so it's wonderful to be able to upgrade our facilities to demonstrate what it is they teach," Smith said.
The main workshop space will include new work tables, complete with individual access to electricity and compressed air, as well as different sections for practicing construction, electricity, plumbing and heating, ventilation and air conditioning (HVAC), among other technical skills taught at the campus. A loft will also be created to give space for equipment and project storage.
Programs like HVAC, welding, electrical, solar and wind technology and electronic drafting will be expanded with new equipment, including a virtual reality welding simulator, a solar replicator for use during night classes and a programmable HVAC system that instructors can program to allow students to troubleshoot specific faults.
Jeff Jones, dean of the college's career and technical education (CTE) program, said such technology is a significant improvement from trying to repair old systems, as classes have done in the past.
"The welding, HVAC equipment and all other replication systems don't use high power, they don't use steel, there's no fumes and no consumables, so it's much more sustainable. We don't have to have a fume hood; we can move it in a classroom," Jones said.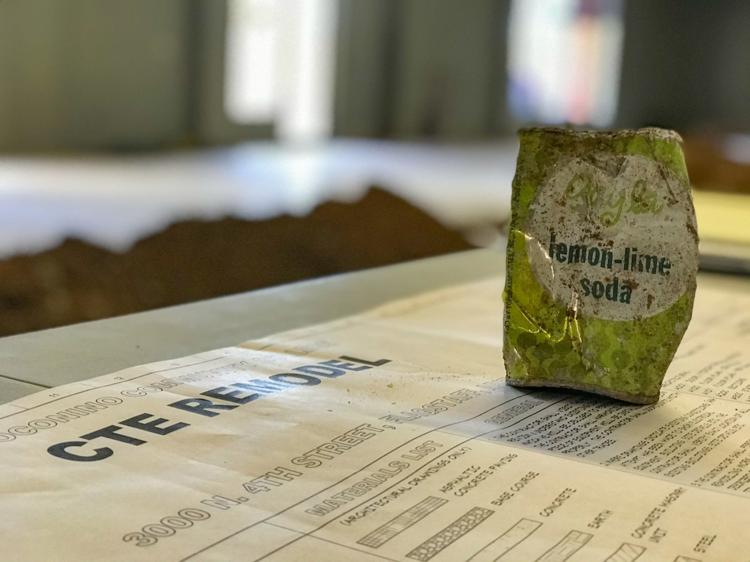 Ongoing connections
The current partnership between CCC and Sinagua, though it is the first time the college has used the woodshop area, is not the first connection between classes at the college and FUSD, nor is it the only one happening now.
For years, CCC has used the Flagstaff High School welding facility, as well as the automotive shop at Coconino High School.
CCC officials hope to strengthen this partnership by allowing FUSD students to use the new space's upgraded features, like the VR welding machine, which can be used for certification assessments.
"It's really going to help out both our students and our potential future students here at the college," Jones said. "We're bringing more to the table in those partnerships."