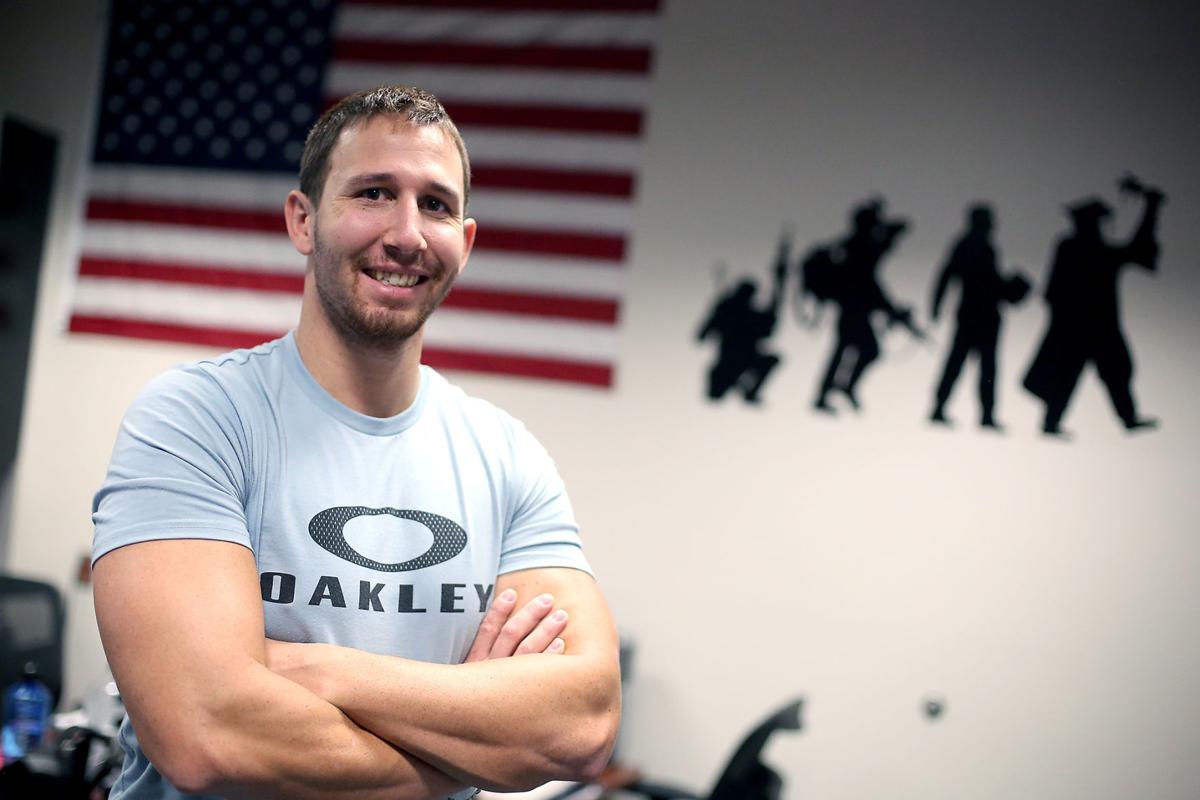 U.S. Marine Corps veteran Chris Rathkey is studying Fire Science at Coconino Community College.
"CCC takes care of their veterans, plain and simple," Rathkey said. "They take great pride in not only honoring their veterans, but doing everything they can to support us."
Faculty and staff at CCC have put in place a number of features meant to help veterans who decide to enroll in school have a successful experience. The focus is to bring the services to the veterans.
"Coconino Community College appreciates the services of our veterans and we know that they have a great deal of skills and experience to share with our communities," said CCC President Colleen A. Smith. "Our goal is to encourage and help them to find the educational path they want so they can continue to serve our country as civilians."
VETERANS CENTER
The Veterans Center at the CCC Lone Tree Campus was dedicated on Veterans Day in 2013. The College serves about 150 veterans a year, and the leadership recognized the need to create a space for veterans to congregate, be among others who have gone through similar experiences, and receive services.
This year, the Veterans Center was renovated with the help of a grant from S.E.E.4Vets, an organization dedicated to helping veterans transition from military service back into civilian life. The Home Depot Foundation, SounDecision, Herron Interior Design, Inc., Classic Leather, Inc., and the CCC Facilities staff all assited in the remodel.
S.E.E.4Vets bestowed a second grant to CCC to help veterans with tutoring services and offer funds to veterans to pay fees associated with their education they might not otherwise be able to afford.
The CCC Veterans Center also has a veteran services advisor and school certifying official to help connect veterans to resources they might need in the community as well as keeping veterans on track to succeeding in their educational goals.
VETERAN SCHOLARSHIPS
CCC also offers scholarships to veterans through the College's Foundation. Two scholarships are set aside specifically for veterans. A Veterans Scholarship is available for any veteran student honorably discharged from any branch of the U.S. military. The U.S. Marine League Scholarship, which Rathkey is a recipient of this year, is available to any U.S. Marine honorably discharged from the Corps.
MOBILE VET CENTER
A Mobile Vet Center comes to the CCC campus about once a month as part of a cooperative effort between the College and the U.S. Department of Veteran Affairs.
Staff in the Mobile Vet Center give veterans information on various benefits to which they are entitled. The mobile center also helps veterans at CCC and across northern Arizona connect with health care, disability services and compensation, educational benefits, vocational rehabilitation, home loans and more. Services include: individual counseling, group counseling, sexual trauma counseling, bereavement counseling, marital and family counseling, alcohol counseling, benefits assistance and referral, employment counseling and referral, community education, referral to community agencies, and information regarding local and national veteran organizations and projects.
CARE PACKAGES
As part of this year's Phi Theta Kappa Honor Society's "Honors in Action" project, chapter officers are working in conjunction with CCC's Veteran Services to assemble holiday care packages for military personnel deployed to Iraq and Syria.
At this time, we are asking for your help in securing donations to be included in the care packages. The turnaround time for the collection of items is short; items are due by Nov. 15, 10 a.m. Drop off donations at the Lone Tree Commons, 2800 S. Lone Tree Road.
Get local news delivered to your inbox!
Subscribe to our Daily Headlines newsletter.